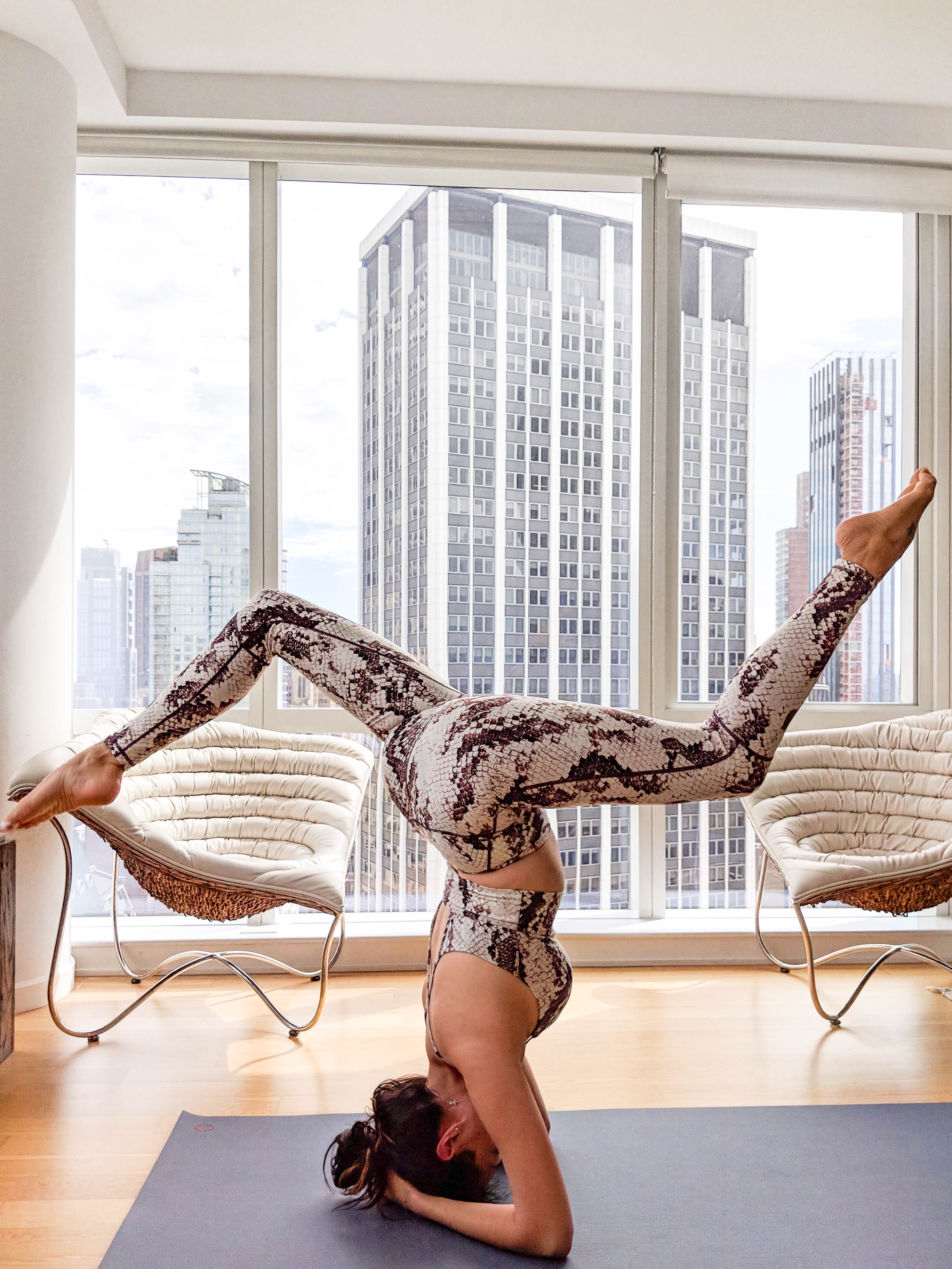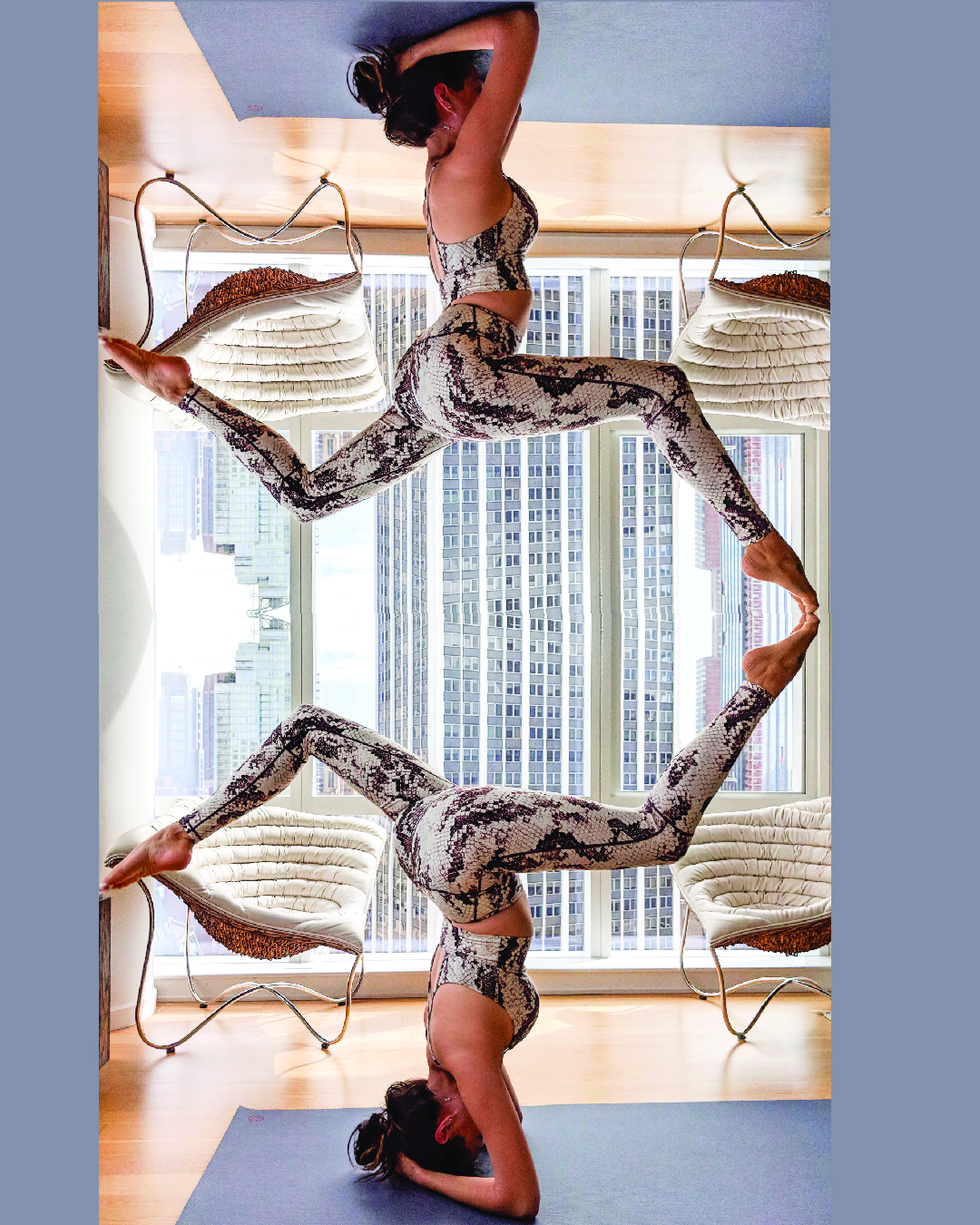 Sirsasana:// headstand yoga pose.
(and why you should stand on your head)
If you hare having a hard time, need a break or feel scared of something, stand on your head. Sometimes we get stuck in a rut. When this happens we get so overwhelmed by what surrounds us at the moment that we become incapable of seeing a solution or beyond our situation. This stagnation can last years. A lifetime if we don´t break the cycle – and sometimes breaking it is as simple as stepping out of our shoes and seeing things from a different point of view.
In this Yoga Series, I will tell you a little bit about the postures I stand on my head every morning and why. 
Somedays I start the day with a headstand. I feel it moves my blood to my head and wakes me up a bit. It also lifts the gravity that usually pulls my organs down and helps me breath better.
…You know how you can shake your iphone to delete text you just wrote and want to delete? Well, it does something like that to me. Its like a reset button. It also has tons of proven benefits of standing on your head:
1. It really does ease your brain.
Freshly-oxygenated blood stimulates the pituitary and pineal glands which calm and rejuvenate your brain and therefore, ease your thoughts. This is an amazing solution for stress, depression and insomnia.
2. It makes you FOCUS
I have so much to do sometimes I just stare at the wall (or scroll on IG) and do nothing. Then I stand on my head to regain focus. Agaian, more fresh blood in your bran helps with mental clarity
3. It is a natural treatment for hair loss.
Ok, new mommas, you know what I am talking about. This is when hormones change and an increased blood flow can provides nutrients to the scalp region therefore decreasing hair fall and the onset of grey hair.
4. Ease for Headache and Migraine: Sirsasana strengthens and relaxes the blood vessels in the brain and can prevent headaches and migraine.
5. Mini Workout for Arms and Shoulders: This posture, when held for a few minutes, can strengthen your core by improving the upper body strength, and muscle endurance. Make sure you relax your neck and shoulders, otherwise you will be aching later.
6. Digest Better.  Gravity reversed can help the digestive system. It removes stuck material, releases trapped gases, and increases the blood flow to the digestive organs.
7. Cleanses the Lymphatic System: Out lymphatic system removes fluids from the tissues and waste products from the blood. When you get upside down you stimulate the lymphatic system and assist in removal of toxins from the body.
10. Cures Piles and Varicose Vein: Enlarged veins occur due to the accumulation of the blood within the bum and legs and is very common in pregnancy. This yoga posture breaks down the blood build-up in the veins and transfers it to other parts of the body while alleviating the problem of piles and varicose veins effectively.
11. Helps you manage Fear of Change.
The first time you get on your head you will feel fear. Sometimes it can be paralyzing. Do not let that stop you. Get someone to spot you or go to your closes yoga class for help. Once you conquer this fear you will find that that skill of letting go of fear transfers onto other parts of your life -and as you do, yo regain BALANCE – both physically and emotionally. It has done wanders for me.
So… yes.Get on your head. Please make sure you do it correctly, you can hurt your neck.
If you would like to see a video on how to get on your head, send me a DM on IG or leave a comment and I will make a Youtube or IGTV  for you! And don't worry, it doesn't happen overnight. It took me a year to be able to do it without a wall support!