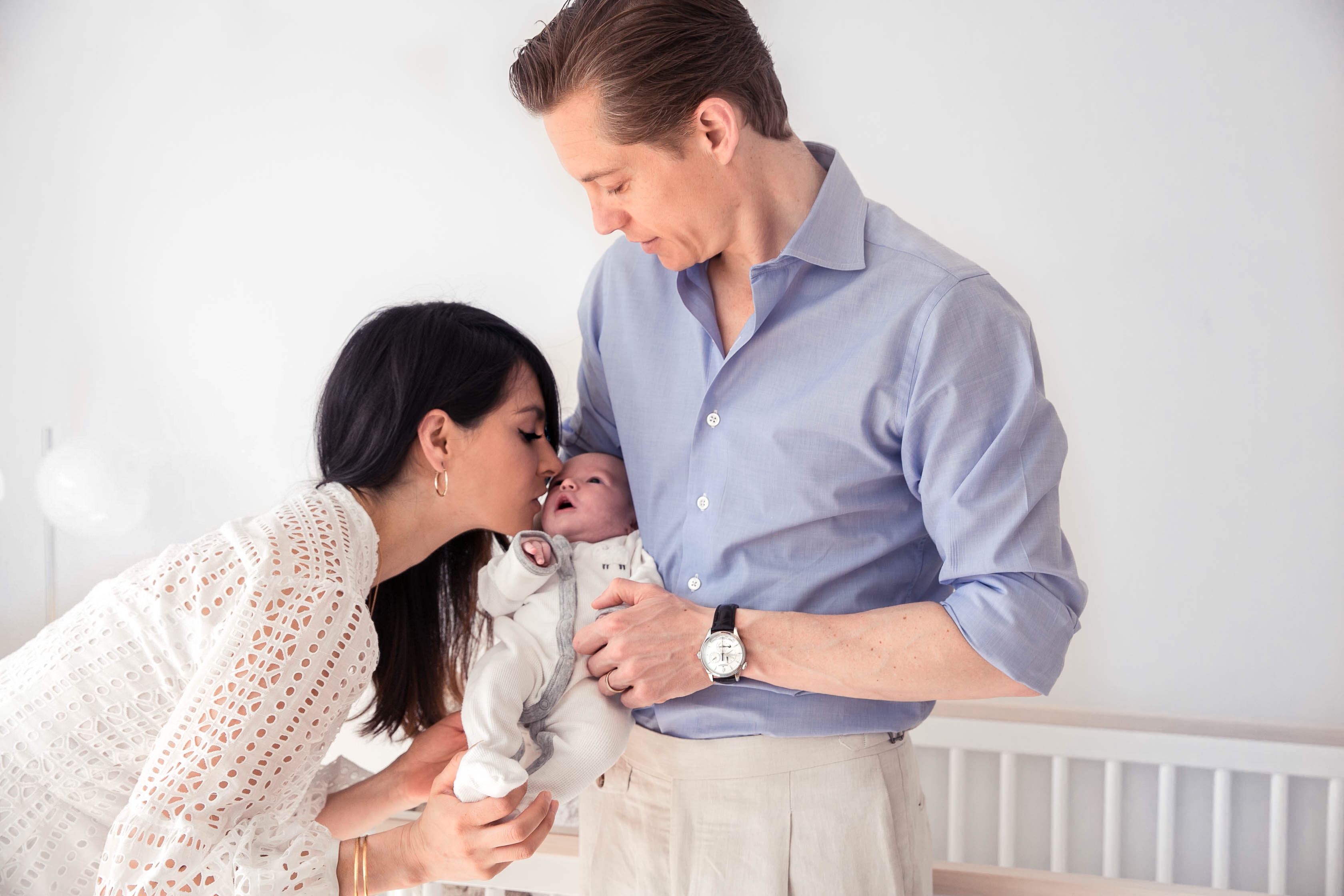 Welcome to our Nursery Reveal!!  Those who follow me on Instagram will know what an ordeal it was to create a gender-neutral space that would have great design while being environmentally friendly and non toxic.
We definitely didn't take the easy way out on this one.
I would say the hardest thing was to find eco-non toxic things that had great design. Most things out there were just . . .not the quality we wanted, looked too basic or were way too expensive for something that we would use for a few months. We researched and asked around a LOT – and I have to admit that a lot of the the things we actually did get came as recommendations from the JET BLACK momma-team (a shopping consierge service that has me over the moon!). After them suggesting several crib + organic cotton bedding options and delivering a sold out item the same day, we began to trust them blindly with all the "big stuff". We pretty much went for all the things they recommended because we knew they had been pre-approved by a group of mommas who are as discerning as I am. They also helped with my hospital bag and breastfeeding snacks! So on that end we felt covered.
The decoration was a different story. Not knowing the gender of our baby before she was born sort of helped narrow things down a LOT. And to be honest, we like a minimalistic clean aesthetic so that worked out great. . . but finding the right things was a nightmare. Once I get an idea in my head there is no way you can make me change my mind. I wanted it to look slick and clean. A baby minimalist haven that would have enough storage to hide away all the toys and bits babies require. My first move was to call my brother (you guys know he is a well known industrial designer in Latin America). Luckily he took some time to design a couple of pieces for the nursery, including a version of our meditation chair adapted for breastfeeding! (LOVE). . . But the details were still missing and nothing quite filled our expectations.
Our sofa has hidden drawers, and our closets host endless boxes and smaller drawers for baby clothes. But a Week before my due date, the decoration was still a blank.
Finally I came across Lorena Canals – a rug label that makes rugs, blankets and decor. Everything is hand made, machine washable, 100% organic (even the dyes they use) and has beautiful collections. FINALLY! Something that could work for us. So, after window shopping around for months we decided to go with Lorena Canals for all the details in the nursery. The hardest part was choosing between their leaf-jungle collection or their Sky themed collection.
In the end, the tummy-time cloud rug won. I cannot wait for Francesca to be a couple of months older so we can do lie on it on it for hours!
We layered this gorgeous cloud rug as an accent over a neutral star-pattern rug to add depth, texture and coziness to an-otherwise monochrome palette. We complimented the room with a couple of cloud and star pillows and a beautiful baby blanket that matched our tummy-time cloud.
We added a hymalayan salt lamp to fight EMF;s (toxic electronic waves) and some handmade candles from Brooklyn Candle Studio.
We could not be happier with the look of the nursery! (and LOVE that the rugs are all non toxic and machine washable. If you are a mom, you will understand). It looks so simple yet well thought out and soothing. The perfect environment for out little baby girl.
Our Nursery – and our little Francesca at ONE WEEK after being born!!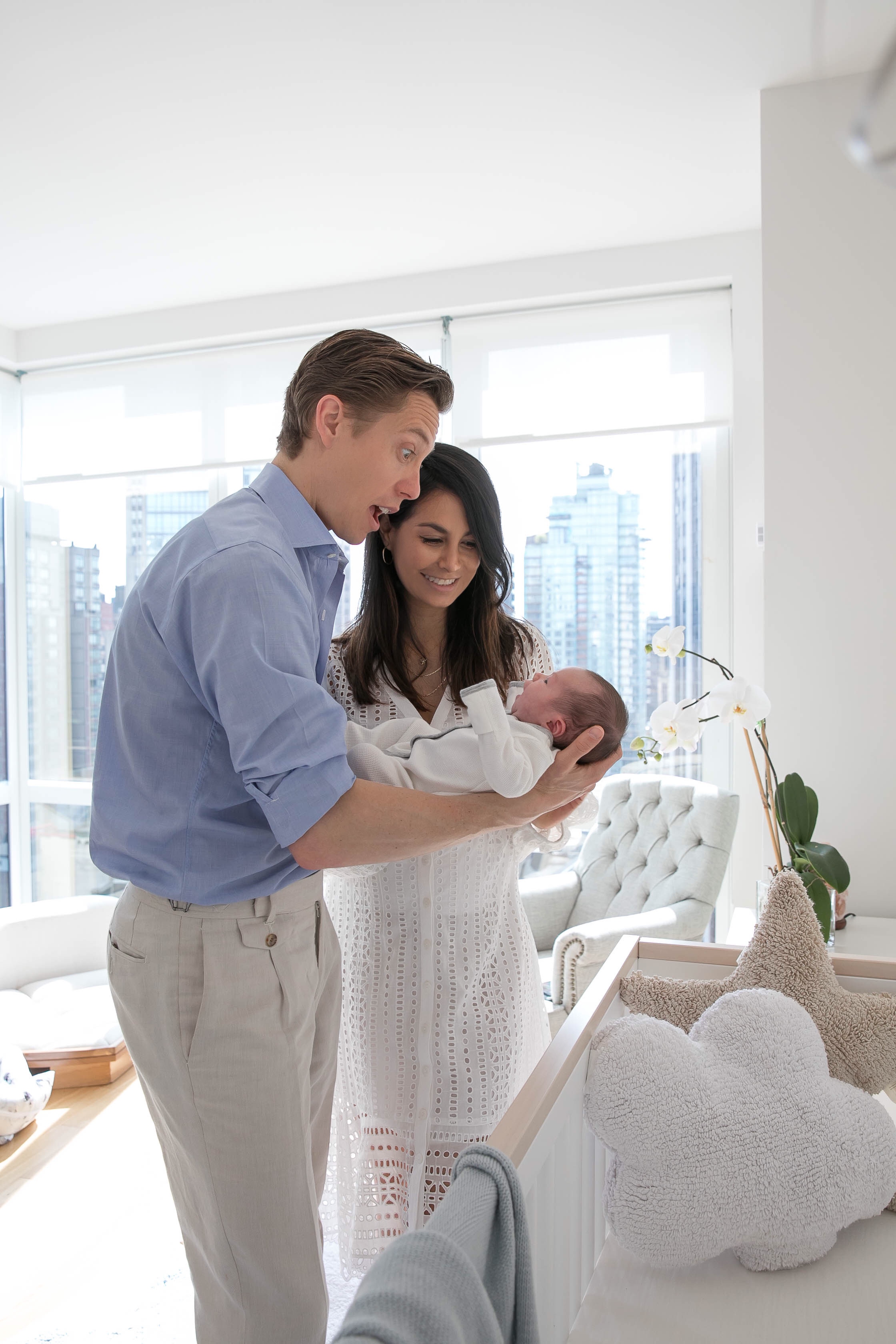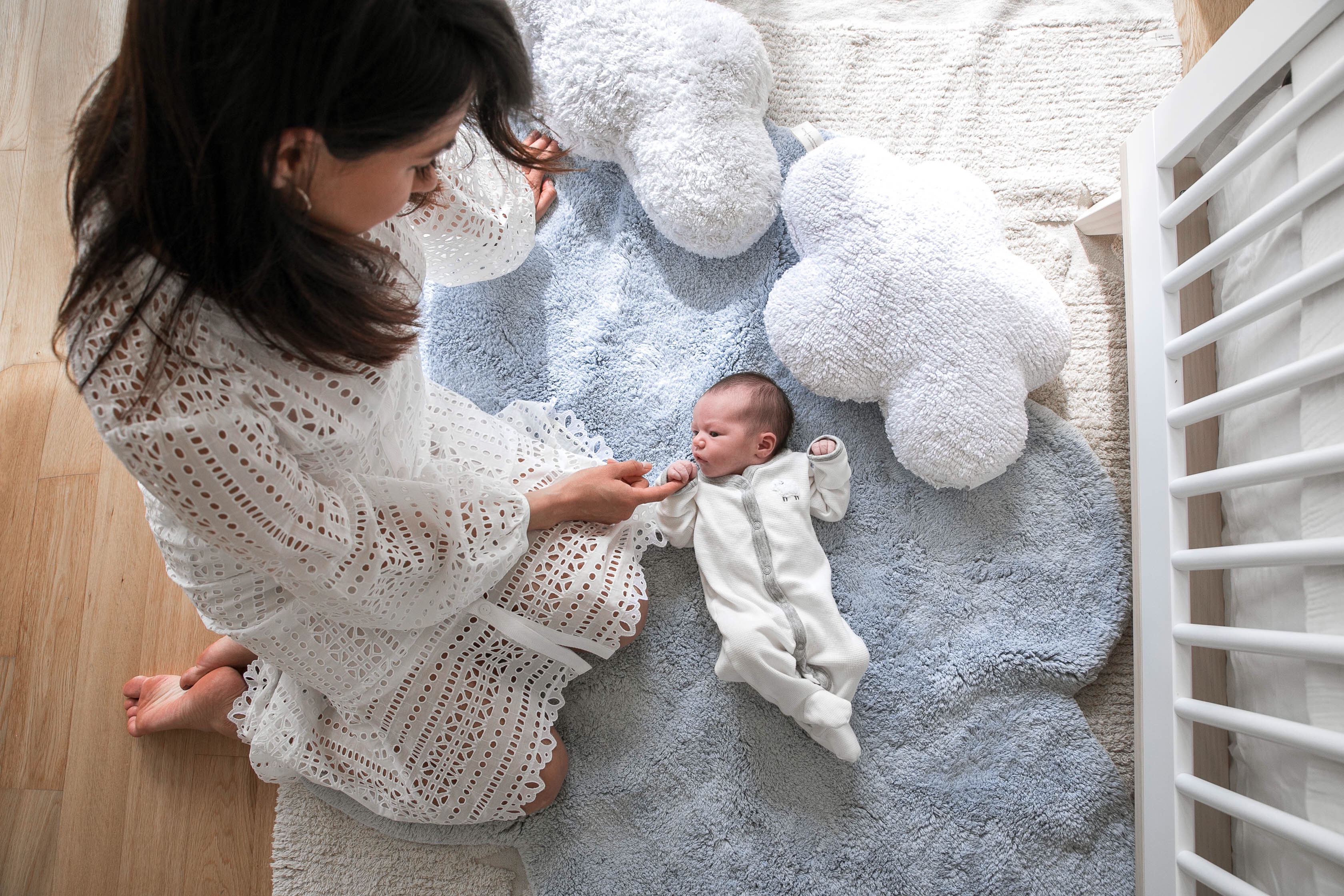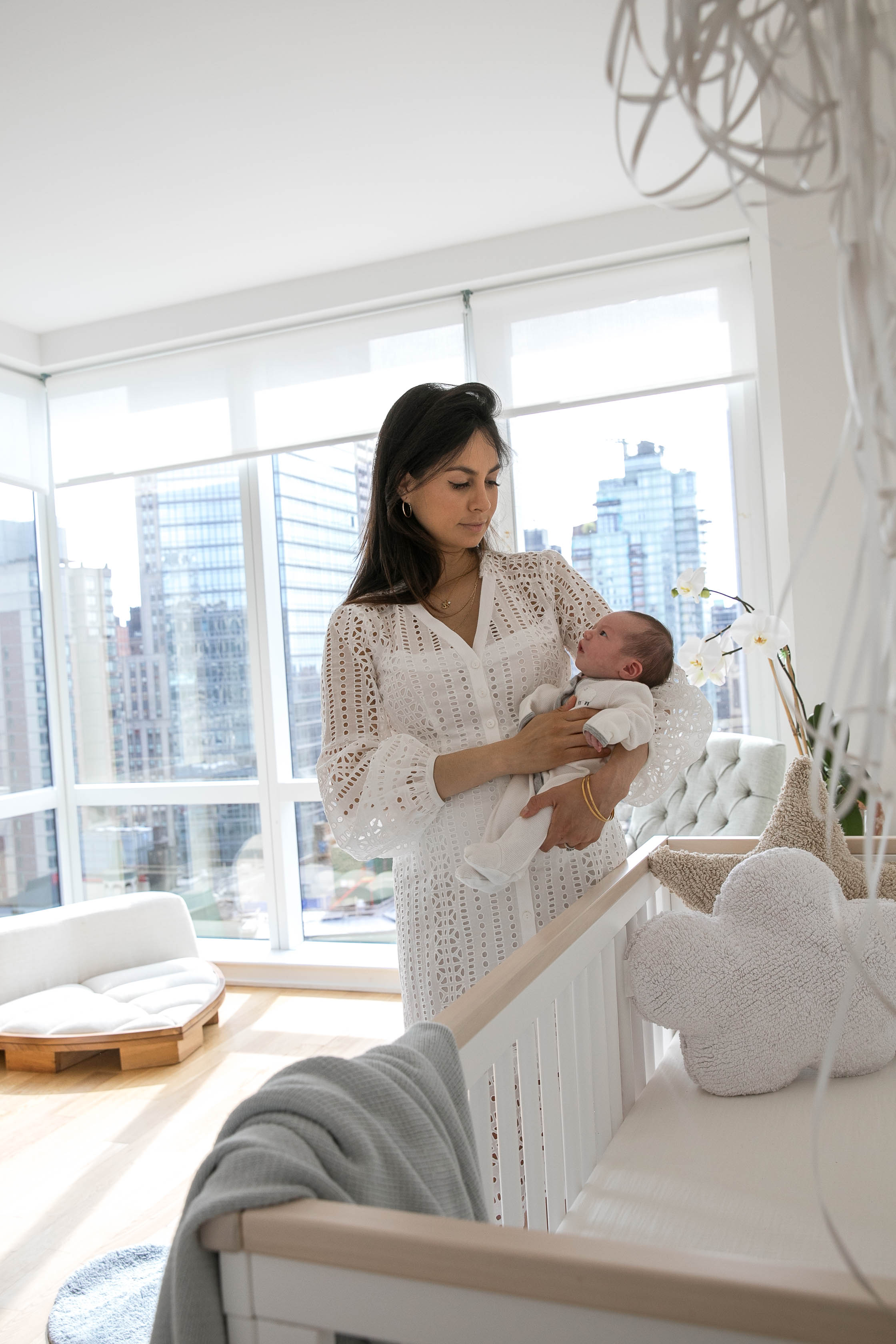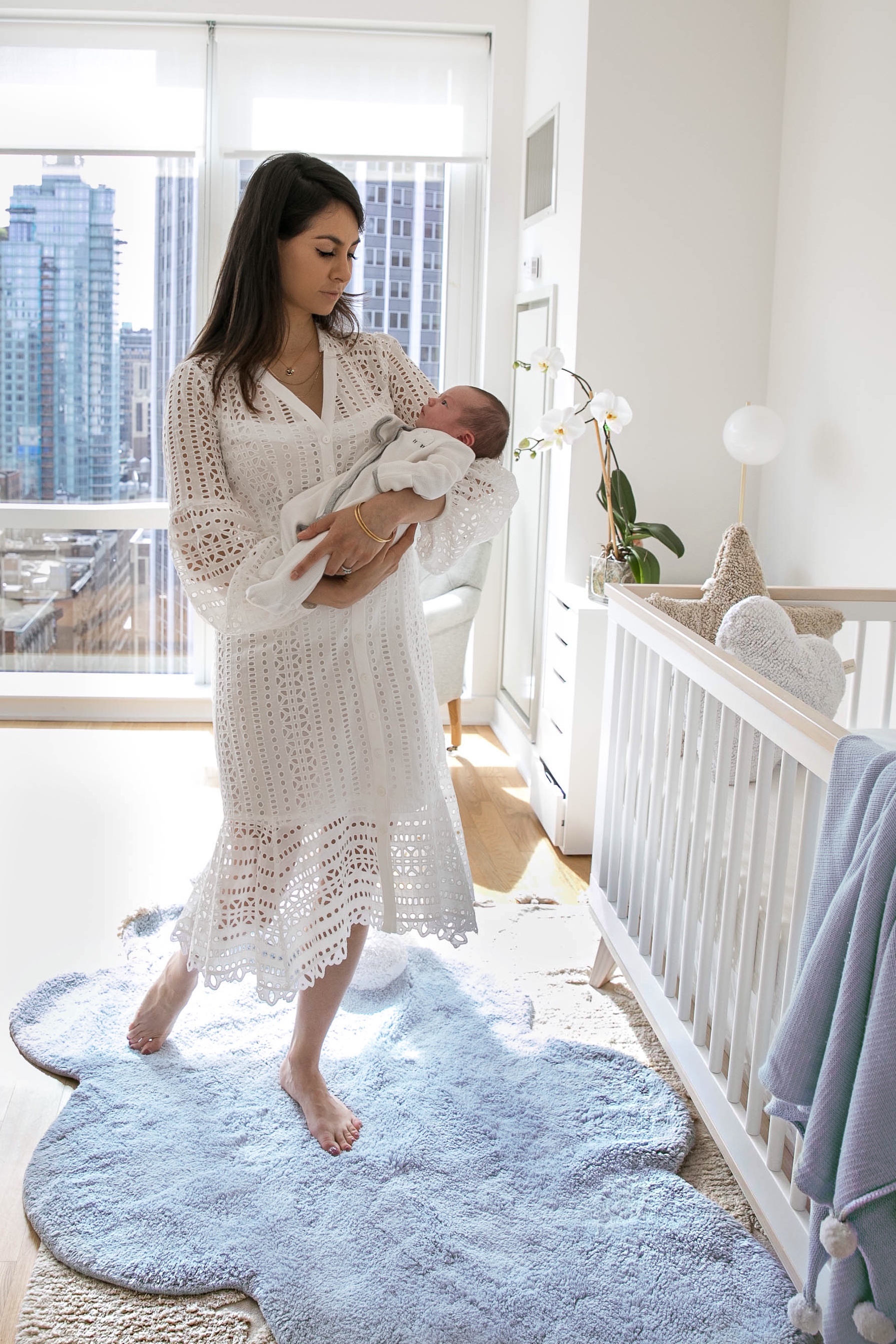 I am sure the nursery will evolve as she grows – and as we move because we are planning to move to southern Manhattan when our lease is over in this place! Let us know your thoughts, what has worked for you and what other pieces you would recommend for new parents!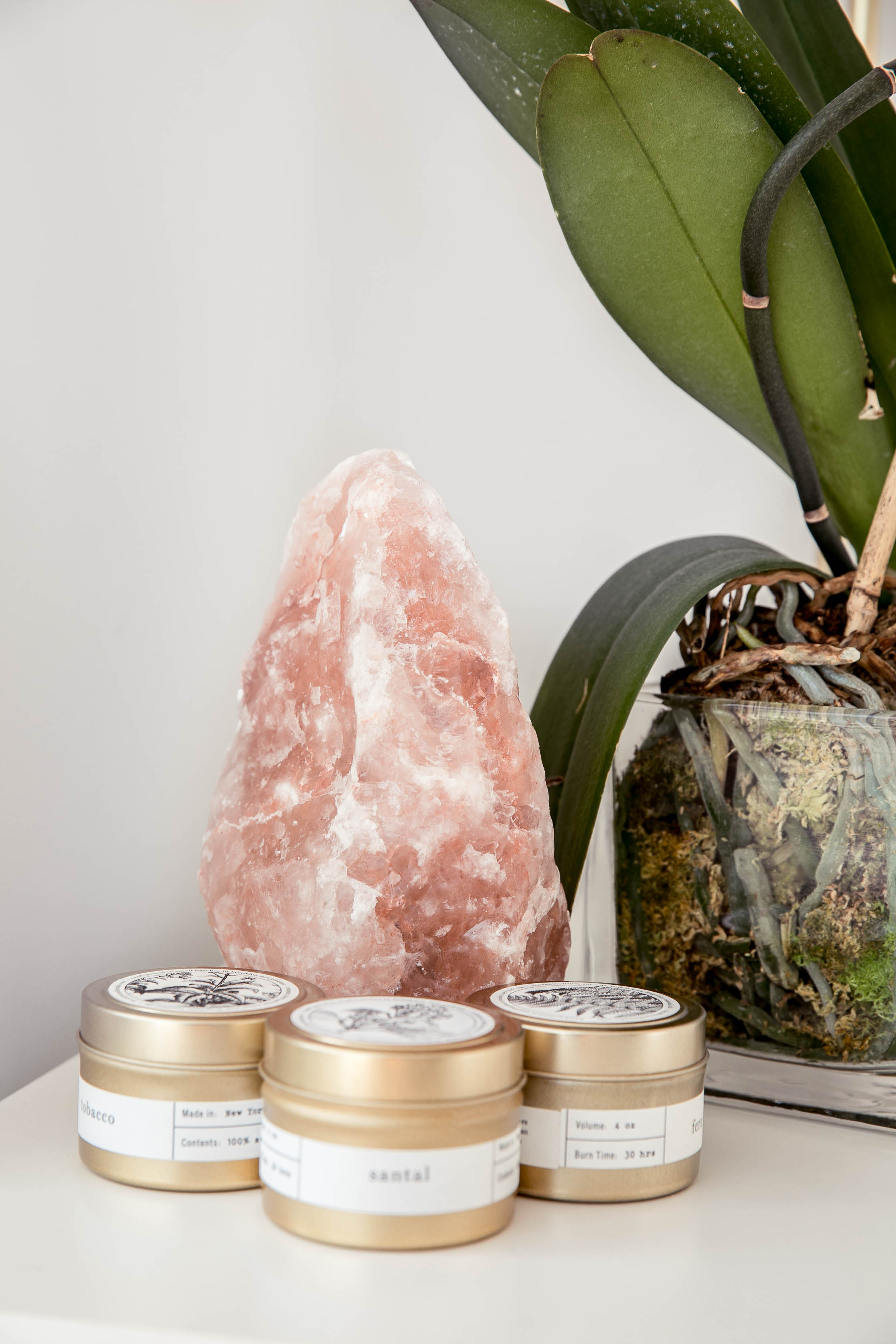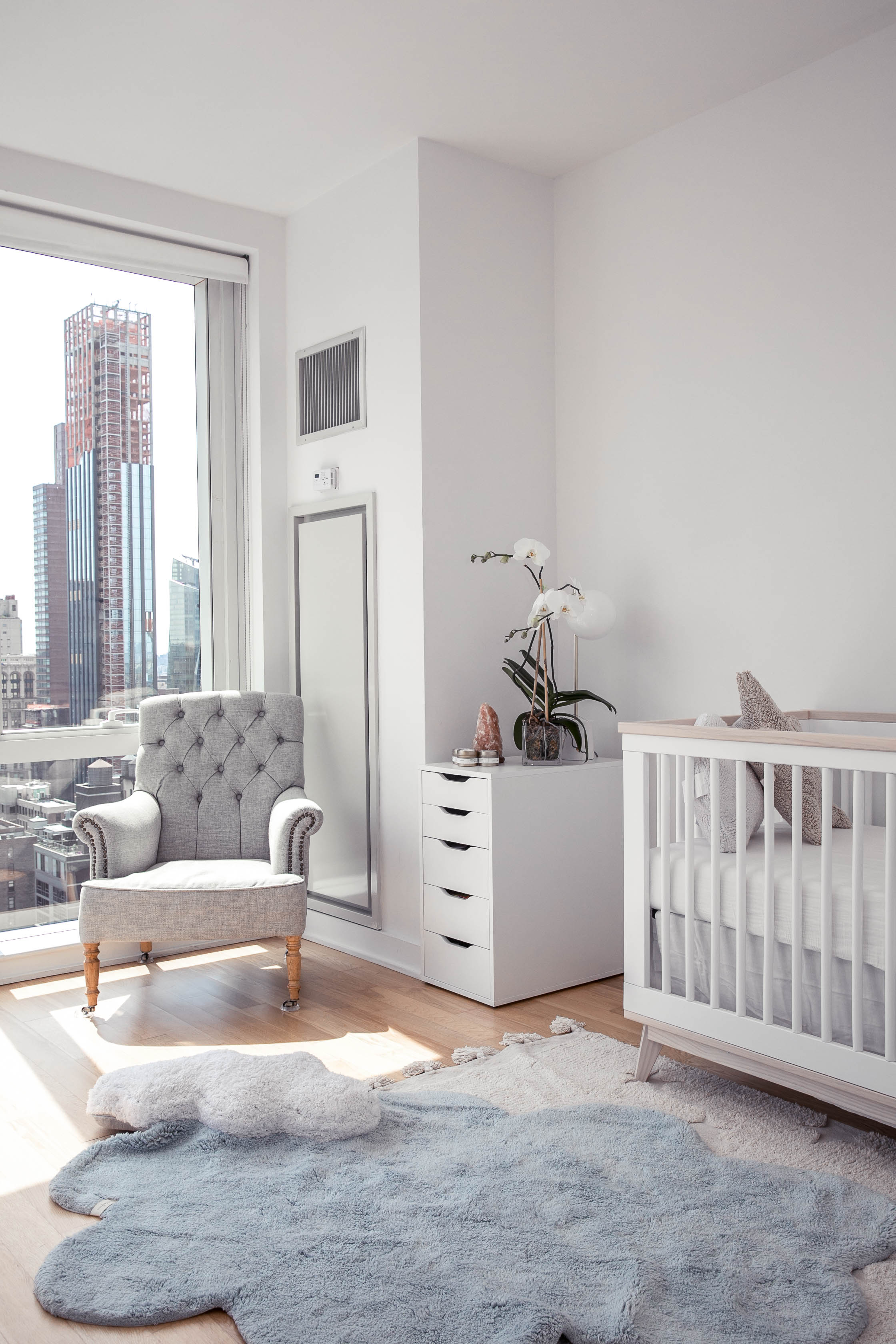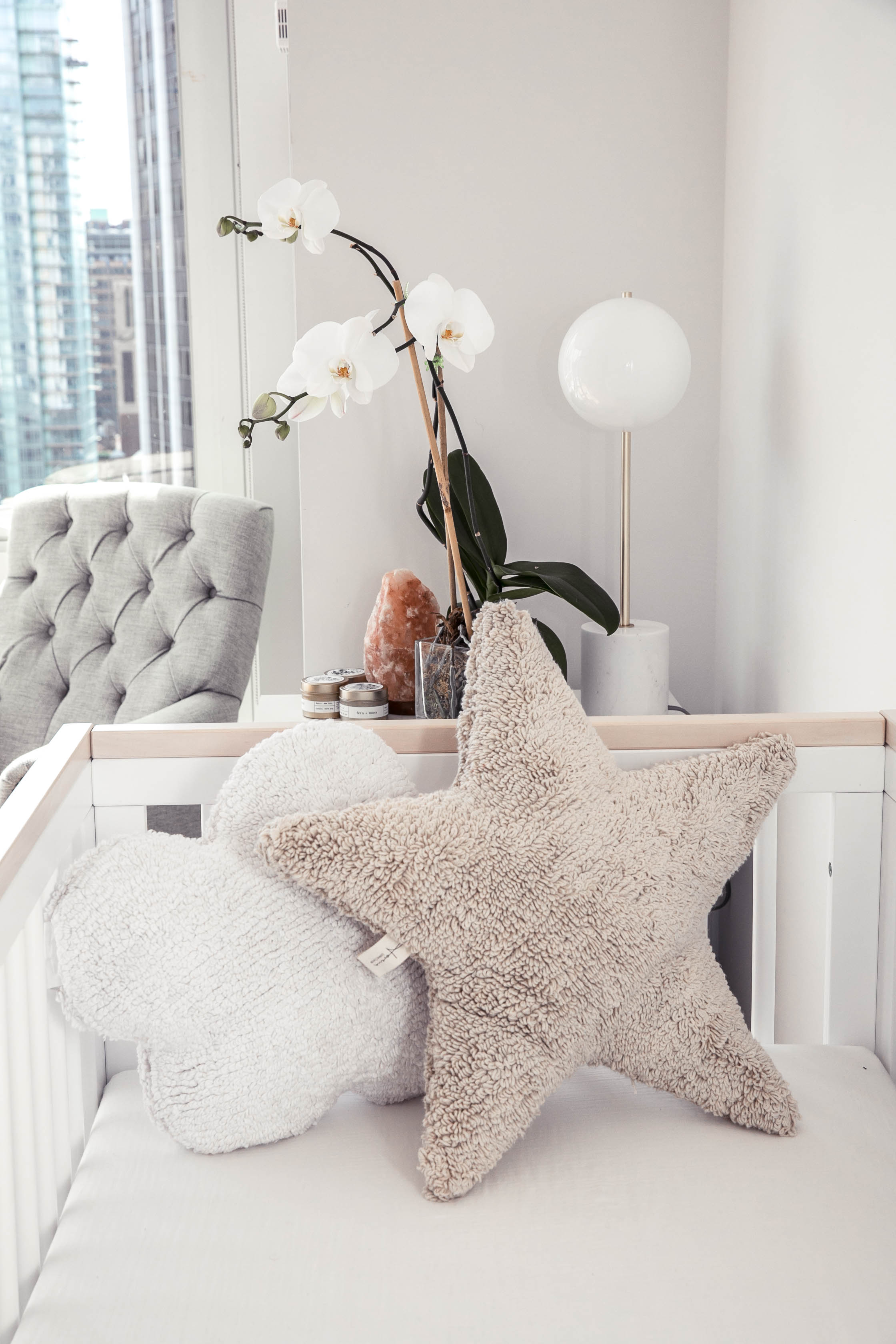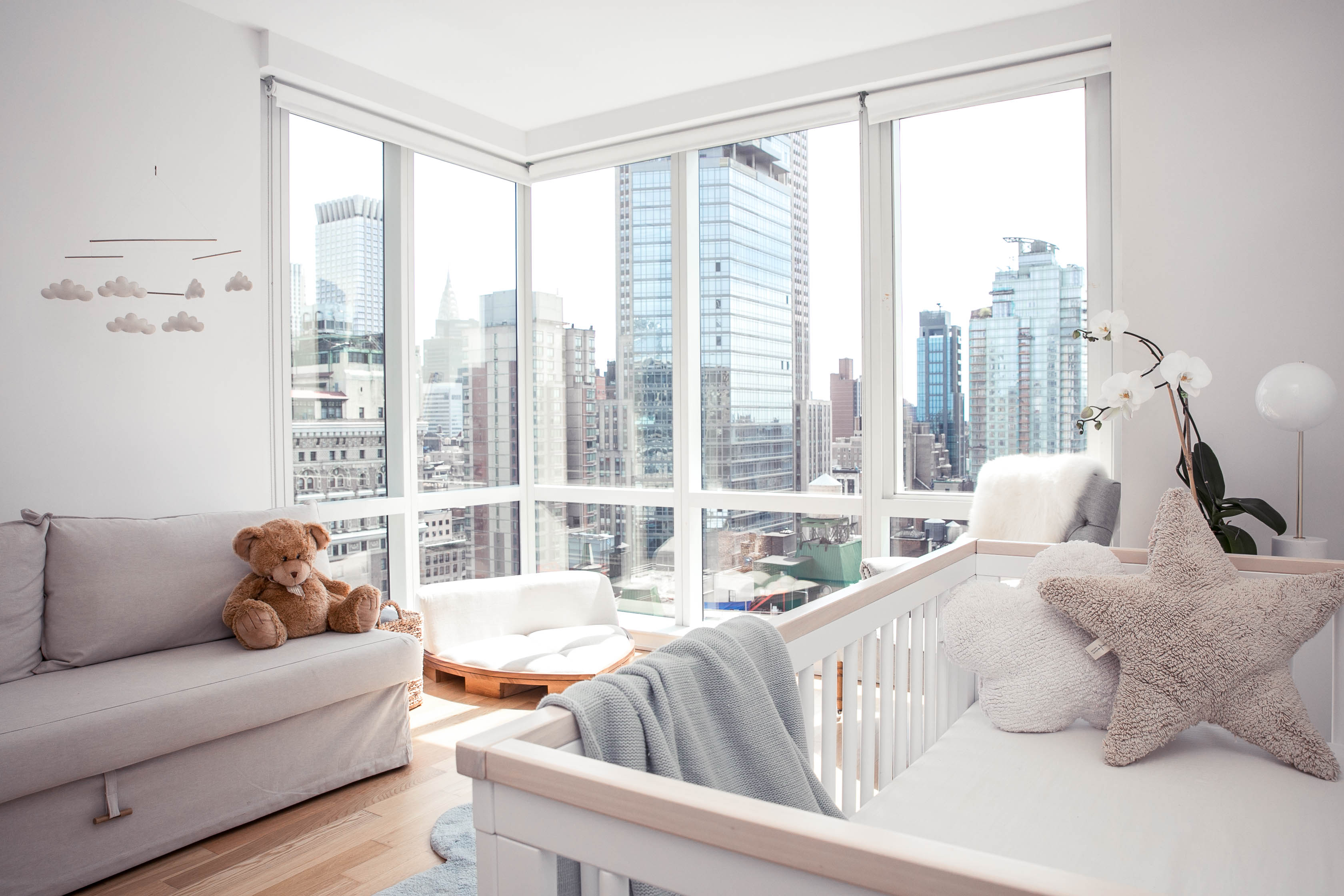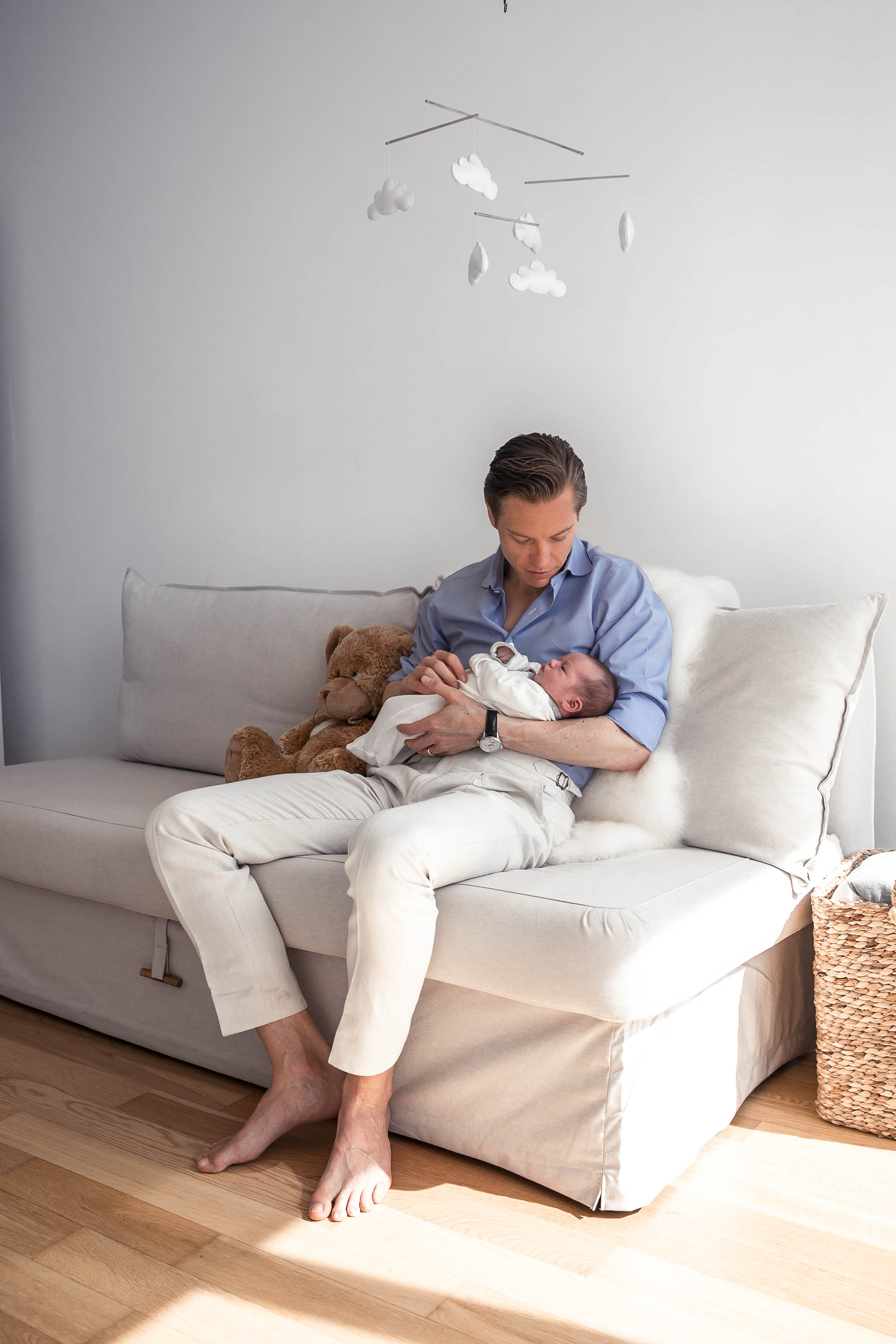 TIPS ON HOW TO CREATE THE VIBE:
Stick to a neutral color palette (dyes tend to have more toxic chemicals)
Pick a theme and sprinkle it around the room – but don´t over do it.  (in our case we chose clouds!)
Pick natural materials like wood, cotton and linen over synthetic materials.
Work around natural lighting to create the right atmosphere. Add soft lights for a night vibe.
DON'T MISS MY BIRTH STORY POST &
VIDEO ON YOUTUBE & INSTAGRAM TV!