How to Detox your Beauty Routine
NON-TOXIC ADVICE FROM THE EXPERT
As part of my DETOX Series and attempt to have a "cleaner" lifestyle" I asked Non-Toxic-Living Expert, Sophia Ruan Gusheé How to Detox your Beauty Routine. She gave us the secret to Detox your Beauty Cabinet:
Detox what you don´t love.
I want this to be my life motto. Apply it to EVERYTHING. From beauty products, to food…to relationships! Whatever is not essential to us can be replaced for better, more wholesome substitutes that can enhance our life rather than harm or keep it stale. Why not?!
YES!! Thank you Sophia!! Cannot wait to learn more and finish reading your book!!! Guys stay tuned for more non-toxic posts.
Until then, on my end I have been doing some serious research. Being pregnant, I want to be as clean as possible with my beauty products but well, I am infront of the camera and (like most of us) too vain to let go completely – so I want products that do not harm my baby in the slightest – but still work for me.  These are some of my top findings.
How to Detox your Beauty Routine : My suggestions.
THE CLEAN PRODUCTS I AM LOVING RIGHT NOW
HYGENE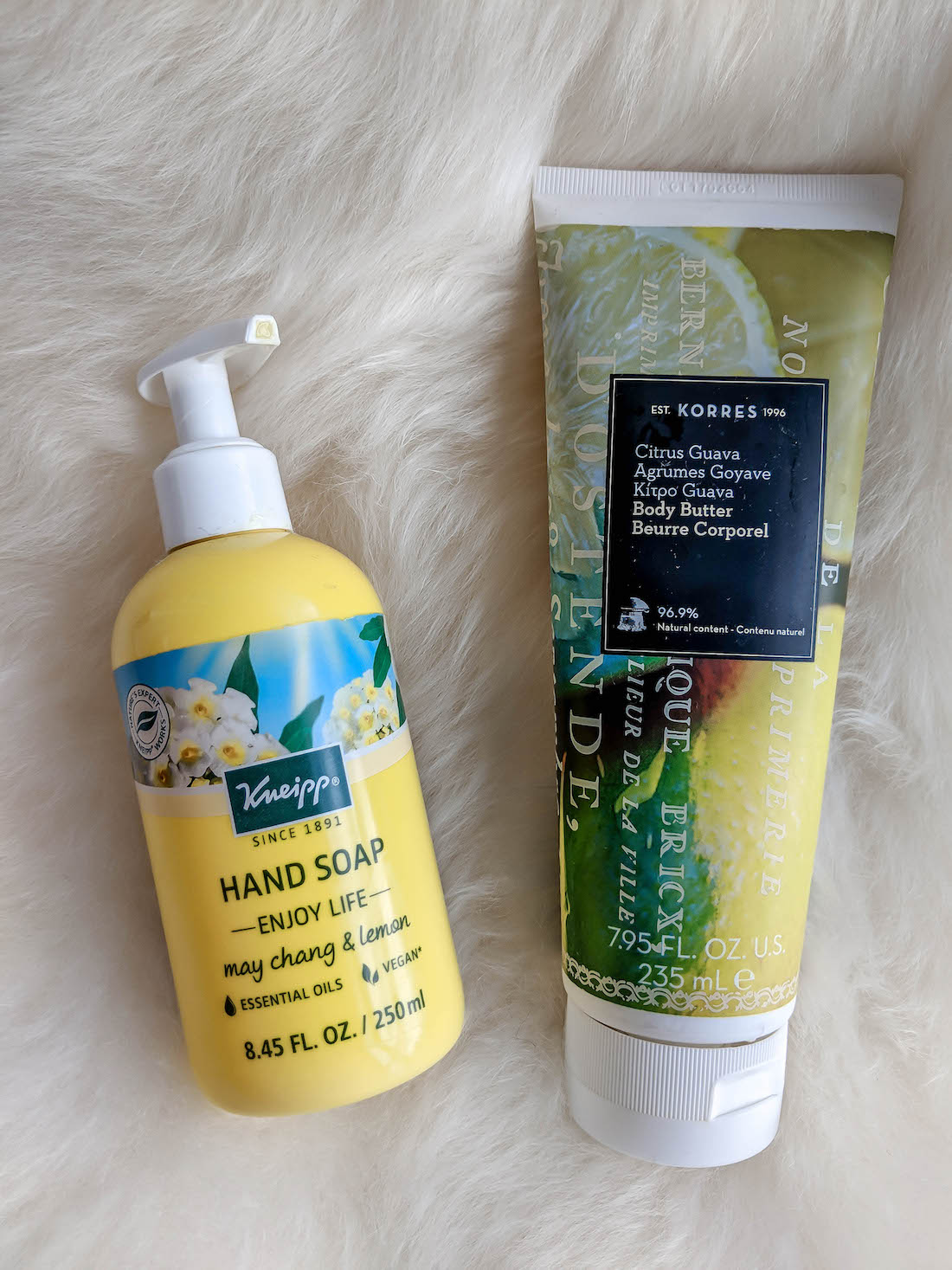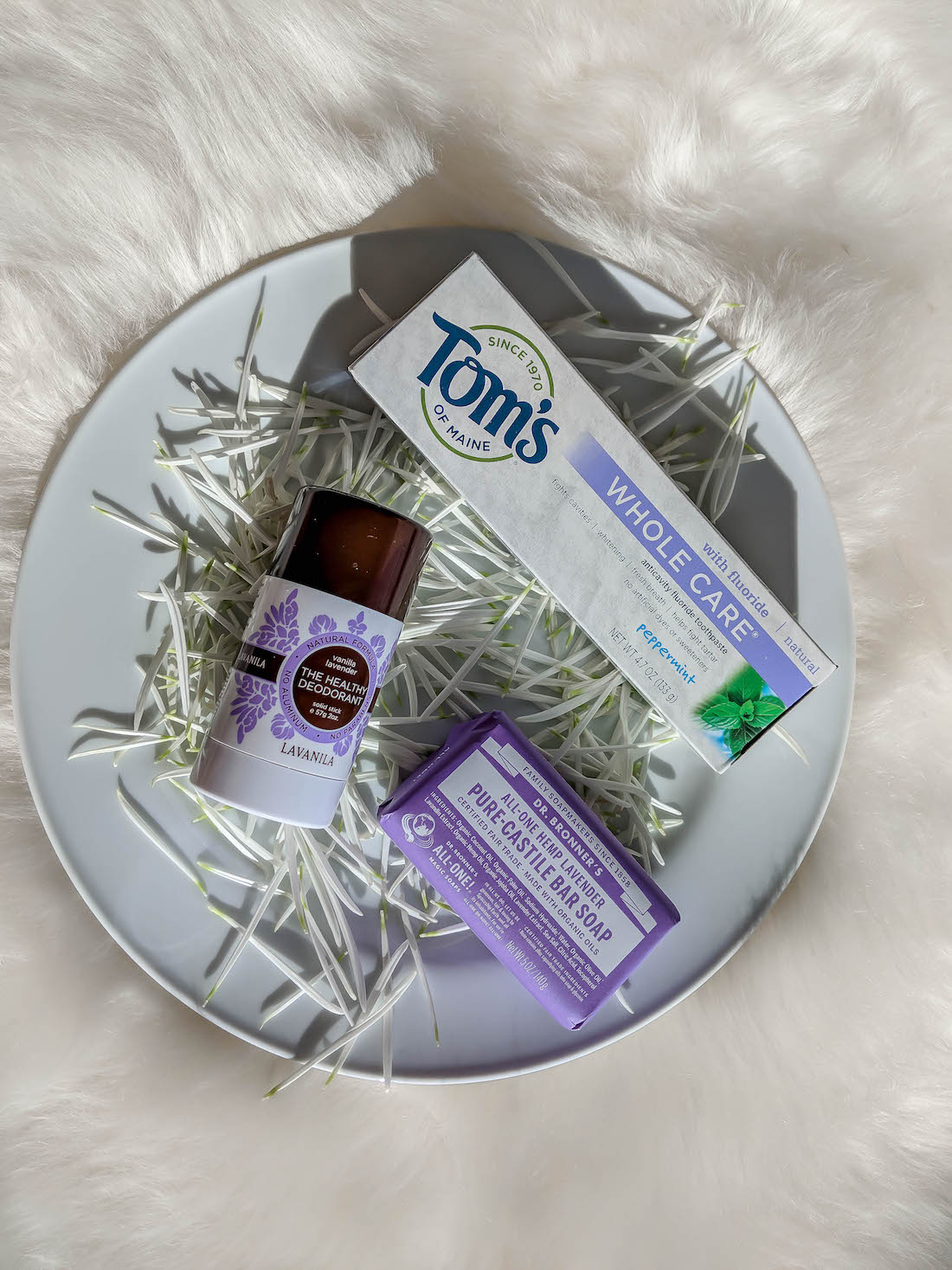 Like Sophia suggests, some of the first products I replaced right away were the ones I use every day. Next to the sink (both in kitchen and bathroom, I keep two things:
KNEIPP HAND SOAP
EWG rating: N/A but most soap products form the brand are 2-3
My Opinion: I wanted something non-toxic that still killed bacteria and did not dry my hands & body.
KORRES GUAVA BODY BUTTER
EWG rating: N/A most korres butter products have a rating of 1
My Opinion: I wanted something as non-toxic as possible, thick and super hydrating for my hands. It is winter, I use it a lot.  I loved this body butter and stuck to it. When in a rush I also rub some on my belly to avoid pregnancy  skin-strech itching.
LA VANILLA DEODORANT
EWG rating: 1. ANd it is aluminum free which can affect the mammary glands and contribute to breast cancer.
My Opinion: LOVE IT. Only non-toxic deodorant I can wear to the gym, have a hard workout and be certain it works. Have been using it for over a year now. Other smells available.
TOMS TOOTHPASTE (with flour)
EWG rating: 2. You can get a 1 if it doesn´t have fouride.
My Opinion: Love the fresh flavor. Few non-toxic toothpastes give me a "clean" feeling. I need the flouride – if I go without it I immediately start getting cavities and issues. This is a toxin that is non negotiable for me.
DR BRONNERS SOAP (lavander)**
EWG rating: 1.
My Opinion:Amazing. Love the scent (essential oils). It cleans and leaves my skin feeling soft and hydrated.This soap is fantastic!
CLEAN SKINCARE FOR THE FACE
CLEANSE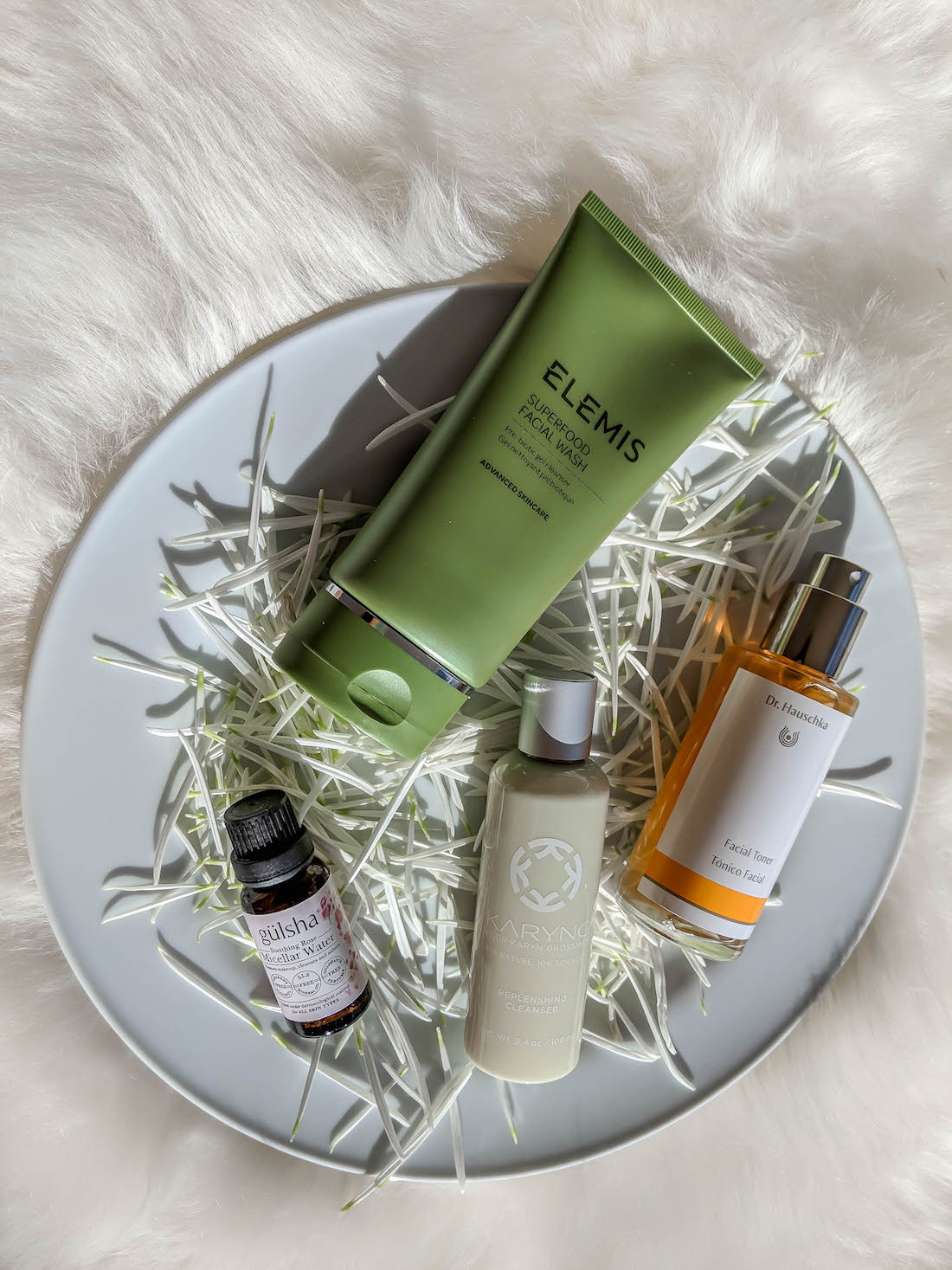 KARYNG CLEANSER
EWG rating: 2
My Opinion: Very gentle on the skin. Great smell. Love it for the mornings.
GULSHA CLEANSING
EWG rating: N/A all natural.
My Opinion: I love using a few drops to remove make up and massage into the skin for a deeper cleanse before using soapier products.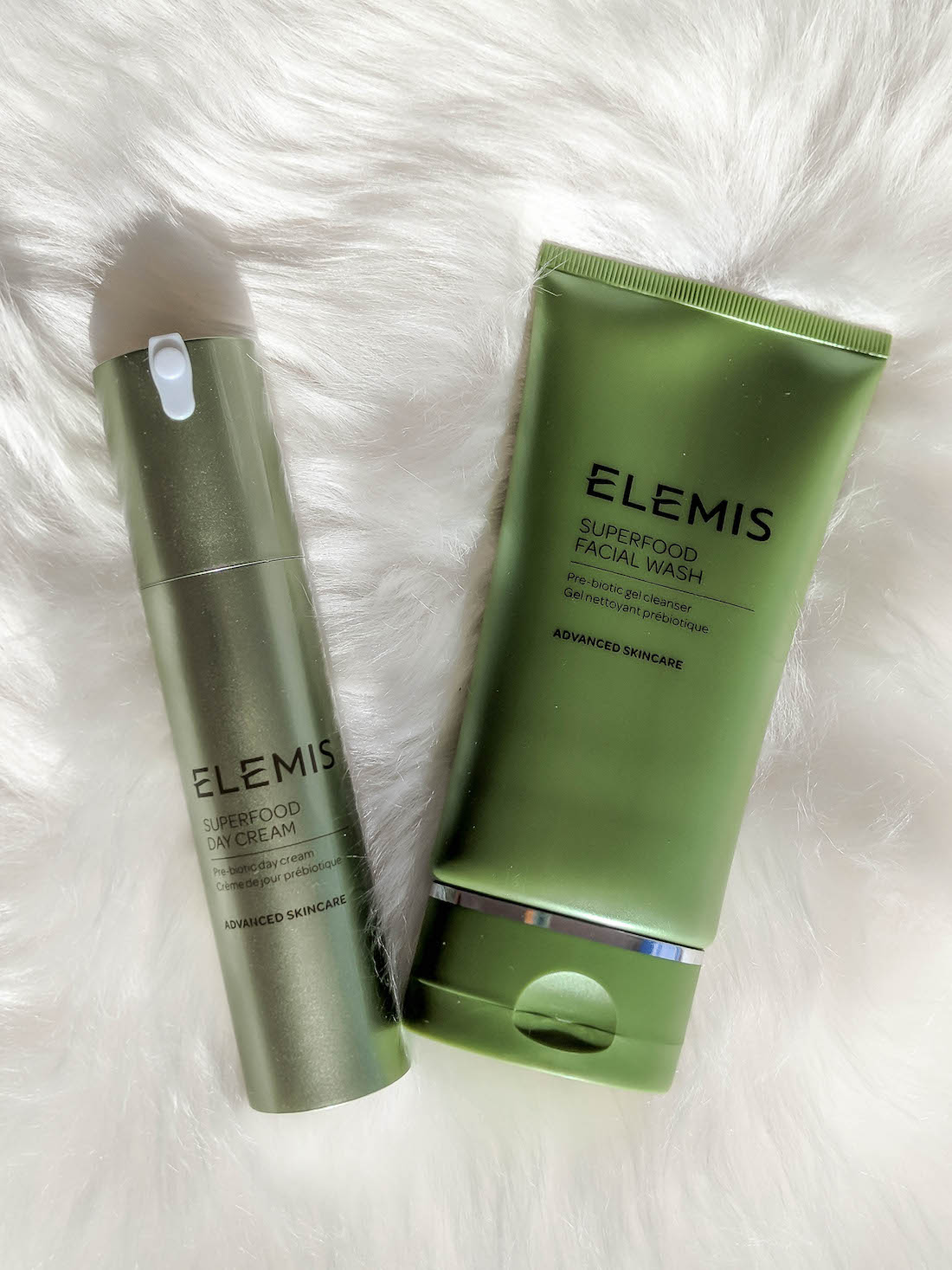 ELEMIS SUPERFOOD WASH**
EWG rating: NA / natural ingredients
My Opinion: I recently discovered this new SUPERFOOD line by ELEMIS and I LOVE it!  The wash feels like it cleans deep into my pores in a gentle but effective way. It does not dry my skin, makes it feel fresh and soft and smells delicious! Love. Addicted.  I am using it specially at night before my full beauty routine and I really recommend you ALSO TRY THE ELEMIS SUPERFOOD DAY AND NIGHT CREAMS. Best natural-based system I have found so far. Go to their website to see their ingredients. These products have avocado oil, wheatgrass extract, broccoli seed organic pumpkin seed and a few other natural ingredients.
HYDRATE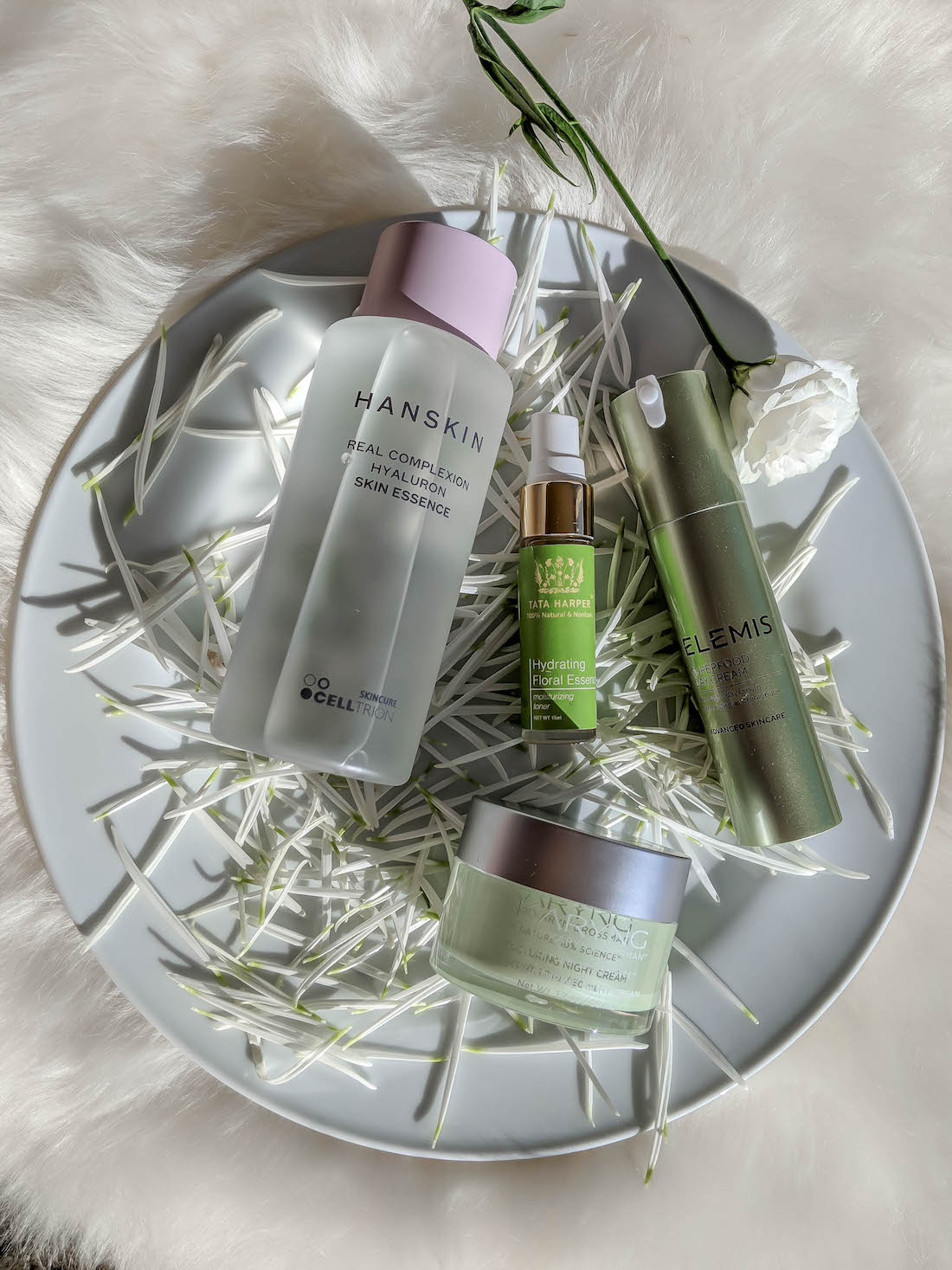 ELEMIS SUPERFOOD HYDRATING DAY CREAM
EWG rating: 1.
My Opinion: Fantastic! Also using the night cream and face wash. Super effective, non toxic. One of the best systems around.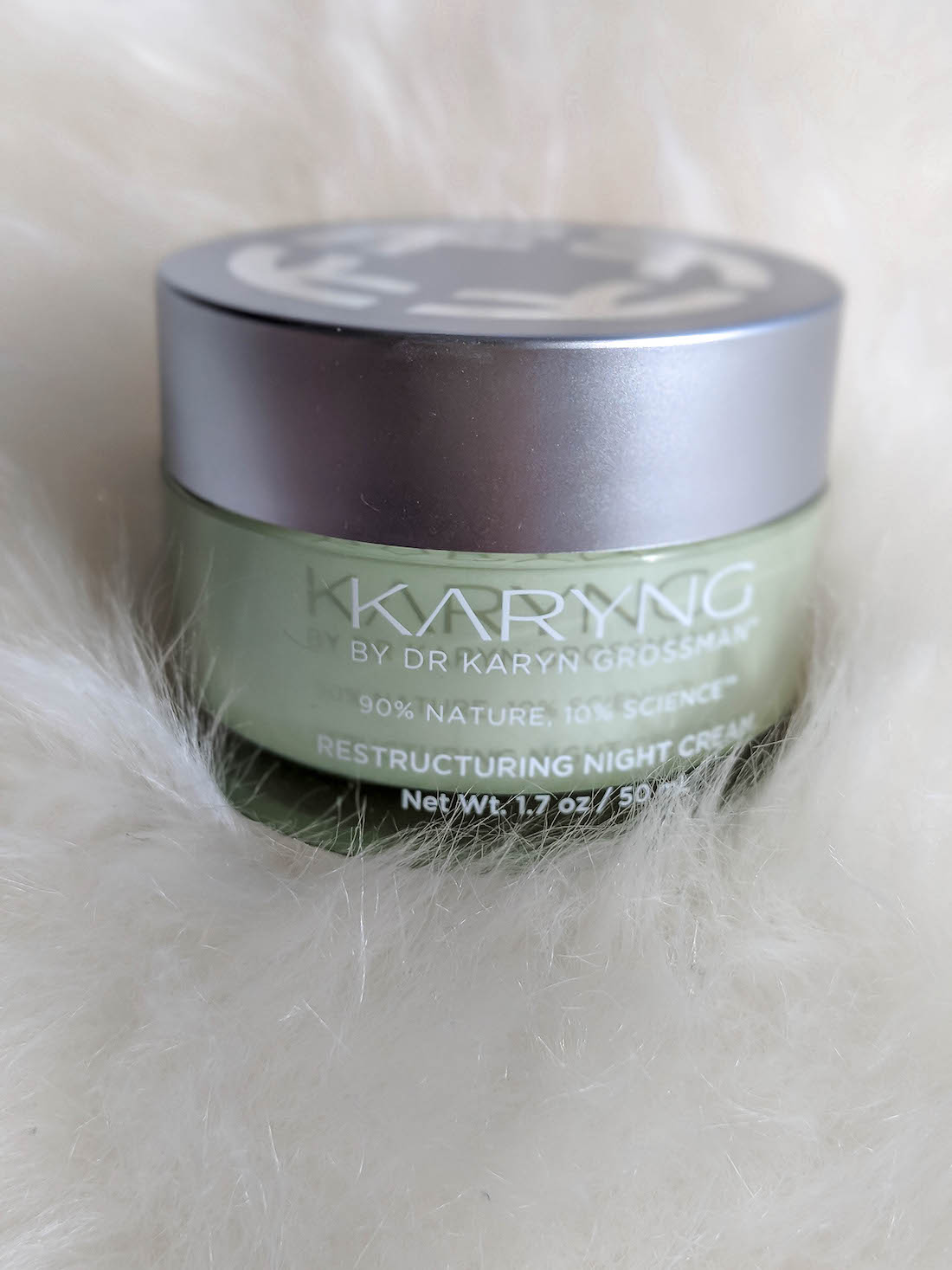 KARYNG NIGHT CREAM
EWG rating: 2
My Opinion: I want as clean as possible (i sleep with this cream on and it stays on my skin all night) but also wanted effectiveness! Being pregnant I want to avoid any toxic products but don´t want to loose skin elasticity or get wrinkles. This cream is really working for me!
TATA HARPER HYDRATING ESSENCE
EWG rating: 1
My Opinion: Great for after the gym or as a refresher in my purse. It makes my skin feel hydrated and plump. Very fresh consistency. Not greasy or heavy.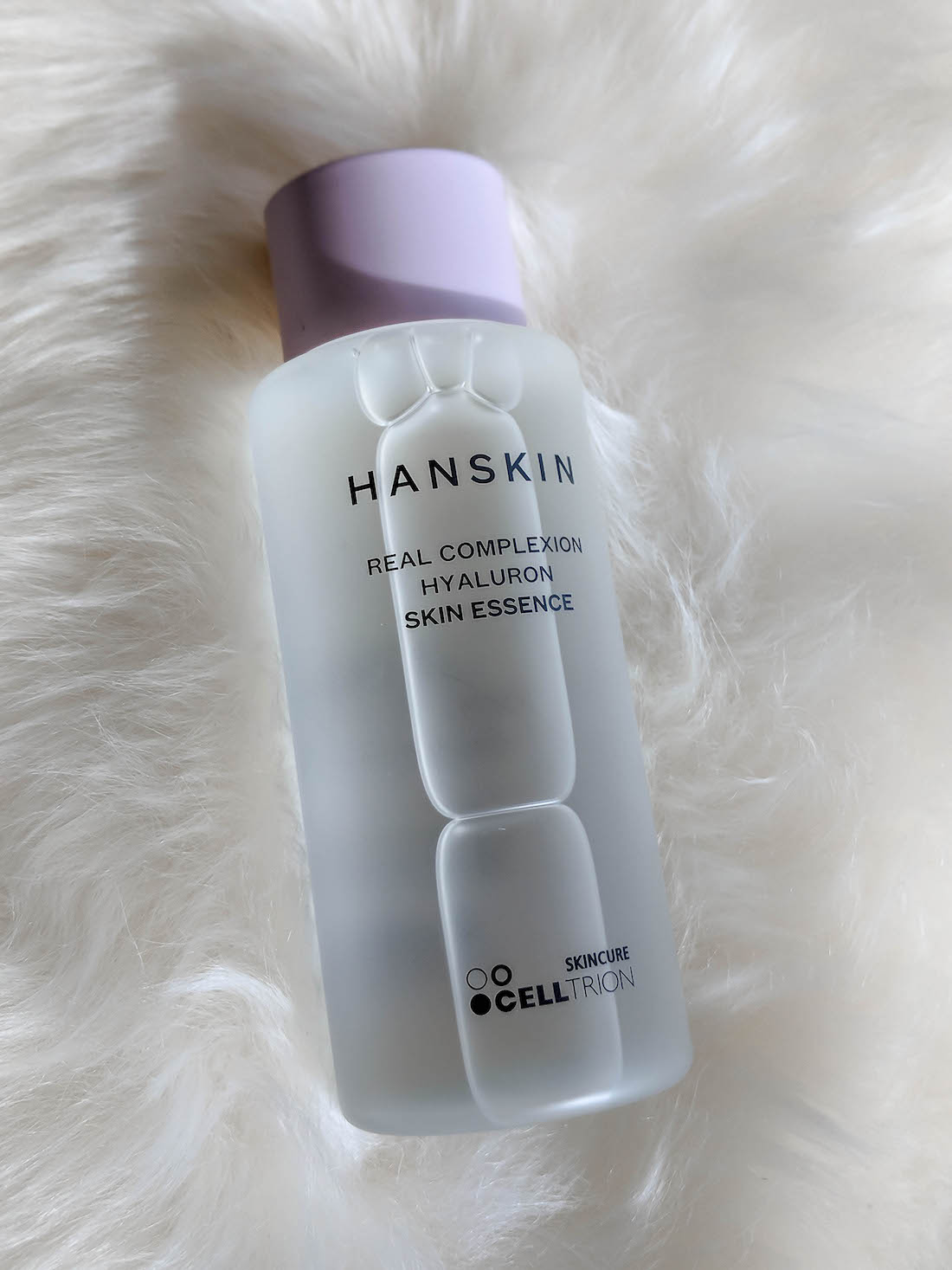 HANSKIN**
EWG rating: N/A – just entering the US market but it has a base of natural ingredients and is mostly water.
My Opinion: AMAZING!!! I am obsessed with asian beauty products because they give incredible results and always feel so LIGHT on the skin! . . .but until now I had not found too many "clean" products that felt like this.  I am literally bathing in this stuff. IT feels like thick water and absorbs beautifully. Love the way makeup glides after using this essence. It is a MUST for me.
LIPS

BURT BEES LIP TREATMENT & SCRUB
EWG rating: 1-2
My Opinion: I LOVE buts Bees. It is all honey based and as natural as they can make it. For my lips I always look for something special. I tend to bite my lip a lot when I am working without noticing and as a result  I am always that girl with chapped lips. I need constant exfoliation and  hydration. . . but since I will be literally swallowing these products I want them to absolutely be as non-toxic as possible. For years I used coconut and olive oil. Recently found this set that I use in the bathroom
BUT BEES LIP MASK
EWG rating: N/A most products of the brand range 1-3
My Opinion: LOVE this lip mask. I don´t use it often but it is great to use before big nights out and if I will be wearing colorful lipstick.
CLEAN SKINCARE FOR THE BODY
CLEANSE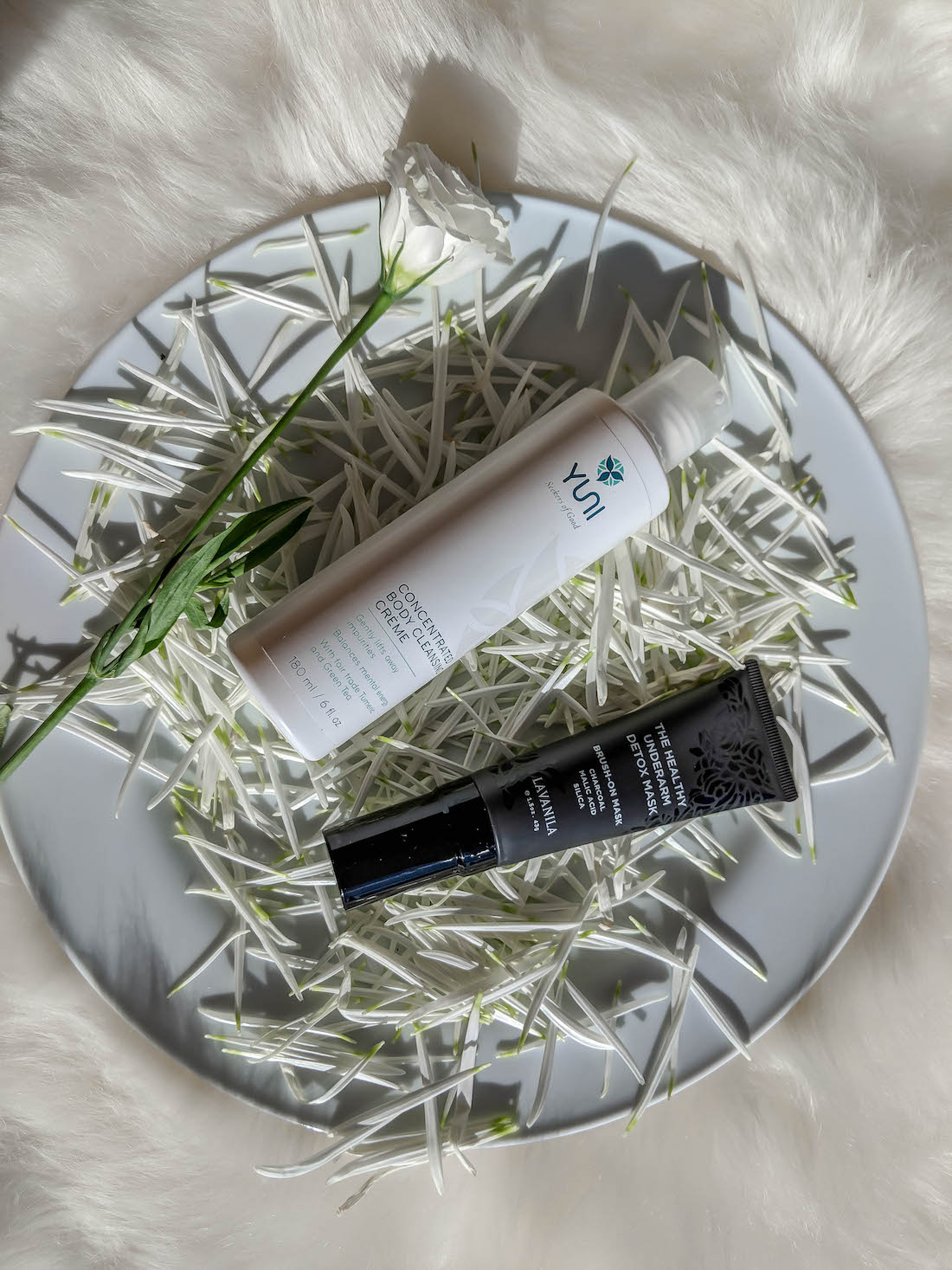 YUNI BODY CLEANSING CREME
EWG rating: N/A all natural
My Opinion: I had never really tried a creme in the shower. It smells delicious and feels super lux. It is great for a slow shower of bath – a great alternative to the soap bars I have been using!
LA VANILLA UNDERARM DETOX MASK
EWG rating: N/A  most of this brand has rating 1-2 (some 3)
My Opinion: Have you ever detoxed your underarm? I hadn't!! our glands are there and we store a lot of toxins, so I figured I gave it a try long before I started to breast feed. Very unusual product but I really liked it! I felt fresh and it was really nice to treat a part of my body that tends to go ignored. I would probably add this to my monthly beauty regime!
EXFOLIATE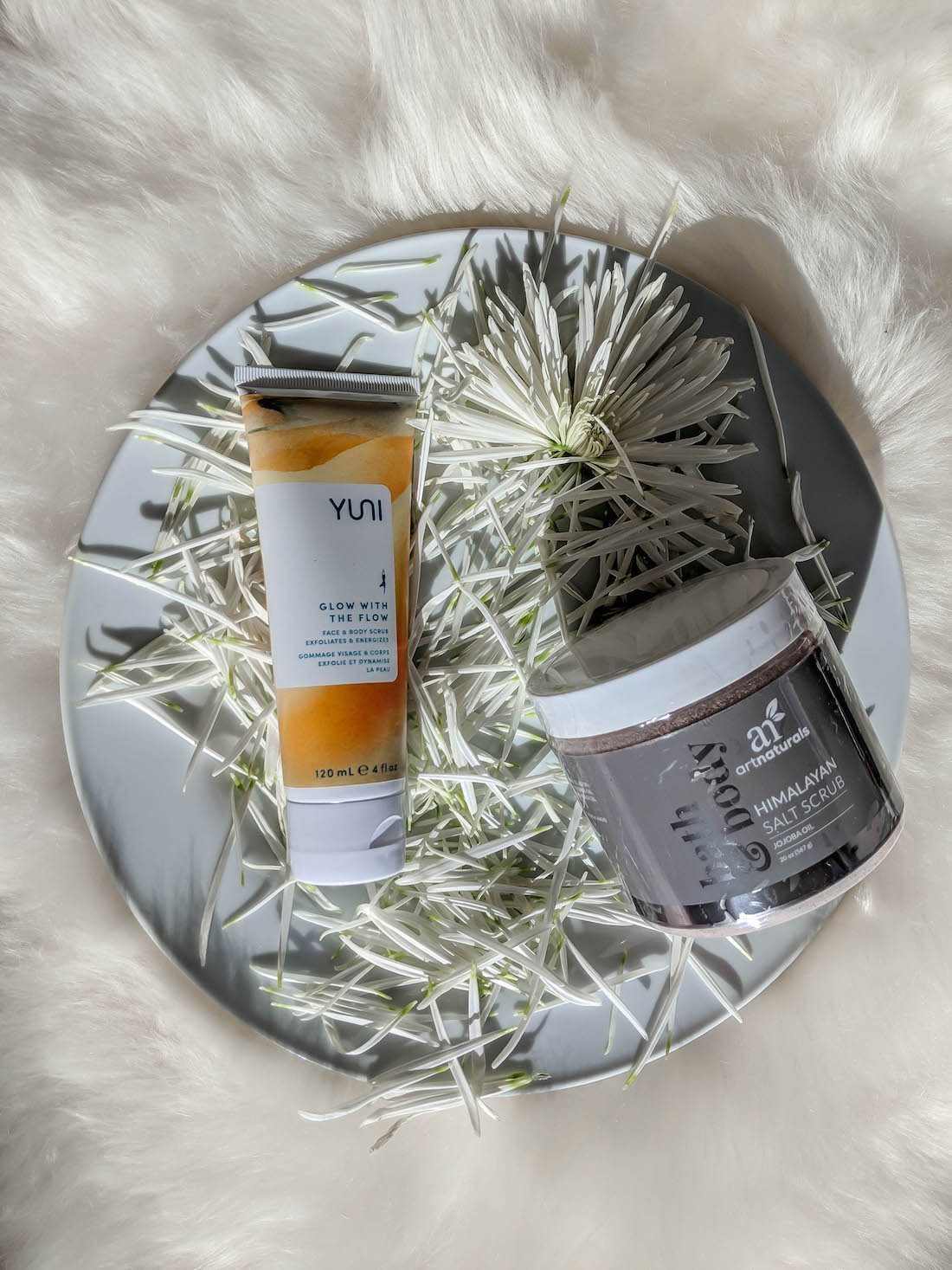 YUNI BODY SCRUB
EWG rating: N/A all natural
My Opinion: I really like this – specially for my hands. It is soft, not abrasive and leaves me feeling hydrated.
ART NATURALS HYMALAYAN SALT SCRUB*
EWG rating: 1
My Opinion: LOVE!! It is saving me. I love using it in the shower to stimulate leg circulation.I love its smell and I love that it feels like it goes in deep into my skin. Addicted!
HYDRATE

KLAIRS RICH MOIST CREAM*
EWG rating: N/A but the ingredients seem pretty solid. No perfumes, no crazy toxins.
My Opinion:Also one of the products I got at the Korea Glam store. I am keeping it i my purse. It is super thick and hydrating. A little goes a LONG way. I love using it before shooting closeups of my hands. It smells between fresh and baby powder. I don't want it to run out!! LOVE.
CLEAN MAKEUP
The basics

I am not a big makeup girl to be honest. My daily routine consists mostly on skin care followed by a CC cream that acts as extra hydration, SPF AND foundation all at once. I add blush. Lips and . . .mascara if I am not wearing eyelash extensions. Highlighter if I am going to shoot or go out at night. Thats it. And although my routine is not very comprehensive – I AM very picky about the make up I wear.. . . but I did want to find a cleaner alternative for some of the products I was using and so far, this is what I have come to love.
JOSIE MARAN BROW PENCIL
EWG rating: N/A  – the brand's overall rating is 1.
My Opinion: I LOVE JOSIE MARAN products. Most of them are based with argan oil and In have used her creams in the past (I go right through them!) Her products are always rich and efficient. I loved this brow pencil. It does not pull my little hairs out when I use it, The shade is easy to brush in after application. I want to try more of her cosmetics!!
BARE MINERALS BLUSH
EWG rating: 1
My Opinion: Very strong pigment for a natural blush! I was impressed. I need very little. also dab a bit in eyelid folds for depth.
BARE MINERALS LIPSTICK
EWG rating: 5!!
My Opinion: I thought all Bare Mineral products were non-toxic and to be honest I did not check the lipstick until I wrote this post. To my surprise, it is pretty toxic (as most lip products) . . . I am going to discontinue using it because I am pregnant but I have to say – I LOVE the shade and love how it looks on my lips. It also lasts longer than most of my other glosses.
EMANI PRIMER
EWG rating: N/A all natural
My Opinion: I don't usually wear primer underneath my foundation, but I found this one and LOVED it. It claims to be all natural and it glides onto the skin beautifully! I tested it a couple of times and the make up does last longer and I get a bit of a glow. I like it!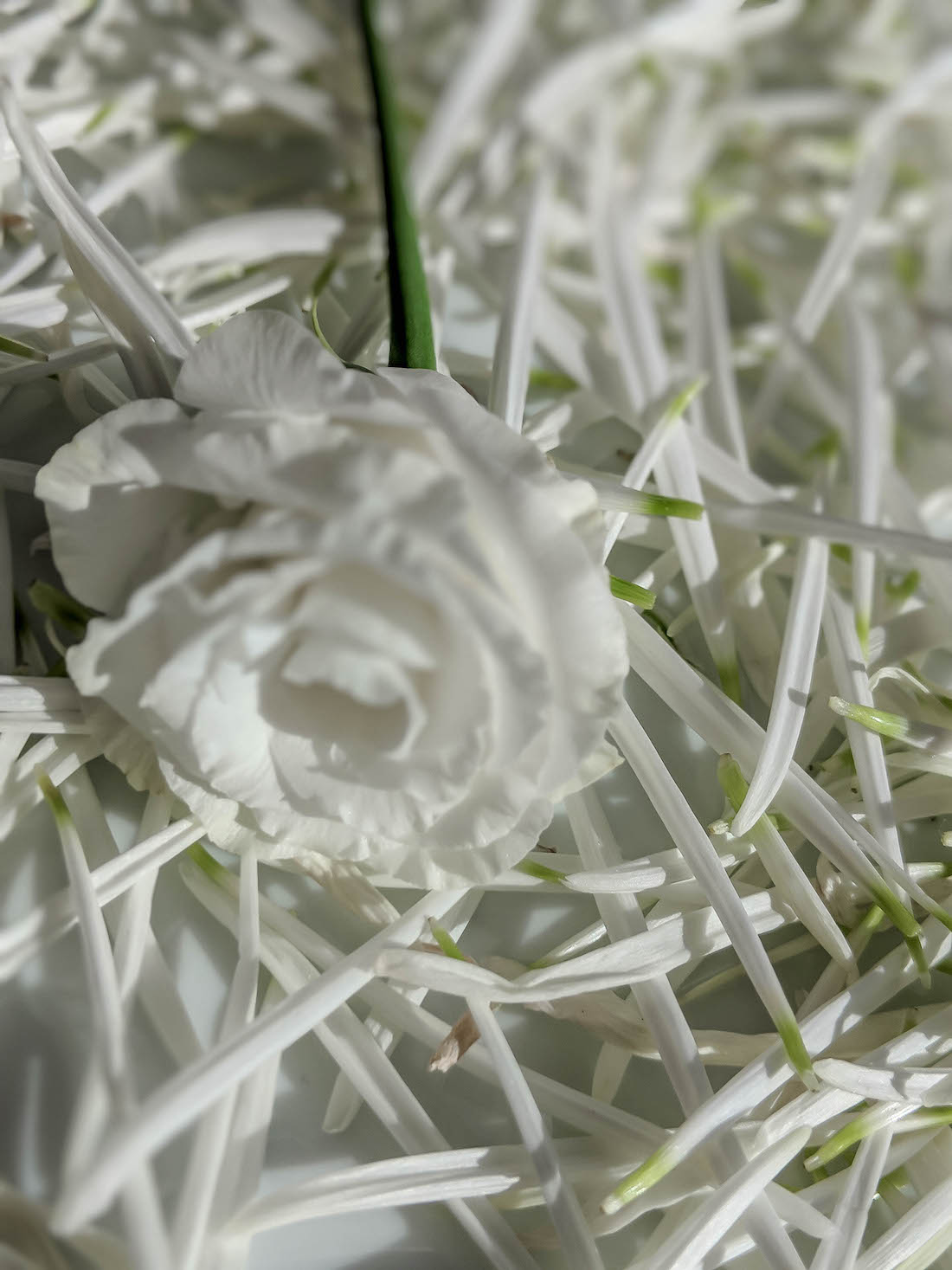 So that is it guys!! I have tested a LOT more products but not all made the list!! Let me know if this explains How to Detox your Beauty Routine and if you want more information to help you!
When looking for clean products, what do you look for? Do you prefer organic or simply non-toxic? Would you like to see more products like this or maybe some homemade masks? Let me know!!
Leave any questions you have for Sophia here or contact us on our media!!
Thanks for reading! Stay tuned for more non-toxic posts next month.
XOXOX