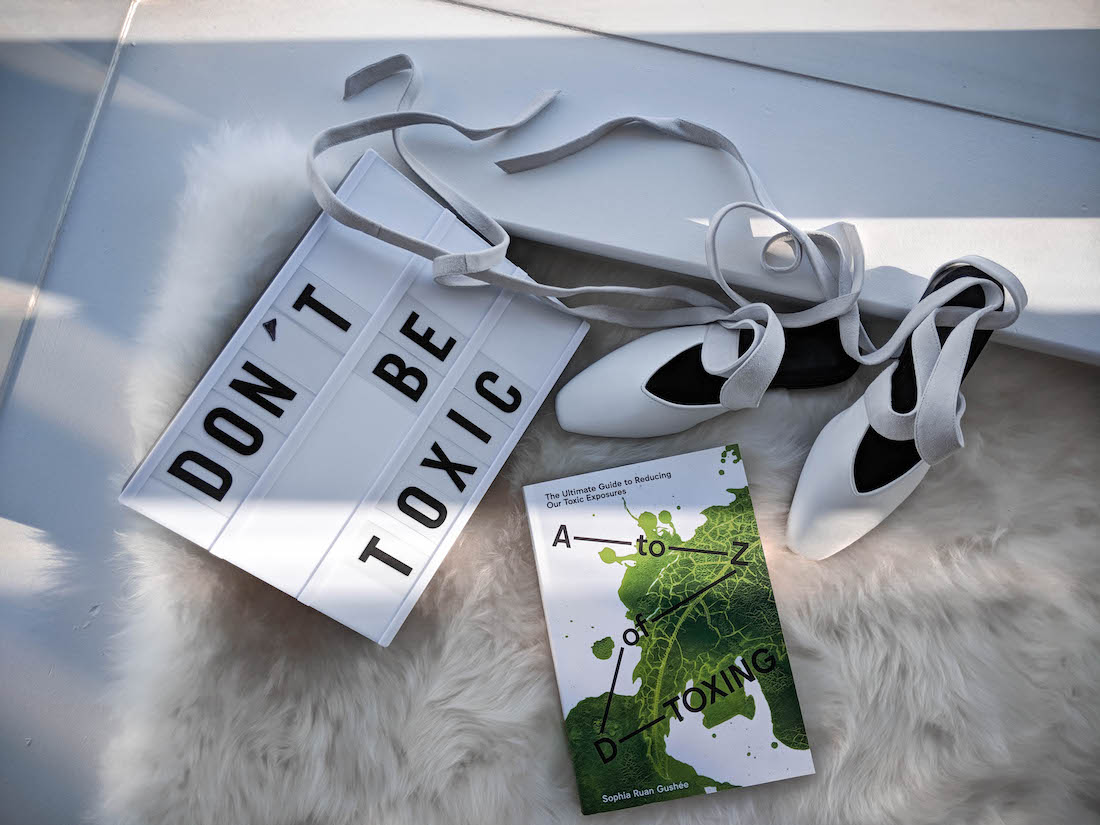 We all love those "How To Detox Your Life" posts. As you know, I kick off every year with a month-long detox. I change my diet, push my limits on workouts and yoga, clean my closet and aim to be more mindful about the way I eat and live. After 5 years or more of doing this regime twice a year, I have found my entire lifestyle has changed for the better. It has been two years since I took any medicine or gotten even a flu – just by doing slight lifestyle changes .
This year, being pregnant, I did not want to do a diet detox and I could not really push myself physically. I am already being very heathy and restricted enough. So I began to investigate how I could detox the rest of my life. What other aspects could be affecting us.
This is when I came across Sophia´s book. I had heard her speak at a wellbeing conference some months back and loved her approach. I decided to contact her. Since then we have had some awakening conversations. She has made me pay attention to details that I had forgotten mattered. The obvious things that we all know but never do and simply don´t realize what a difference they can make. She has also brought my attention to other things that would have never occurred to me. As a non-toxic consultant and through her courses she has made a huge impact on a lot of people´s lives. We really wanted to share some of these secrets on how to detox your life so we decided to start 2018 with a little Non-Toxic series.
This first post is about her 7 key steps to begin detoxing our homes. You can find a lot more in her book "A to Z of  D-Toxing" or sign up to her online courses to learn more. Stay tuned for our next post on how to detox our beauty cabinets! So, here they are:
Watch the video! or read below.
7 Get Started Tips to Detox Toxic Exposures
How To Detox Your Life: Detox Your "Home" | Tips to Get Started
with Sophia Ruan Gushée
"Incorporating more back to basics' routines is an excellent way to start detoxing your life of toxic exposures. These strategies are high impact because the toxic chemicals that create our household products don't stay in the products: They get released into our air, dust, hands, food, and drinks.
Since people tend to spend 90 percent of their time indoors, detoxing your home is high impact. As a result, for anyone looking to get started, below are high impact tips that are simple and relatively inexpensive" – Sophia.
Here are 7 things you can do to How To Detox Your Life | Start at home:
No shoes in the home. We track toxic exposures—toxic chemicals and heavy metals—into our homes through the bottom of our shoes. These include hormone-disrupting chemicals and those that contribute to cancer development.
Open your windows when outdoor air quality is good. Indoor air tends to be

2 to 5 times

more polluted than outdoor air, even in the most industrialized cities. So ventilating your home and allowing toxic fumes to exit can help detox your home.
Wash your hands before you eat.

Dozens of toxic chemicals

(like pesticides, heavy metals, and chemical flame retardants) have been found in house dust across the country. Our hands then sweep these chemicals from surface areas, furniture, and clothing.
Eat more home-cooked meals.

Diet is a major source of our toxic exposures so eating more home-cooked meals is an excellent way to detox what you eat. This allows you to control the ingredients you consume.

Avoid nonstick pots and pans. Nonstick pots and pans often contain a toxic chemical within a family of chemicals known as PFCs (Perfluorinated Chemicals). By using cast iron and stainless steel, you will be detoxing your diet.
Stainless steel and glass food and beverage storage containers. Cut down on the portion of your diet that's been contained in plastic. Toxic chemicals in plastics leach from normal wear and tear, as well as through heat (like dishwashers and microwaves). They are also more likely to leach into fatty foods, and warm foods. Instead, store food and drinks in stainless steel and glass food/beverage containers. Stainless steel containers are light to carry, and won't break. Both stainless steel and glass won't contaminate your diet either.
Water filter. Drinking filtered water offers similar benefits to eating an organic diet: reduced contaminants. While you should ideally get your water tested and find a water filtration system that is best suited for your water supply, a carbon-

based water filter is a good temporary solution while you figure out the best longer-term plan.
Let us know what you think and leave any questions you may have in the comment section or on our Instagram! (My IG @dicarolina , Sophia´s @sophiagushee ) I will be applying these 7 recommendations the next few days on instastories, so stay tuned!
XOXO