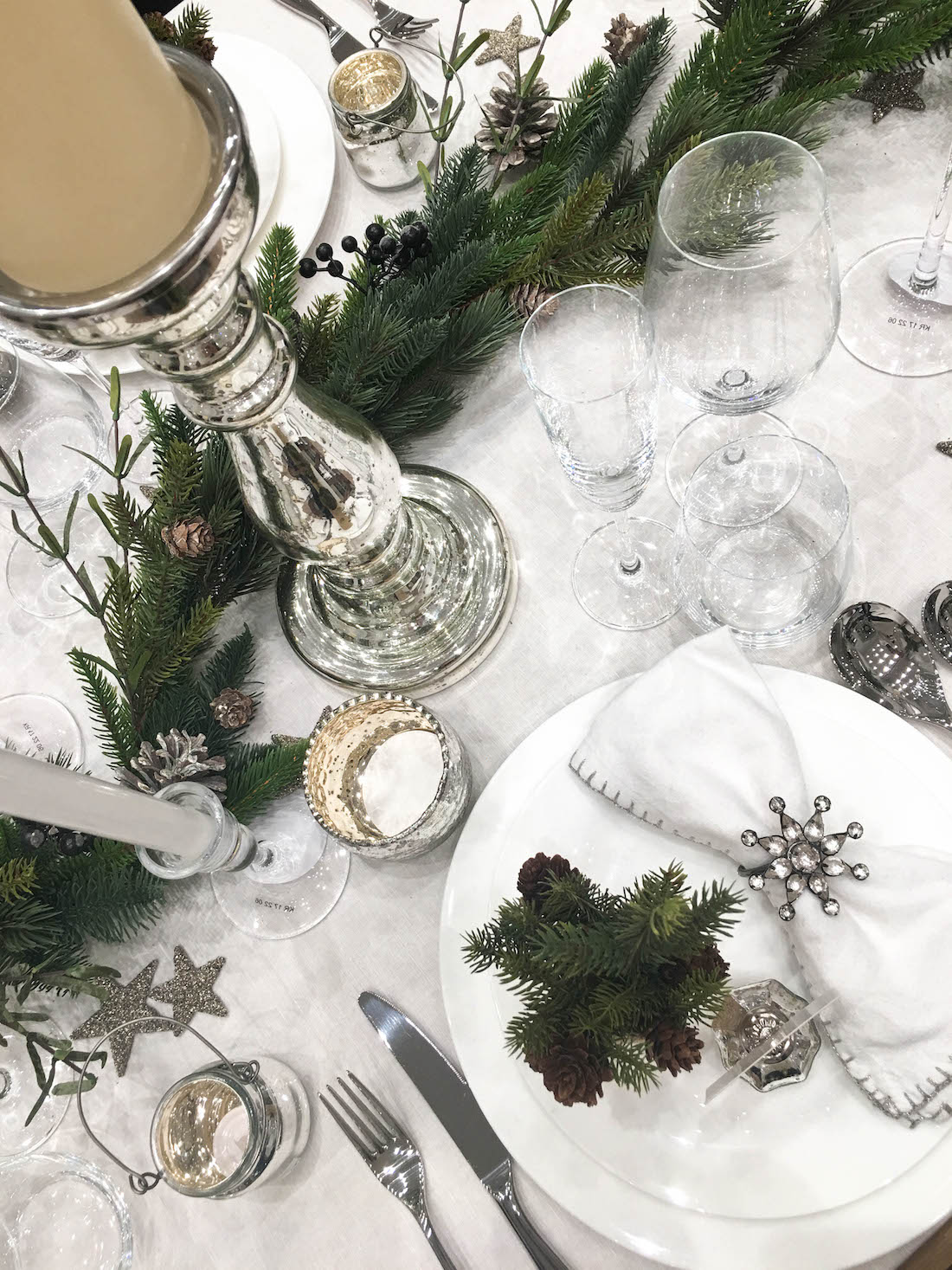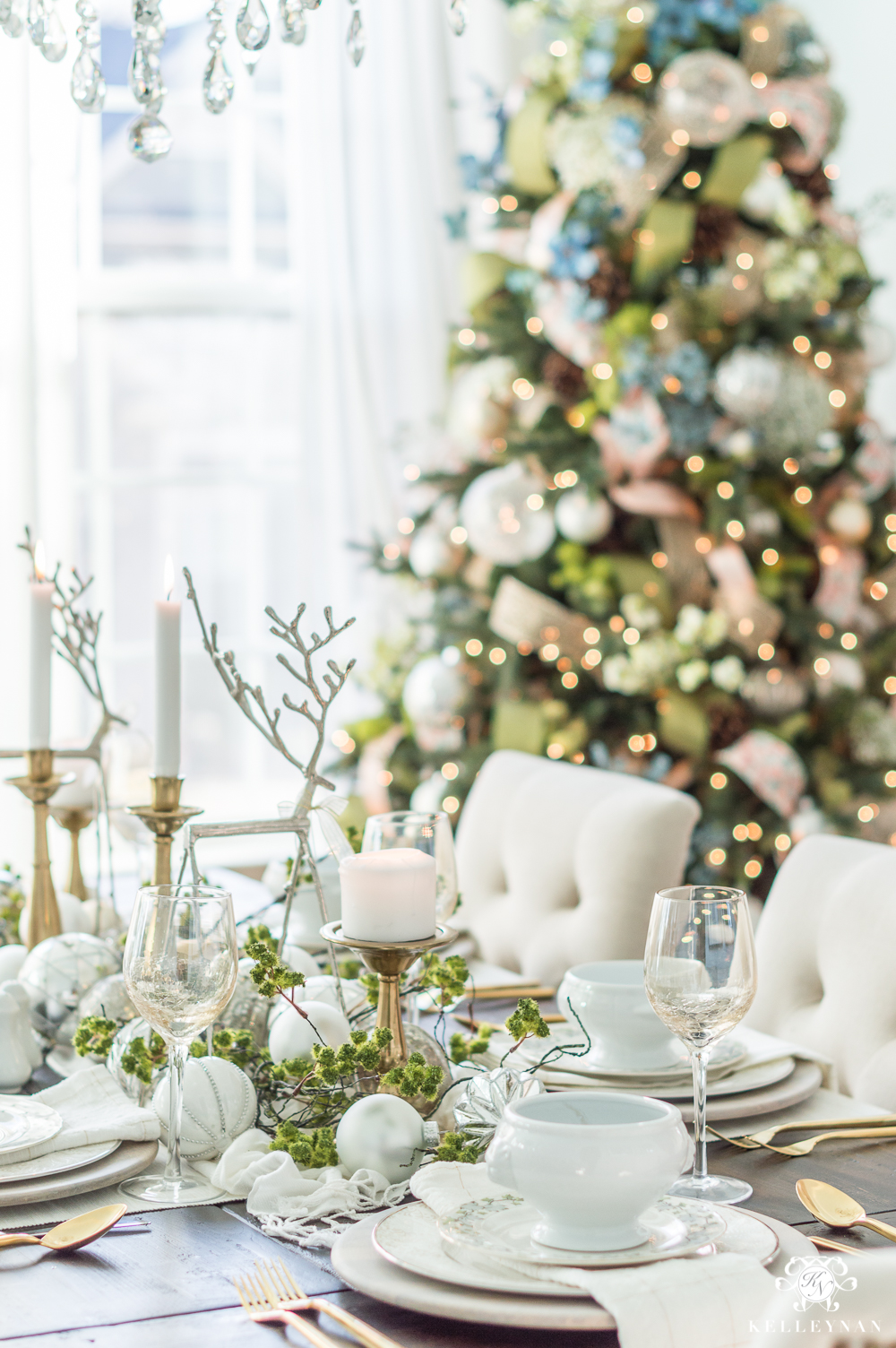 Hosting over the Holidays can be daunting. So much goes into it. The food, the presents, the music, the guest´s dynamic. . . I know. It is a lot.  But here is my little trick: making things look festive and elegant gets everyone in the mood of the season and shows how important having them over is to you! This usually leads to guests behaving to expectation and appreciating your efforts more – and above all really enjoying themselves. So why not spend that little extra effort on the table decor?!
Personally, I LOVE Christmas. It is my favorite holiday of the year. Growing up my huge Mexican family would get together at my grandparent´s house. All 45+ members of the family plus a few stray friends we would find last minute. People would sing, dance, drink, eat, drink, eat and eat.  Gift giving got so complicated with that many people and so many last-minute guests that quite frankly it was never a priority. The focus would be on the meal and on having a great time! All of this happened around a long, long wooden table my grandmother had made and some other oscillating tables that would appear that day from the kitchen, study, and  neighbor´s houses.   It would be an amazing chaos and buzz and while my grandfather served drinks and entertained, my grandmother would lead the event from the kitchen always paying attention to two things: Keeping the food flowing and the table and tree decor intact – and bless the poor soul that moved or broke an important part of her masterpiece. Decor was sacred.
Now, since then I have to say I have opted for a more minimalistic approach to things. I adore hosting. It is my favorite thing about the holidays and holidays don´t feel the same if I am not surrounded by lots of people!. . .but I am not gifted with the patience my Grandmother still has (now at 98+ years old) nor continued her tradition for over the top Christmas decor. I like to keep it simple, practical, elegant – but still impactful.
So, this year I have hosted a few dinners and will have christmas at our place in NY. I have gathered a few inspiration tablescapes that are super easy to replicate and wanted to share them with you! Let me know what you think, what you are doing and what your Christmas dinners are like!
So here it is: 5 Tips for the perfect Christmas tablescape
1.Pick a color scheme for your decoration
This year, inspired by a snowy New York , we have decided to look for white, natural tablescape that doesn't´t require me to buy more stuff that I need. This way I don´t need to think about buying and storage for a full china set I will use a few times a year (New York apartments are too small for that!) . In comes a natural decoration: Green natural plants, white decoration with golden touches here and there that match the warm fire of the candles I plan  to add.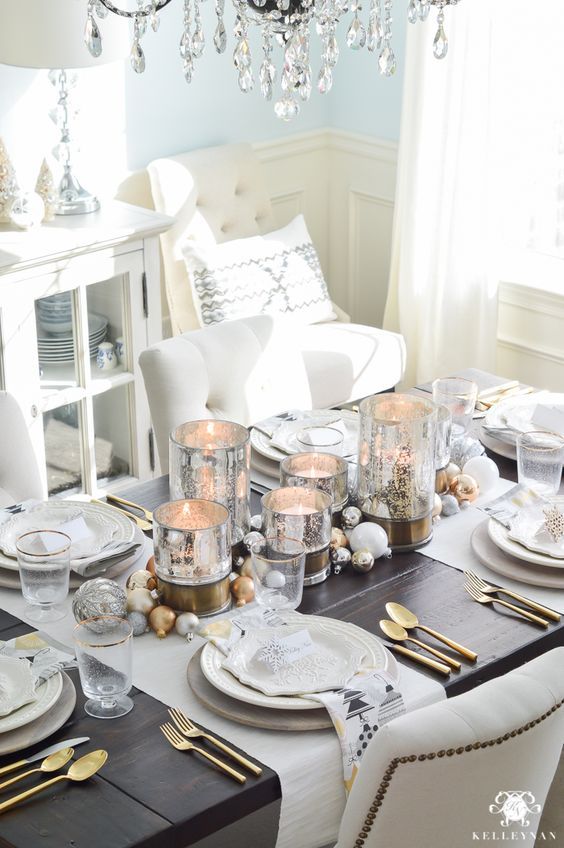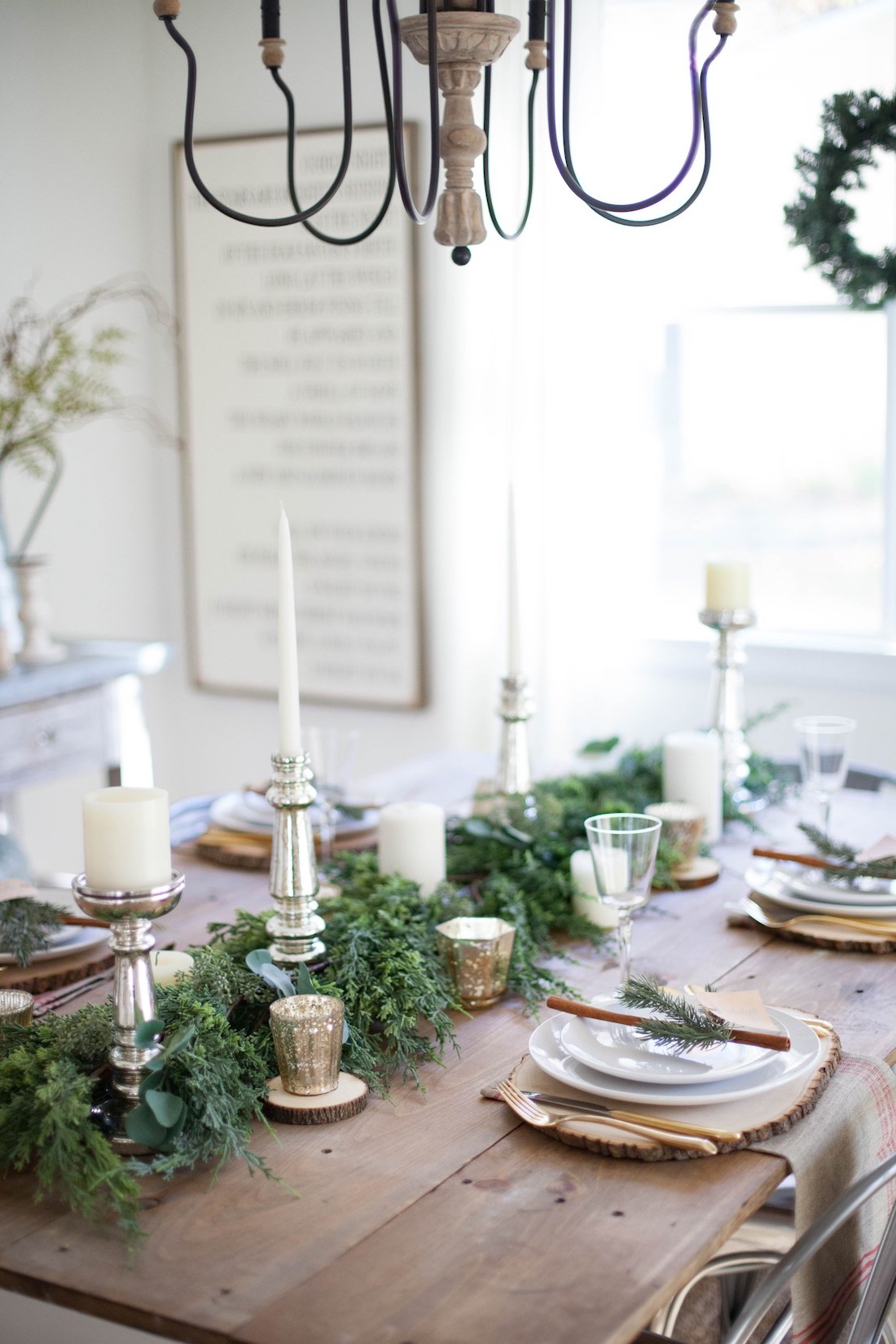 2. Impact that allows visibility on your table
Adding a large ornament on the table can add a lot of impact as guests walk in. Just make sure it can be easily removed at the time of the meal! In love using christmas trees, large twigs or candle pillars to add drama . During the meal, they go off the table and onto the kitchen counter.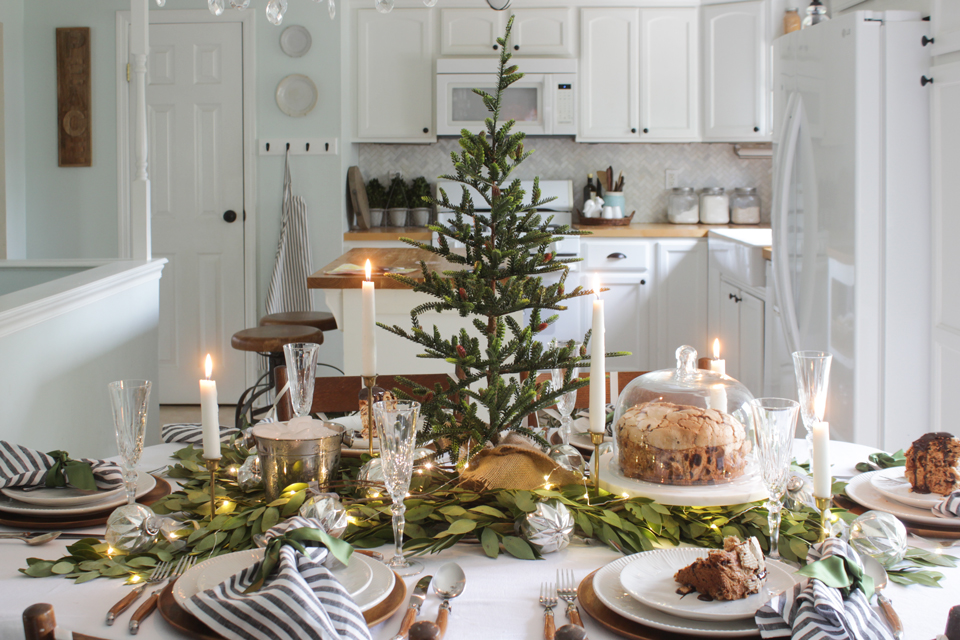 3. Choose the right table lighting to create the mood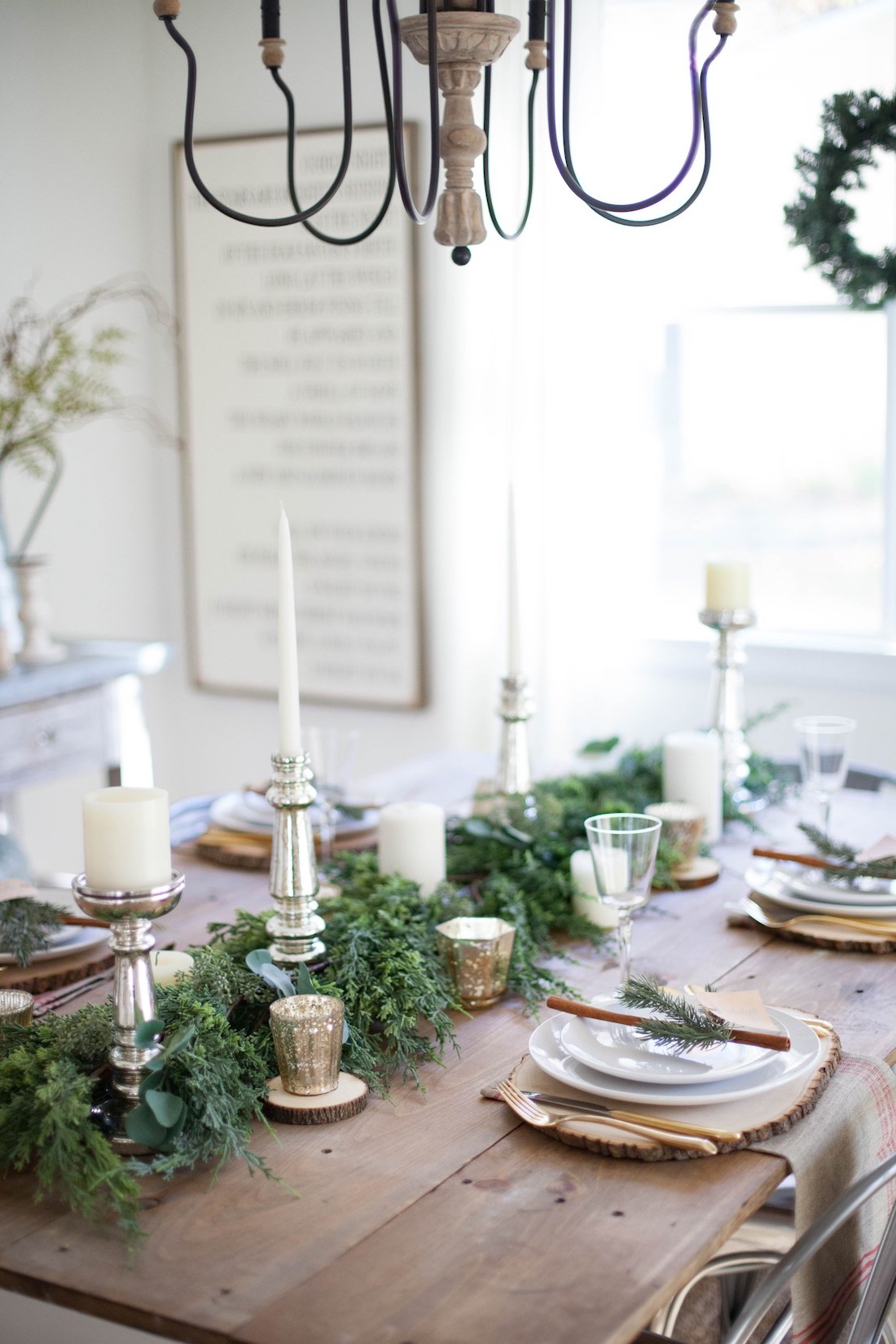 Adding a bit of sparkle and light really creates the mood. I like to dim down the rest of the room for atmosphere and give the table a spotlight. Instead of turning on a chandelier, I love adding candles and pieces of decoration that include a warm dim light for effect.
4. Add decorations elements that feel like Christmas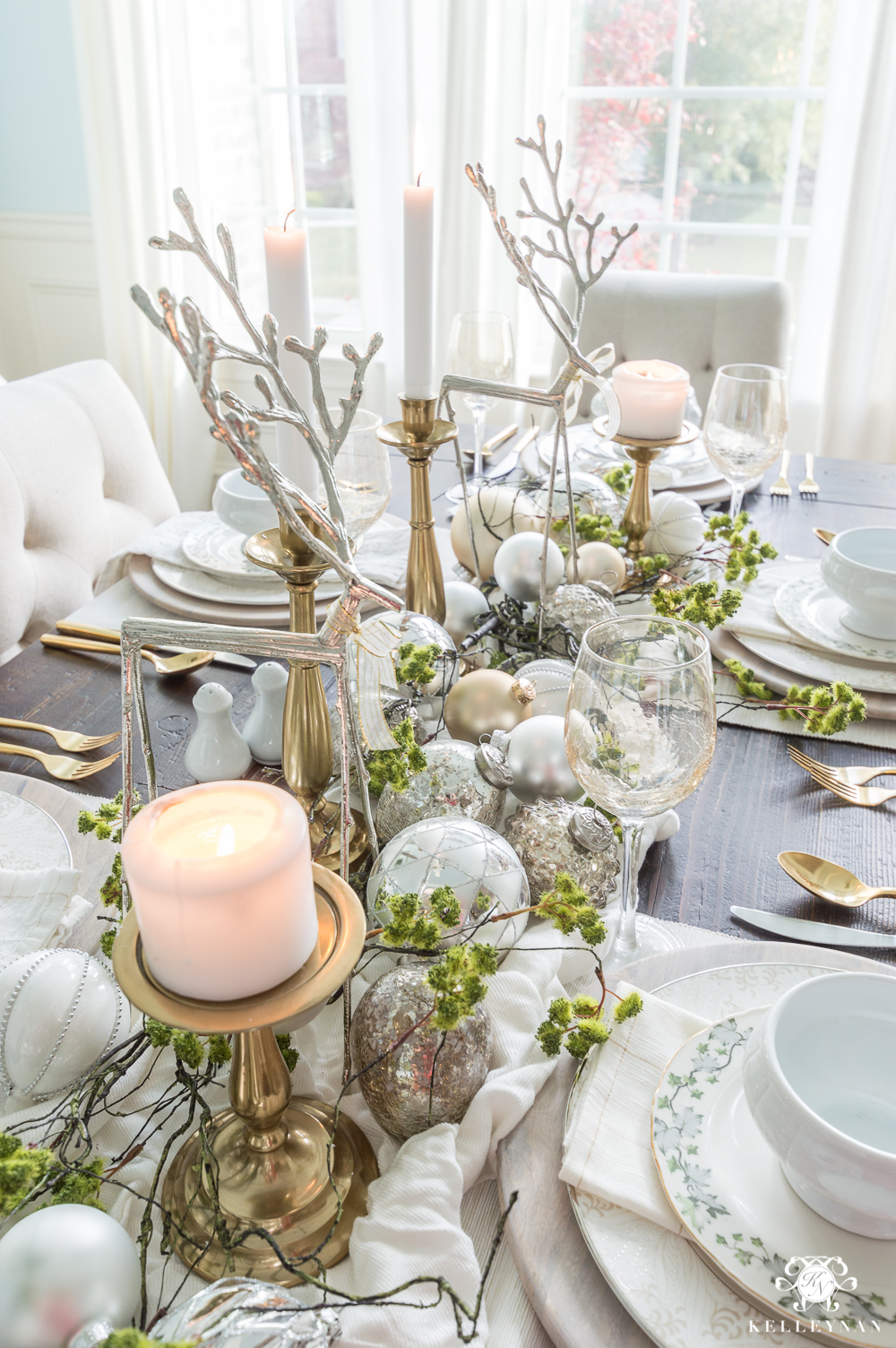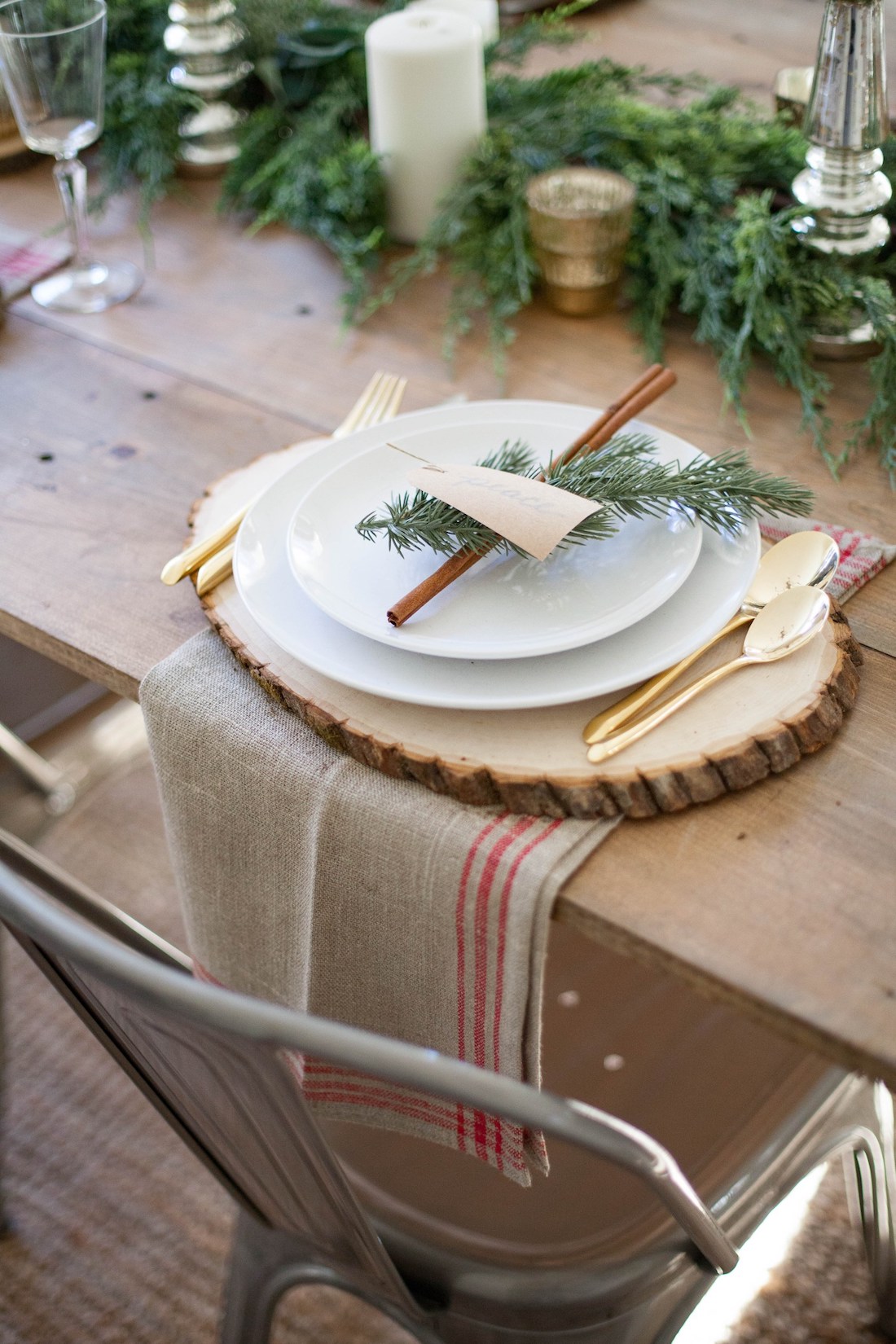 Little ornaments, spheres, or statues moderately scattered on the table can give the table a festive ambience. Wether you decide to go for ornaments, animals or snowflakes, pick a theme and stick to it. Repeating the same element throughout the table keeps things cohesive and symmetrical. Keep an eye on your color scheme to keep things minimalist and elegant!
5. Add a simple personal touch that makes the table blend with your home decor
The classic christmas colors are red, green and gold. I love bringing a more elegant, modern touch by adding something different – like black stripped napkins or a natural hemp cloth to the table. Find your piece, something that ties your table to the rest to the room and stay true to your home´s essence.
I would love to see your christmas tablescapes!!
Happy Holidays! May you have a wonderful season, good company and lots of delicious food at the table! 
XOXOX