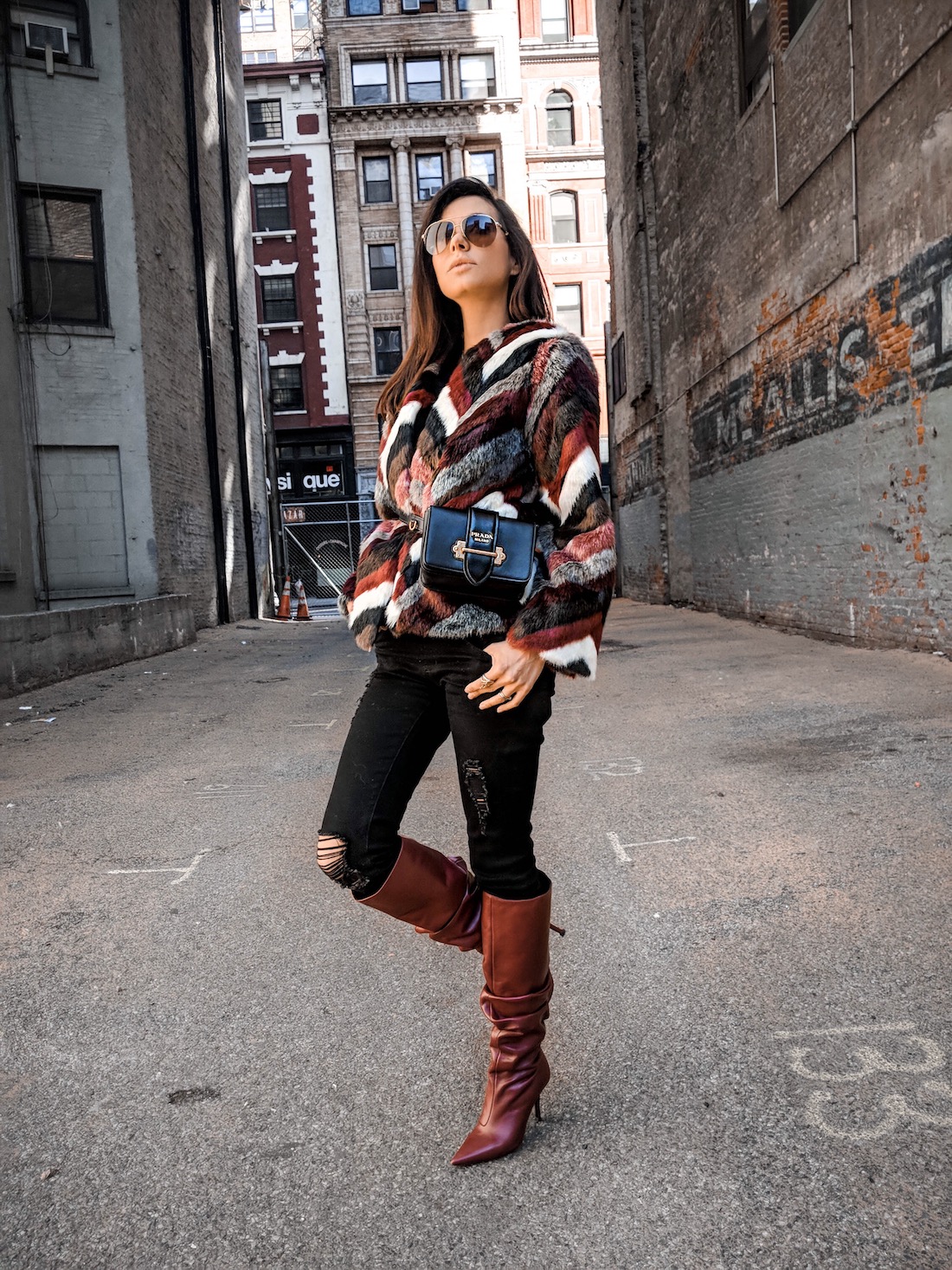 Get that Winter Glam Look
It is  2C (35F) as I write this. I am in my living room wearing socks, a big chunky knit and holding a hot cup of tea under a blanket. The frigid air creeps through the large windows in my loft in spite of heating. Urgg.
I don´t know where fall went – or if we ever had one, really – but winter is here to stay and its going to be a mean one and we better take advantage of the holiday sales to prepare. It is SO easy to look frumpy in this weather! One tends to forgo all sense of style to achieve a bit of warmth and comfort – specially hot blooded latin creatures like myself. But after years of traveling into winter and surviving through the worst of them, I have finally found the formula for a Winter Glam look.
Yes, we hear endlessly that "LAYERS" are the key to warmth. Got that down. But how do we look sexy, glamours and well put together with all these layers on us!? There are four key elements to achieve this:
1. Statement Coats. 
Faux fur for extra glam. In bold colors  if you want to be trendy, black camel, white or gray for a more classic, versatile look.  Classic Prints (leopard and chevron) for a punch. In materials, think waterproof for snow and rain. Wool for a classic, non-bulky look. Down fillings and vintage fur for extra chilly days.
STYLE TIP: For lighter weight coats, go oversize for a modern look. Look for waisted coats if you are going for puffy or down to avoid looking bigger and frumpy. Add fur hoods for extra Winter Glam.
2. Knee and Thigh-high boots with an edge.
Slouchy is in this season. Red for the Bold. Thigh high for colder days and dresses. Avoid Uggs for this look. Add a heal if the floor is not icy.
WARMTH TIP: Buy half a size bigger to allow room for UGG INSOLES, thick wool or cashmere winter socks or heating soles.
3. Mixable Basics. 
Why basics? Because they will keep a balance on the outfit with all the textures you may be wearing. They are easier to mix and match and atherefore easier to layer. Think Neutral colors and warm  natural materials. Cotton for the bottom layer. Tights below torn jeans. Cashmere. Wool. Even fleece.
WARMTH TIP: Avoid polyester in bottom layers. It will make you sweaty and uncomfortable.
4. Great Accessories.
There are only so many coats and boots one can have and it is hard to keep an outfit exciting when the outer layer is always similar or the same!  In come accessories. A cashmere or designer scarf can make a winter outfit glam. Good leather or suede gloves if it gets super cold and since its the holidays, add some fine jewelry into the mix to glam it up!
EXPERT TIP: Don´t want to spend thousands in fine jewelry? get FLONT. It´s a high-end jewelry rental portal that allows you to trade in a piece every month. Top designers like Roberto Coin , Tiffany´s and Cartier ara available, and for around $200 usd a month you can borrow designer jewelry pieces worth up to $7,000 usd! (fully insured) Talk about the ICING this Winter. 🙂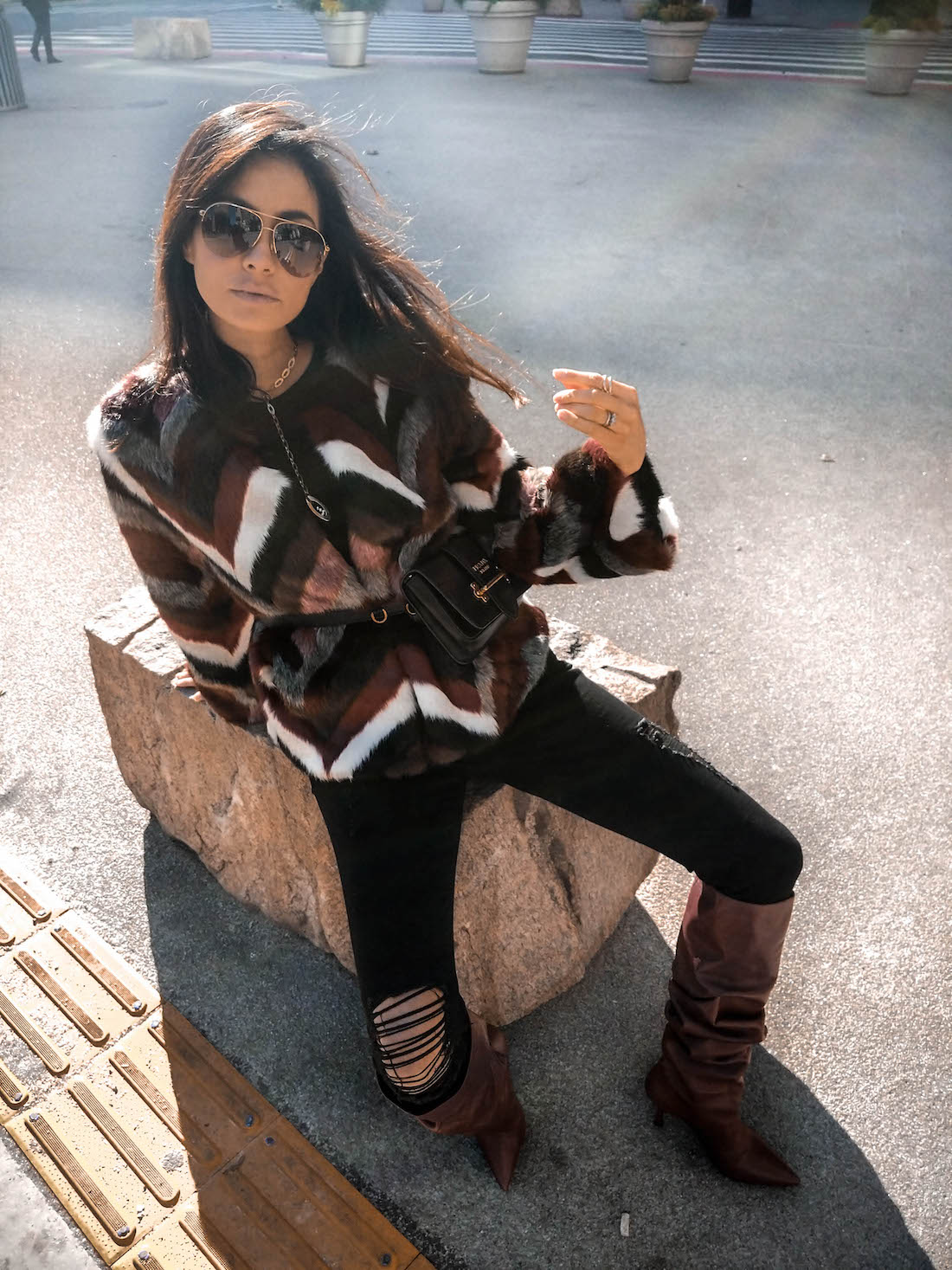 What do you think? Whats your trick to look Glamorous this winter? Share it all below!
xxx