Here is the thing nobody tells you: When you travel through SE Asia, it will be hot and humid – but you have to cover your shoulders and knees. Why? Well, its too sexy and offensive to show these body parts inside temples and there is NO WAY AROUND IT.  Quite frankly, even if it wasn't strictly reinforced, I would suggest it anyway out of respect. You know I am no puritan on this side of the world but when in Rome , do as the Romans do.
So picture this: Its raining.  It is too hot. You have been walking al morning, will continue to walk all day and have to be fully covered to see the huge sleeping Buddha everybody talks about. And on top of that – you have to pack light but don´t want to look like a stupid tourist.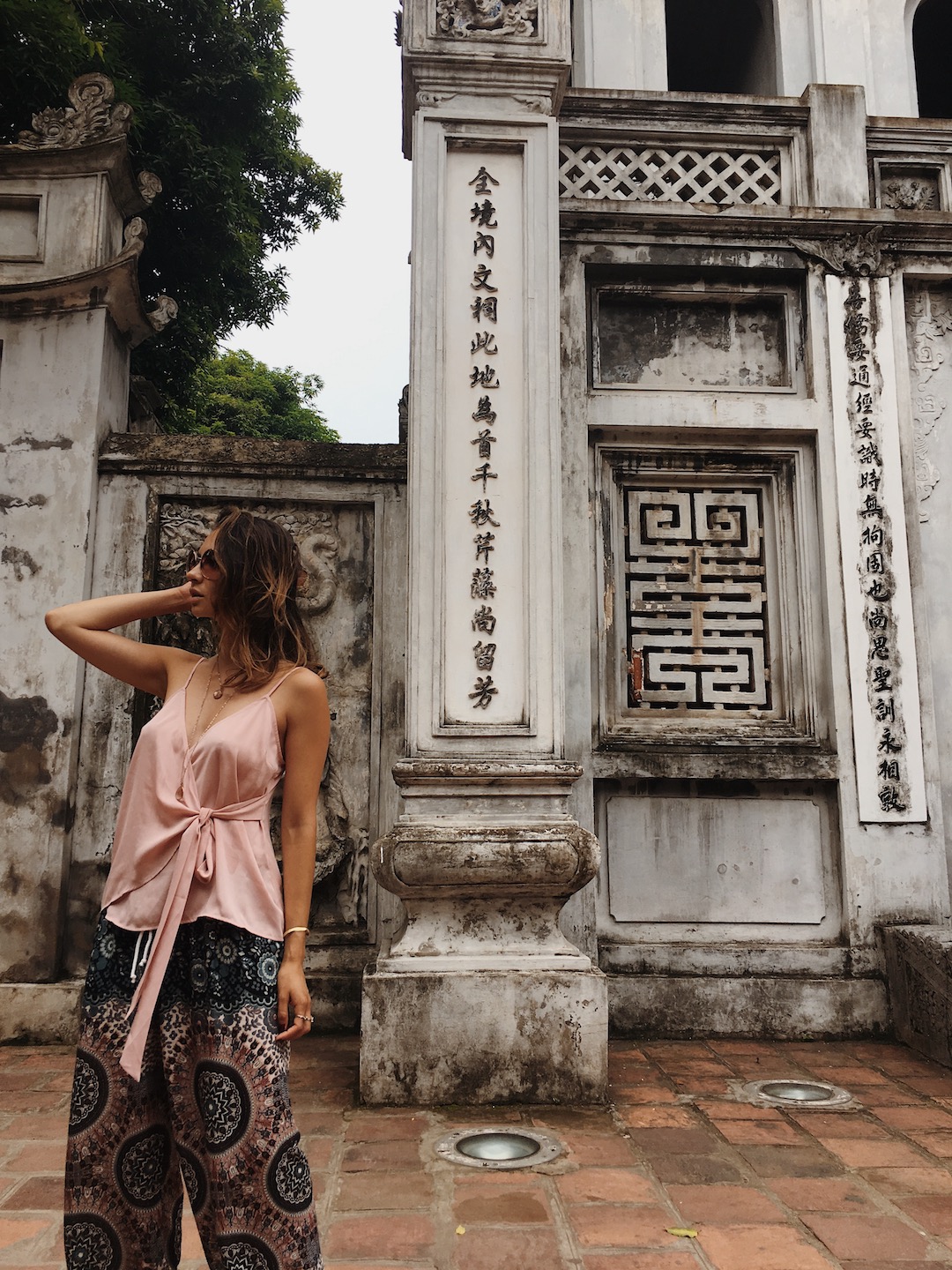 The key is 1. Airy materials and 2. Strategic pieces. You can always wear a pashmina around your shoulders, like I did most days (as I wasn't prepared).  Here are some I wish I had taken with me:
THE TOPS.
I spoke to locals, monks and tour guides. They all agree the shoulders are the key. They are not so fussed about cleavages or backs. Score. We have a few  more options. And if all else fails, wear a tank top and carry a pashmina or scarf. SECRET: look for linen or thin cotton. A bit of pattern or texture helps the "suitcase wrinkles" look more subtle
THE BOTTOMS
Linen pants or Maxi skirts are perfect. Make sure they don´t drag or are too long – you need some ventilation and to be honest, it is not the cleanest of places. I totally ruined my precious long white skirt. 🙁  Make sure you ROLL these when you pack to avoid extra creases.
THE SHOES
You want easy flats to walk in. This, for me, means a little cushion or heel. Flat, thin sandals are never too comfortable (or good for your knees). You´ll thank me later. Make sure you take a bag for each pair or keep them in a different compartment in your suitcase. They will end up filthy.
WHERE TO CARRY IT ALL
Most people wear backpack -on their front, to avoid pickpocketers. I felt quite safe throughout my stay in SEA, but I was always alert and very careful. Taking a backpack was super comfortable! I had not worn one in YEARS, but will be doing so on my next trip.  Besides, they are so IN right now.
Over all think of basics and comfort. And remember it always helps to pack a
capsule closet
! – and if all else fails, truth is, you will find Thai "elephant pants" and tie die scarfs infront every temple.
  What do you think? what else would you take? Have you been anywhere in South East Asia? Leave a comment!