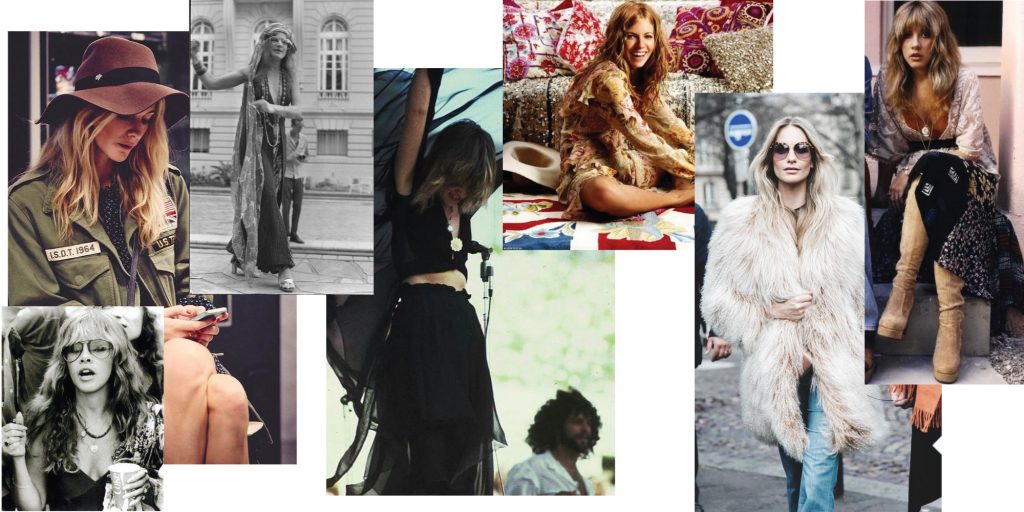 As I mentioned on my previous post I want to reinvent my style by exploring certain iconic trends and blending them to my everyday kooks. I want to start by decoding the elevated boho: I have pulled inspiration from muses who created the style, like Stevie Nicks and Janis Joplin, and from icons who currently carry it it flawlessly, like Sienna Miller and Poppy Delevigne.
I love boho and my artistic, festival-loving-self gravitates towards anything with this vibe. Here´s the catch. I am not looking to walk around in a costume. I don´t want to invent a character. I want a sophisticated, practical look that speaks of that part of who I am but doesn't´t take over all my other facets or my closet.
So, this morning I spoke to a really good friend of mine. A Stylist who studied in Madrid and is often flown around as a personal stylist. Derly, and I had a chat about how I wanted to influence my style towards three specific trends: The rock vibe, the minimalist and the bohemian,. She suggested I defined each style at a time and then began to play. So, with her advice backing me up, i can tell you that Bohemian is not all flowers and messy braids. It is about an era. About freedom, flow and feeling relaxed. It is about the right shoes, accessories and above all, textures. If overly romantic girly prints are not your cup of tea, you can lean more towards a Janis Joplin feel and replace romantic prints with tribals, stripes and solid colors with interesting textures to create a minimalist, bohemian-chic  look.
Personally I will take certain elements from this trend: I like like a touch of earthy tones. pastels, metallics and contrasting textures. Layered, large metallic accessories will really add that unmistakable boho accent  – but maybe I will attempt it with more dainty pieces and a couple of statements here and there. Its a mater of comfort and polish.
So. . . yeah. . . I spent most of my morning window shopping for the key pieces we would need to recreate this style and these are some of the things I have found:
ACCESSORIES ARE EVERYTHING
Classic Boho accessories consist of round large sunglasses, Headbands, hats, platform, layered jewelry  and loose ribbons.
Massive stylist secret (thank you Derly) add texture with accessories.
Bohemian style is about volume, flow and freedom.
For an elevated, everyday look ADD VOLUME EITHER ON TOP OR BOTTOM (not necessarily both).
AND OF COURSE, MAXI DRESSES ARE
ALWAYS A BOHO STAPLE. Style them with more minimal pieces to tone down. Add classic Boho accessories for drama.
Stick to the 2017 sex appeal: Change those maxis FOR MINIS. Add on accessories and volume elsewhere.
Got the outfit? Play the music (original and current boho vibes. From me to you.)