I always wanted to see Cuba before the international influence flooded in. I wanted to get an insight into the culture after the revolution and the political structure (out of curiosity) at the time. Although I think I was a bit late for that, What I saw was an era of transition, where the country began to flourish and heal.  I felt the new Havana, I saw the post-revolutionary Cuba and imagined what it must have been like at its best. Just thinking about what this country has been through gives me goosebumps. It is a place you have to see for yourself.
Friends who had been to Cuba recently made some great recommendations, but my friends have very different travelling styles. Some want to feel like locals, other prefer the comfort of holiday luxury. And I have to say, Cuba is tricky when it comes to finding a balance between the two but I managed to get a good selection and now I pass it on to you.
As usual, when I travel my focus is on three aspects: Culture, Food and Having a great time. So, when in Havana:
.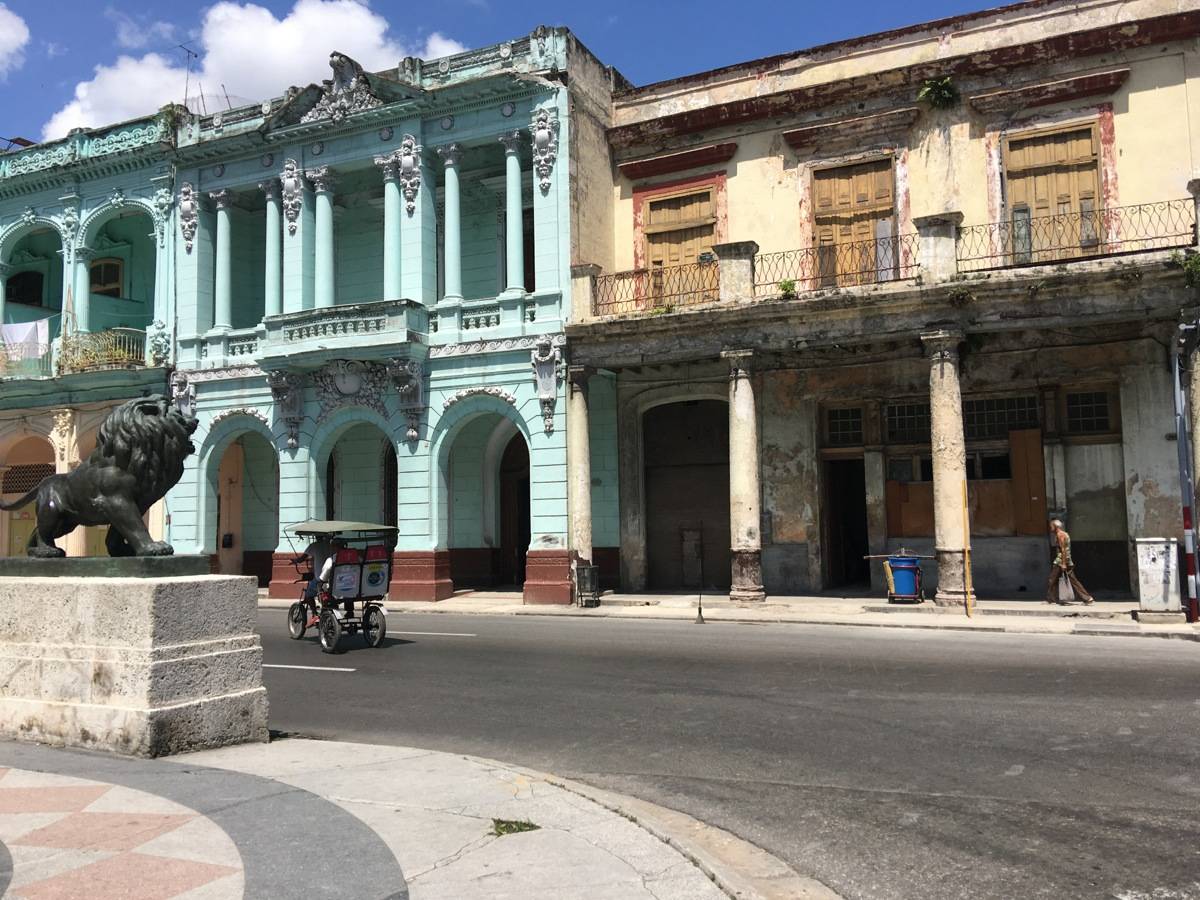 .
Walk through the Plaza Catedral and Plaza San Isidro.
.
These streets have been fully refurbished and prepared for tourism. The beautiful cobbled streets are back, the building facades are painted in the iconic Cuban colours. International brands and restaurants begin to pop up. These areas offer a great easy walk.
I personally loved the San Isidro Plaza for breakfast, a coffee or a night stroll. It is patrolled and probably as safe Cuba gets.
.
Walk around Havana Central. 
.
If you want to see the contrast and understand the extent of what Cubans have lived, walk through these streets and see the city everyday life. On a sunday it is like walking through old photographs: local boys sit outside their porch on crates playing dominos and smoking a cigars.
Like in any city, and with any culture, certain precautions are needed. Cubans are super friendly and are easy to strike a conversation with – but they have also seen extreme poverty and won't shy from asking you tu buy their lunch, or even weekly supplies. Be generous but not gullible.
.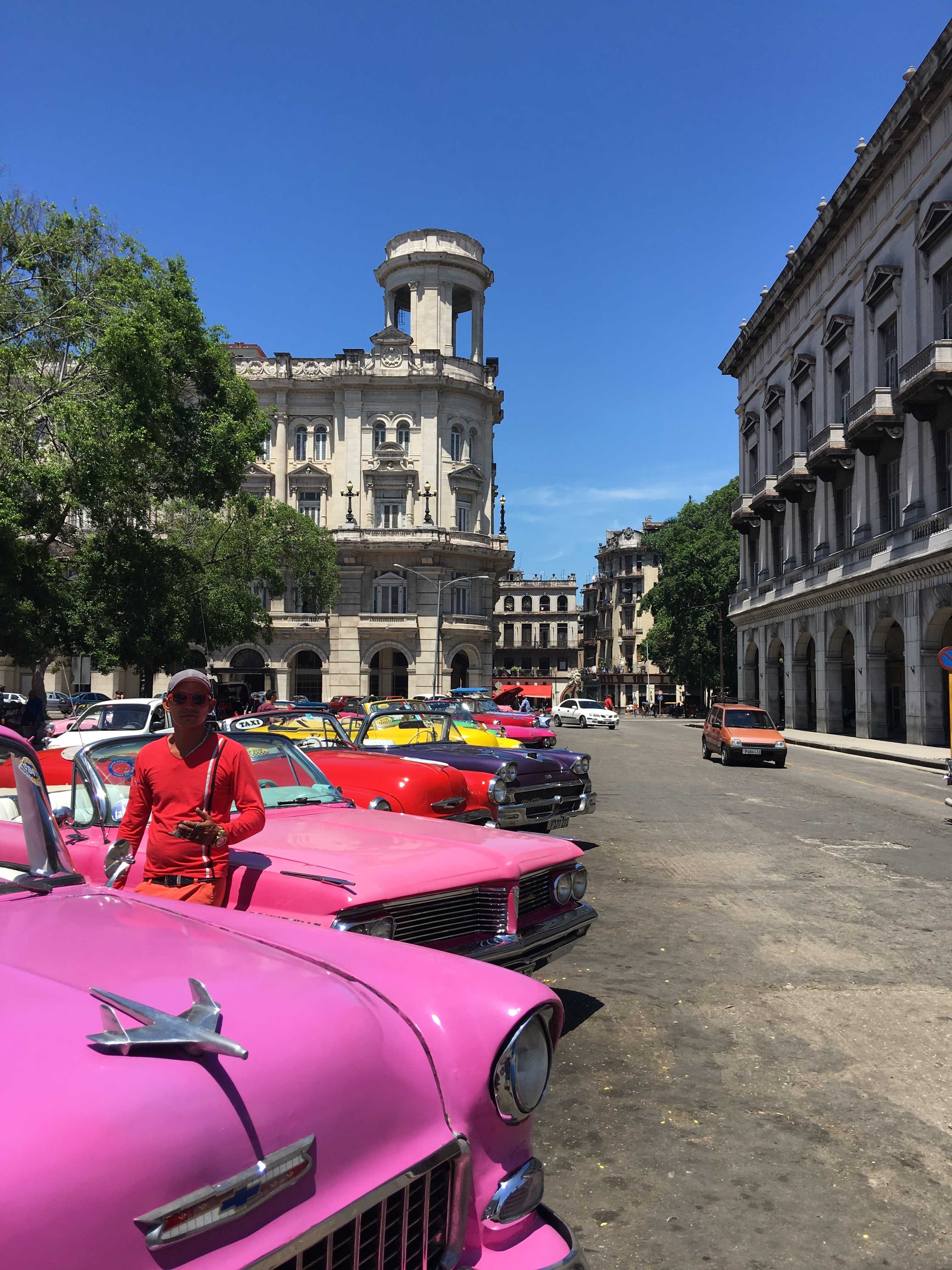 .
Ride the Vintage Tours & Taxis
.
At an average rate of $25-30usd an hour, you can roam the city in a convertible beauty. You can have a selection of cars in front of the famous Floridita Bar or in front of the Capitolio (a replica of the white house). Rates at hotels are usually fair but can be negotiated down if you are dealing directly with a driver.
.
Hotels with live music for an afternoon break
.
After walking the city in the heat until our feet hurt, we looked for easy afternoons with happy hour and a good vibe before going out at night. A personal favourite was the Hotel Nacional, where we stayed. You cannot go wrong. The hospitality is flawless, the views are arguably the best in the city and the bands are great and varied.
Another easy great option is the Hotel Inglaterra in Old Havana. There, you have the downstairs bar or the rooftop next door. Also a great option to stay in.
 .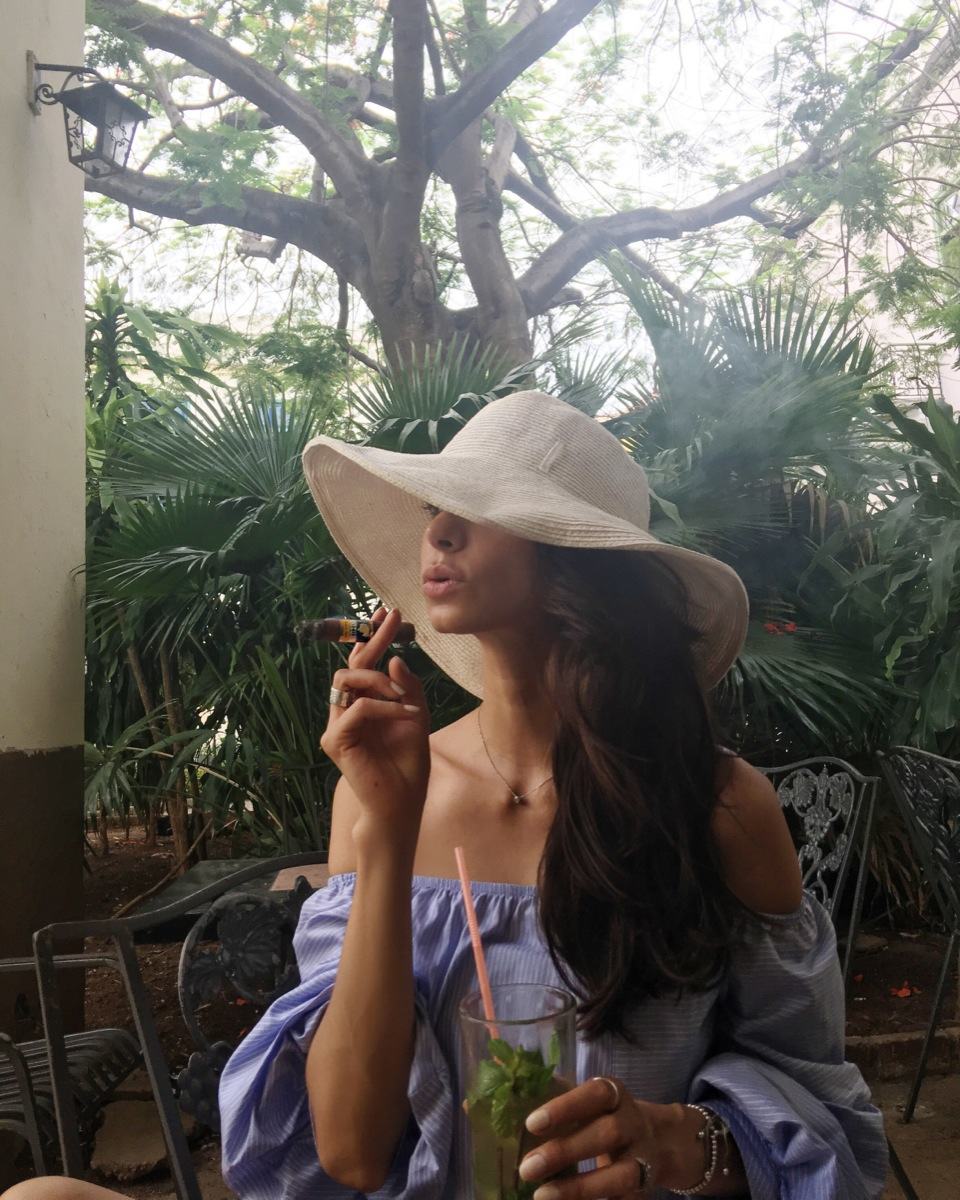 .
Smoke a Cigar with a top Aged rum
.
In Havana there are lots of great bars. Im not a fan of smoking but I do believe in experiencing a city and culture and at least trying some of the iconic customs and dishes & drinks. Did it, LOVED it – But I won't be joining my husband on his next whisky & cigar night at home.
With the help of Matthew´s, well educated pallet (he is a coffee taster) and a regular cigar smoker, I can safely recommend you try:
.
Cohiba Corona Especial. It is super smooth, if you are not a smoker, this one goes down easily. Expensive but worth it.
Trinidad. Same factory as Cohiba, slightly quirkier taste.
Romeo & Juliet Churchill is a Classic smooth, but may be a bit harder to smoke for first-timers.
Montecristo No4. Personally not a fan of the scent. Never have tasted it but experts rave about it.
.
Accompany with an aged Santiago on the rocks (the original Bacardi factory). A mojito or daiquiri.
.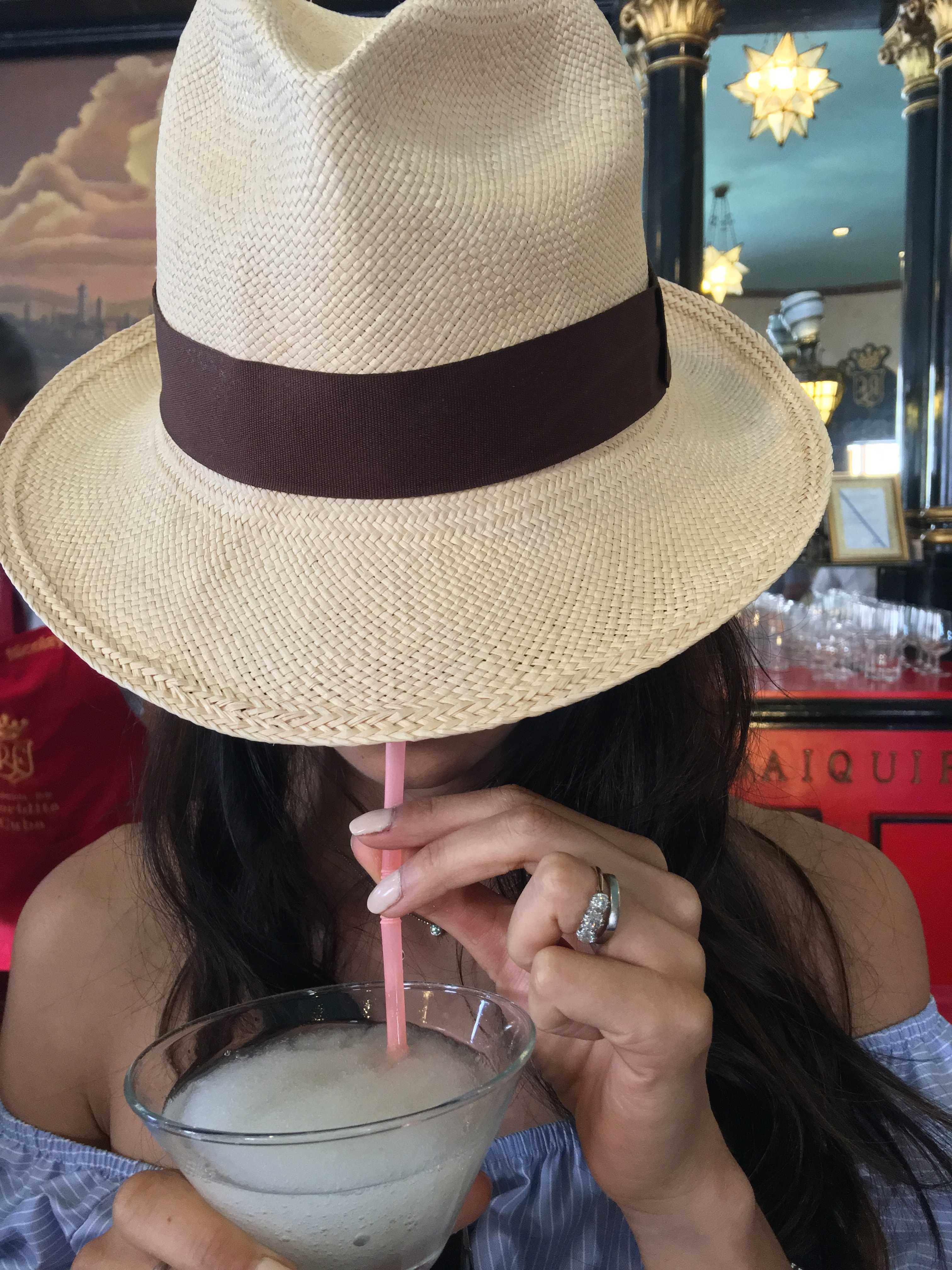 .
Drink the Hemingway way
.
Two places are famous for being Hemingway´s hang out spots. Try the Mojitos at "La Bodeguita del Medio" – great at night.
And have a refreshing lemon daiquiri in "La Floridita". If you want Hemingay´s Original drink ask for a "Daddy Hemingway" – Its a daiquiri with a double rum shot and no sugar. Perfect for those who, like me, preffer non-sugary drinks.
PS. When ordering a Daikiri in smaller bars, always ask for "frappe" if you want the real deal. You would think its a given – it's not.
.
.
Paladares (Speakeasy dinners)
.
As opposed to going to some of the main restaurants, which can also be great, I really recommend going to some "paladares". Originally they were home-based restaurantes, where families took you into your home and cooked an original Cuban meal for their guests. Now, they are a form of "speak easy". The food we tried in some was mind-blowing. My favourits are:
.
a) Ivan & Justo – Aguacate #9, esq. Chacón, Havana Vieja

Rooftop with a view. I sat where Mike Jagger Sat.

b) Mercaderes – Mercaderes #207, Habana Vieja

Rsvp the Balcony. Amazing live music in the afternoons, not all classically cuban but with cuban vibe. Must try the ropa vieja.

c) Doña Eutemia – Cajellón del Chorro #60, Plaza de la Catedral, Habana Vieja

Little corner café with gourmet quality.

d) La Guarida – Concordia 418e , Gervasio y Escobar, Centro Habana

Iconic building, must must go. It is a great experience.
.
For more recommendations, I found Havannainsider.com very useful. It is edited by James Suckling, American wine critic, foodie and writer for Cigar Aficionado.
.
Dance in Havanna Nueva  – The modern side (Vedado & Miramar)
.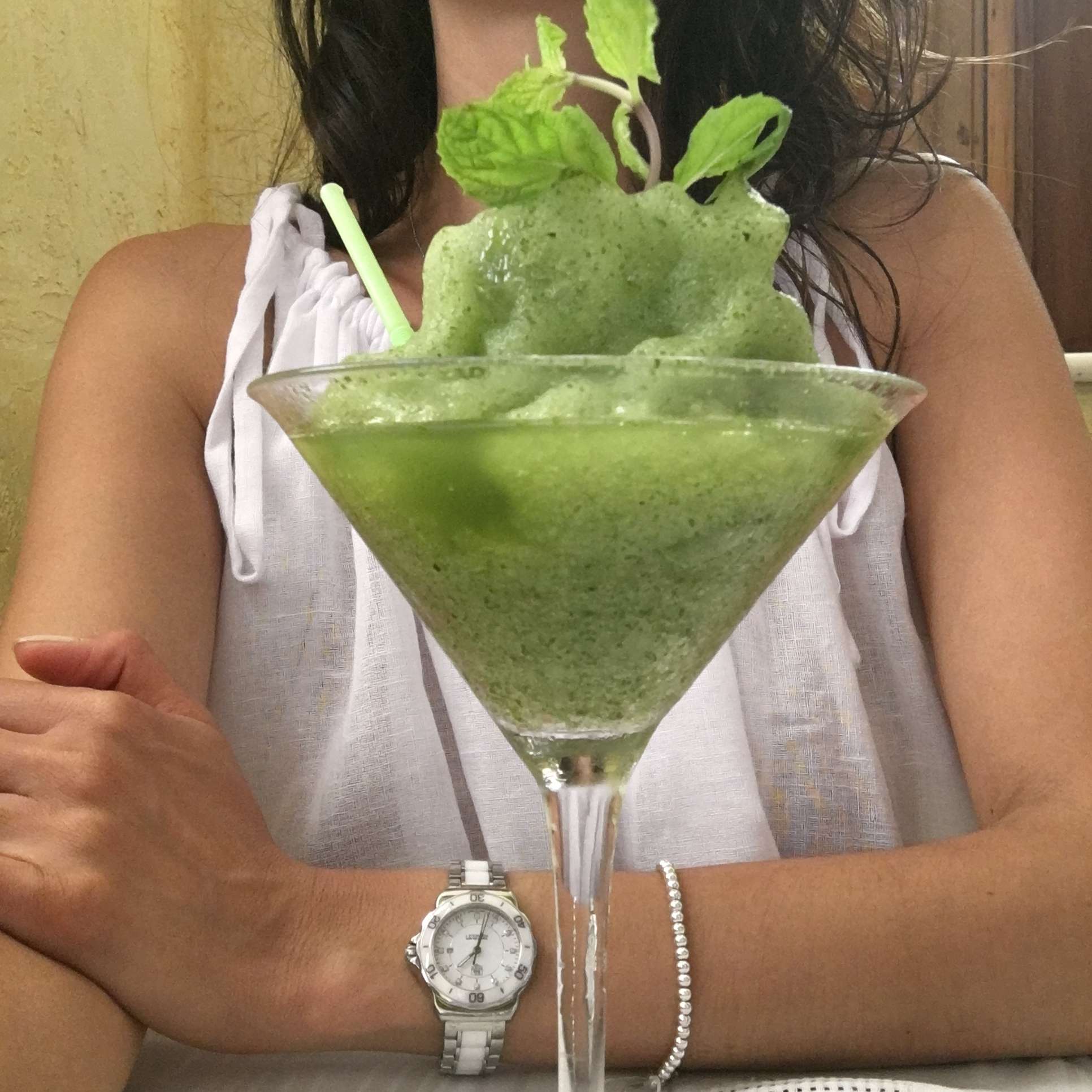 .
These neighbourhoods are a great insight into modern Cuban life. If you are in Cuba, don´t only go to the touristy bars and shows in the Old Havanna where you will get boarded by salsa instructors – go dance where the locals go. Our favourite spots:
.
a) Casa de la Música Miramar – 20#3308, esq a 35, Miramar.
b) Shangri La
c)Corner Café – 1a and B, Vedado

Live DJ and Jazz. Young and happening.Expensive but amazing cocktails and wide beer selection.

d) El Gato Tuerto – 0# 14e/17 y19, Vedado

Small dim-lit bar full of mirrors. Intimate shows with the best current musicians in Cuba. Must. RSVP.

e)La Zorra y el Cuervo 23e/ NyO, El Vedado

Small quirky smoky hidden bar. Great talents, local and international for Jazz and Salsa.The entry is a red phone cabin.
.
.
Museums & Art
.
Cuba is renowned for its art, amongst many other things. Looking around the museums and galleries is fascinating. Here, I can only recommend you walk around and pop into some of the many art galleries.
For museums the one you cannot mis is the Revolution museum. If you are a history buff and want to see another perspective. It is also held in one of the most beautiful buildings in Cuba. See and draw your own conclusions.
Finally, every night at 8 o´clock the muralla shoots a canon ball as a reminder of spanish times when the city was closed every time. The life there at night and the sunsets are things you cannot miss.
.
And THAT is one more off the bucket list.
Enjoy Cuba!!