Most of us go to fashion events looking for inspiration of what to wear and see the upcoming trends. Talking to experts, fashionistas and other bloggers during the MBFW in San José Costa Rica, an interesting question come up: What makes a good runway proposal?
For most who considered the scenery, "functionality" of the collection was one of the main objectives – which is very valid if the aim is to find everyday fashion. To me the whole purpose of a runway is different. I want unforgettable stories, drama, obsessive perfection. It is go big or go home.
Blame my experience working with my brother in our design studio, but runways should be magical. We can worry about the day to day adaptations later.
HOW collections are portrayed in fashion shows is part of the design and the purpose and the show.This is why I believe they should showcase four things:
1. Quality and Skill: Good cuts, great materials.
2. A Proposal: how else will we innovate and evolve?
3. Personality: Unique styling.
4. History : I want stories to be told on the catwalk because in the end we will see diluted still-life versions of it in shops. Now is the chance to hear the story, to feel and understand what the designers want us to.
Based on this, I present my humble opinion of the highlights of MBFW.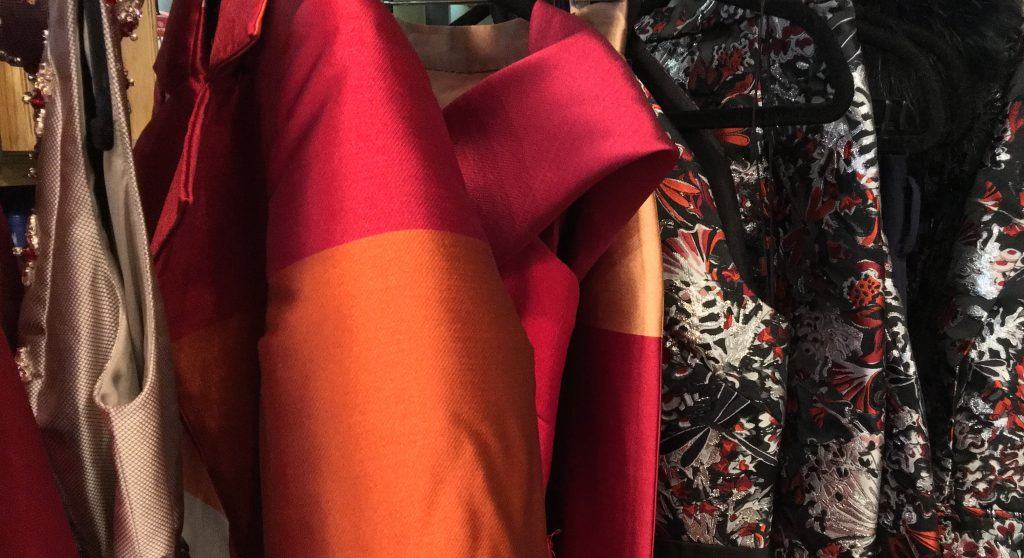 Did you see the floating capes and seamless edges of Bihbu´s dresses?   I had the opportunity to talk to the designer and he brought to my attention that his materials were sourced and printed in Japan, embroidered in India and then confectioned in Manhattan. His attention to detail and perfectionism bring his art to life. Each dress seems like something personal to the designer and, guys, this is palpable on his shows and every one of his dresses.
Bring the craftsmanship and value of BESPOKE back! Bihbu far from being only a designer is a true artist at his craft.
Another designer worth mentioning is Oscar Hernadez, Toribio. When I  saw Vanessa (head of PR for MBFW) wearing his work I was delighted. Even from up close -especially up close- can one notice the beautiful work.
I have worked with leather before and I can tell you that it is not an easy thing – especially in this country. His pieces were symmetrically sown, the stitches matched the leather, which was flawless all throughout. The angle cuts were perfect and all – made artisanally from scratch and with only two years in the industry. He is one to watch.
If we all did things with so much attention to detail and love, the world would be short of perfect.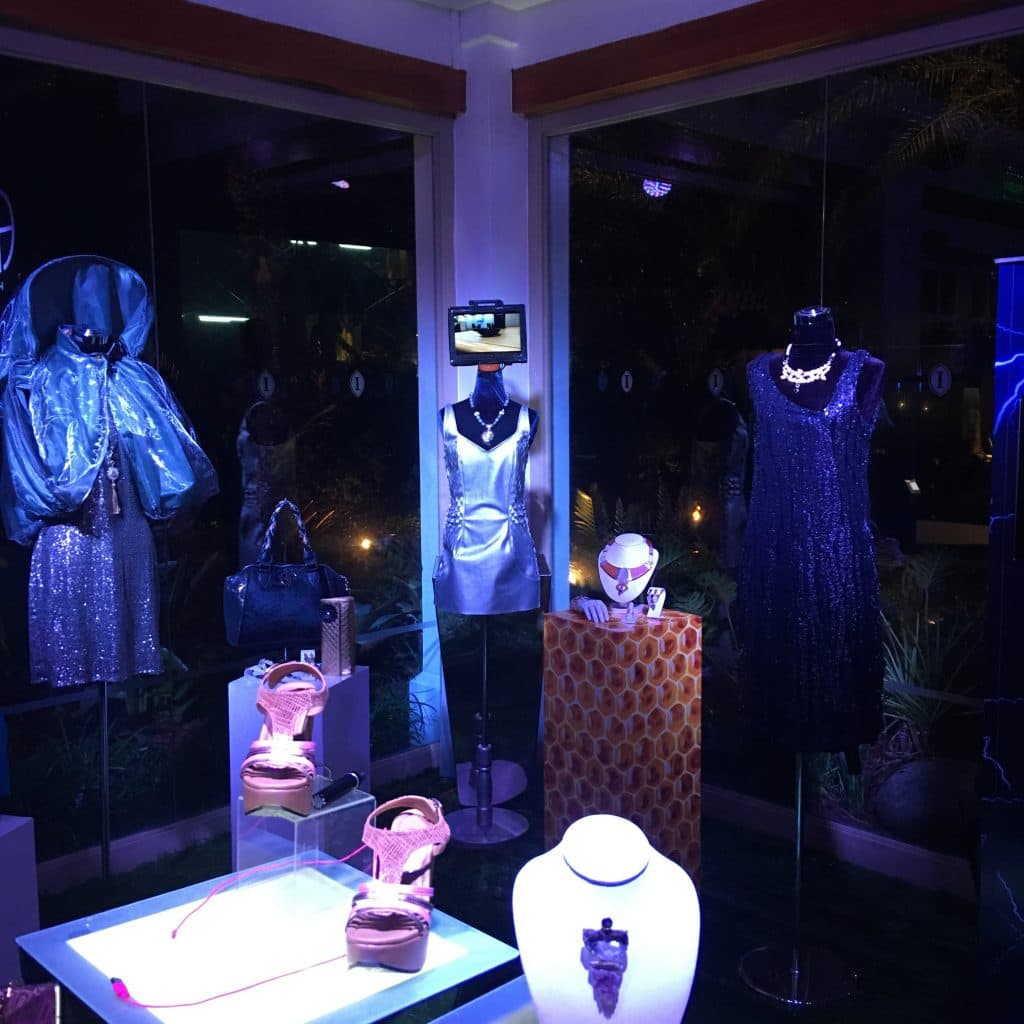 Ok to me this is the yummiest bit of fashion. I am an absolute geek and creative lover in any of its manifestations so when I see science and art collide, my brain explodes. I love it.
Ana gutierrez presented something that I had seen in other shows before – mixing technology and fashion. In fact, a couple days later we saw Claire Danes wear a led-dress at the Met Gala.  Ana proposed, together with phone charging showed and bluetooth jewelry. They were prototypes but they were playing with other disciplines. It felt like these pieces were made in a lab not a design studio.
Costa Rica, lets support this sort of initiative, it could put local fashion on the international map. This country is much more than amazing rainforest and brilliant surfers. There is amazing talent and we must support and encourage it.
 Jennifer Lang also showcased something very interesting. Naive Child-Inspired purses that have been on the table for a couple of seasons now and she personalized this trend brilliantly! The quality was superb. . . but what Leonora, director of MBFWSJ, was wearing was spectacular.
Imagine a jumpsuit, dress, top or pants that you can personalize with magnetic accessories. We attempted such with furniture last year and continue to develop prototypes. Well, she did it on clothes. She took personalization that extra step. It just looks so much fun to play with!
—-
And who but Bryan Cecas to make dresses without arms and cover the catwalk in latex? It was amazing. Innovative and a real experience.
Correct me if I am wrong but I think this was the only designer that got a standing ovation. I want to know what was the inspiration, what lies behind this collection.
Its like a Kubrick film, that you have to watch a 1000 times to fully absorb it all.
Fashion needs that element of surprise and fantasy and these guys gave it to us.
PERSONALITY AND STYLING
What is a straight skirt and a blouse with no styling. Nothing. It is nothing more than an epically boring piece of cloth.
Did you see the show for Alfredo Martinez? Did you see that all the models had flawless, well thought out hair. The way the fur draped over their shoulders and fell into their belts. How their golden nails matched to the subtle details on the clothes. Yes. Alfredo, your attention to detail was not unperceived.
This is an international quality show – with unique styling  and quality. Even the models walked with a cadence that portrayed the essence of the brand to a T – and that to me, is the best styling.
——
In a very different way, French Vanilla also gave a special essence to its brand. The designs were feminine and classic and the way they were shown was unique. This is particularly hard for lingerie since it can easily fall into vulgar and raunchy. But they pulled it off beautifully. You will see my interview with them shortly.
SOTRIES TO TELL
Sequins, t-shirts and tennis. LOVED IT.
Unfortunately the people who I have discussed this lineup remember the music, not the clothes. To me, there is not one without the other. Marcelle Desati expressed her essence, her roots and inspiration with the choreography she used – but that certainly wasn´t the core of her catwalk.
I love the color scheme, the selection of materials and the styling. I loved that we all bounced on our seats and felt the tico vibes throbbing on the floor. And I loved that in a second we felt what the designer wanted us to show with her clothes.  Vibrant, fun, nonchalant Costa Rica inspo.
Marcelle, don´t stop dancing. We will eventually learn to see past the choreography.
—
Alejandra Quesada had a slight Pink Floyd feeling. That is always what stands out in her collections: the patterns. I know there is a story behind the conception of this line. I know there are dreams and craze hidden in her illustrations and I am dying to know them.
—–
Obra Gris -art installation.
I want to see this in a museum night.
The details on the bandages the models wore on their feet. The messy -punk hair and lost eyes. I cannot phanthom a better way to show color-changing sequins than having two models caress each other´s garments while hanging from a construction scaffold.
Brutally honest design. Simple. Effective, Impacting  display.
Besides, seeing the clothes so close added value to the event. The spectators stood less than a metre away from this installation, listening to live music while sipping wine. It had a special effect on the whole performance. For an instance we felt part of the scenery, standing as inert as the models before us.
That to me is a great spectacle. When one is immersed in the fantasy the designer creates – even if it is for just one moment. We become part of the creation and part of  the evolving creative culture of fashion.
Here I mention only a few designers, but all were great. Thank you MBFWSJ. ?