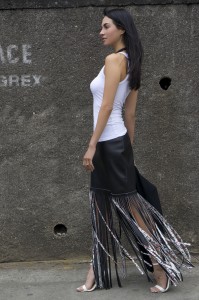 Skirt by Adolfo Dominguez, Shoes by Manolo Blahnik, Tshirt by Gap, jacket by Max Mara.
As I flick through the Spring – Summer Fashion forecasts I keep bumping into the "Spanish – lolita" or ¨linda" trend. This trend is generally encompassed by accents in bright reds (as seen on the SS2016 colors of the year) and latin/flamenco inspired silhouettes. If you read my blog regularly you will have heard me mention quality, color and shape when choosing the perfect outfit. You will know that unusual but well carried cuts really catch my eye – which was exactly the case of this skirt. Flared fringes of faux leather with a red & white pattern (a statement of Adolfo´s latest collection) add a little attitude to the outfit. Just like any leather skirt, it can be paired with basics and bold colors. Here, I styled the outfit for a chilly afternoon in the city, so to make it a bit brighter I threw in a white top. Add a red or a black or a neutral metallic for the night.
In the case,  the back detail on the Max Mara jacket tops the look.  Ole!
xoxo
Di Carolina