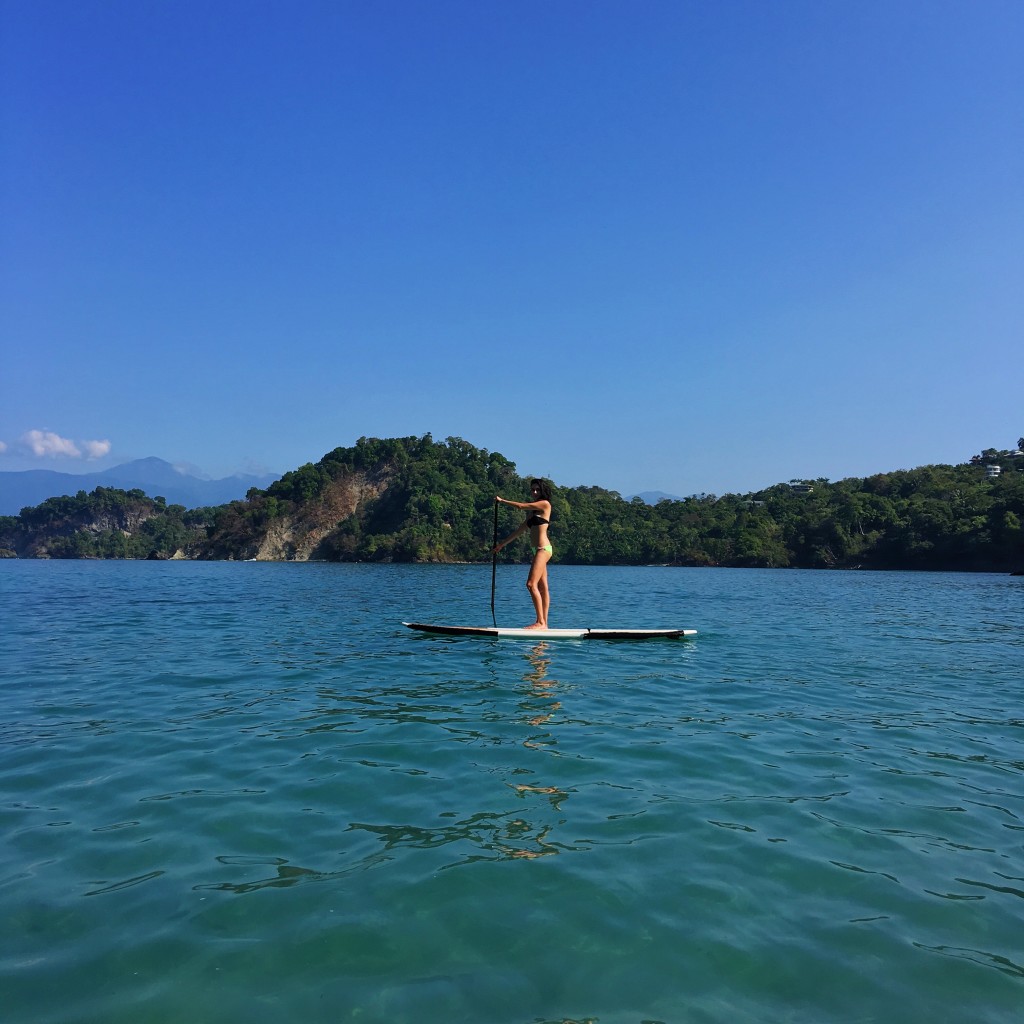 I strongly believe that a place is what you make of it.  From the moment we moved to Costa Rica (over 4 years now) we made the decision to EXPLORE and make some juicy lemonade from the lemons we were handed. Although there are still some nooks and crannies to cover in the south, we have seen, tasted and lived the PURA VIDA. SO much, that after having lived in over 8 countries, I can say this is HOME and that we have most definitely explored it.
When we first arrived we decided to buy a badass Toyota FJ Cruiser, which we named "Bertha". We bought a big cooler, some "birras"  and downloaded as many GPS apps as we could – and off we went. Today, Bertha is an expert in crossing rivers. She has mastered the offroad paths in jungles in the middle of the night and battled through the midday-burning-sand on virgin beaches. Yes, she has been very good to us, our old girl.
This weekend, she drove us down one more time to Manuel Antonio. We wanted a short warm escape for the weekend (which ended up turning into a few days). I have to admit it is not my favourite part of the country. But, well, if thats not my favourite, you an imagine the places we´ve seen!
Manuel Antonio has AMAZING lush virgin forests, long white sandy beaches, great wildlife and its share of nightlife too – but it can b a bit too touristy for those who like to travel the unbeaten path. Having said that, If you know where to go in Manuel Antonio, you can have one hell of a great time. Over the years and with a few recommendations, we have accumulated our share of "favourite spots". Here, my very own travel guide: Manuel Antonio Costa Rica. Trip advisor á lá flight of spice. 
follow my trips on Snapchat: @flightofspice
HOTELS
If you want to do it properly, great views, great restaurants, services and infrastructure, my favourite hotels are:
Best views, amazing personal service. The best pools. Fantastic Spa. Great cocktails, walking distance from gorgeous beaches. Tours organised (if thats your kind of thing)
It does have a quiet, luxury calm vibe. Great for relaxing. We have also been here with a large group of friends from abroad and it was brilliant.
Also great views, service, pools, spa. Food is good. IT is VERY close to one of my favourite Manuel Antonio beaches.
It also has a quiet luxury vibe – floating around romantic and family oriented.
Of note, we much refer Manuel Antonio in low season. It is absolutely fantastic if you don´t mind a bit of rain.
Note, there are other hotels in the area that look fantastic. Los Altos is on our to-do list for the next trip. I really want to stay there! (just discovered it this time). There are some couples-only and some gay-focused hotels available in the area.
I am not going to bad mouth some very expensive hotels that we have stayed in. I refuse to do that, but I recommend that you read the customer reviews before we do. I have failed to do so in the past and regretted it profusely. Mind you, I am very picky.
RESTAURANTS
For great ceviche and fresh fish, we love going to Raphael´s Terraza. It is a small local restaurant with brilliant views. I think you can still get them on my snapchat the day I launch this post. Amazing smoothie place next door.
For romantic, special Dinner under the stars, nothing beats La Mariposa
And for a great dinner, with live music and a vibrant crowd I really, really recommend Emilio´s Café.
Breakfast, well, breakfast we usually have at the hotel we stay in or at the beach! If you are in Manuel Antonio, look for the coconut guy with the big hat and the blue cart – and haggle!! haha. He is part of the beach.
Now, Manuel Antonio, the town, seems to revolve around a main road. Most of my recommendations are on the top side of the mountain. This is because when we have gone we have been looking for quiet, easy going, un popular spots. Go further down the mountain and you can get a more spring-break vibe and american-style restaurants.
For partying, personally I prefer other beaches.
ENTERTAINMENT
If possible, do the canopy tour on the highway going down the mountain.
The parasailing tours, on the south side of Manuel Antonio´s beach.
SUP & Cayak at Biesanz beach (look for the parador-hotel guy). And I really really recommend doing this at sunset. That is one of the experiences I will never forget.
And whatever you do, do not miss the National Park. (bring snacks, drinks and take your trash with you).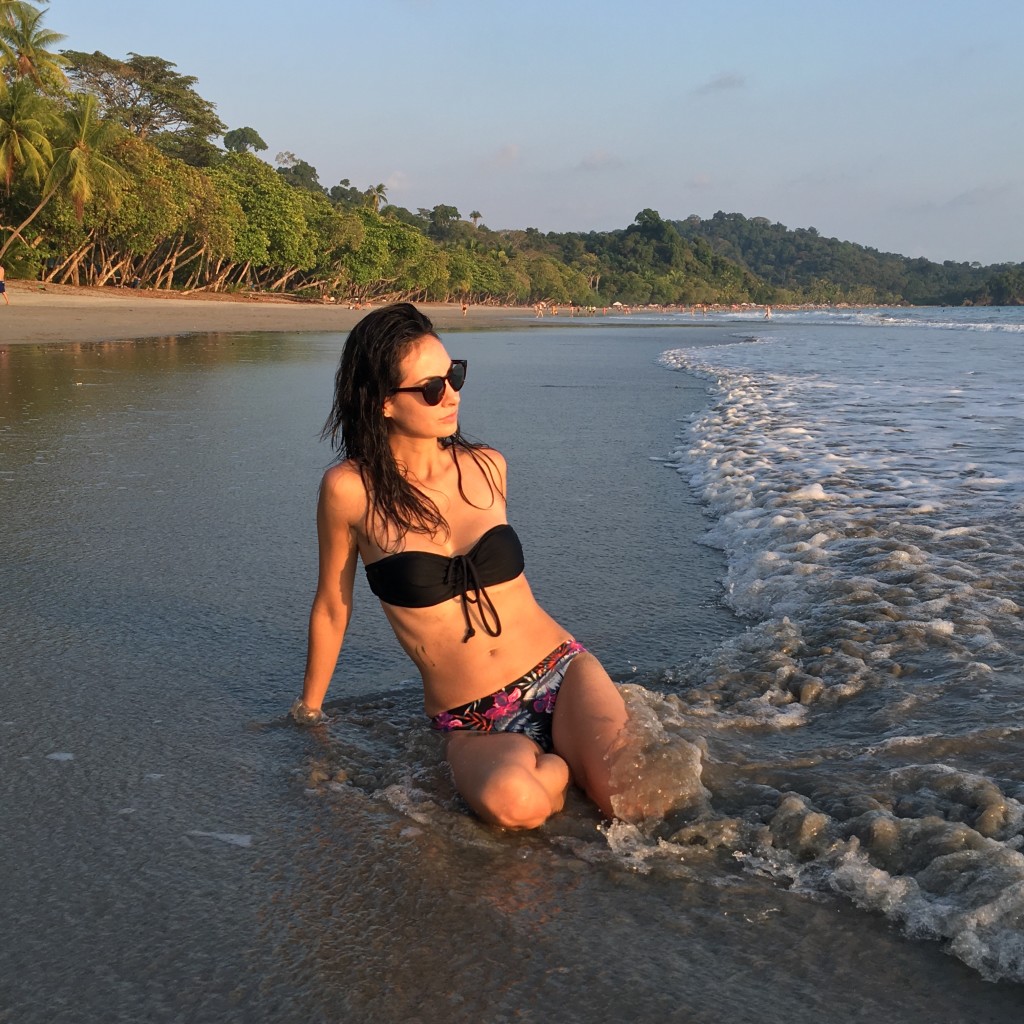 BEACHES
…. oooh beaches. That I will leave a surprise and let you explore. There are some that can only be reached by sea (kayaks and SUPS recommended).
It is hard to find a bad beach in Manuel Antonio. But for Nature lover´s go into the national park. Easy parasol rental, parasailing and coconut-express (the guy in the hat) go to Manuel Antonios main beach. The right hand side is more crowded and has more facilities. The left side is empty and you can drive in to the sand.
Finally, for early morning swims and sunsets, look for Biesanz Beach near parador. Trust the car guy, he is lovely. Best beach for SUP. Im a little obsessed with SUP – have you noticed? :p
Enjoy !
Have I missed anything? Leave a comment! I would be keen to try it out!
XOXO