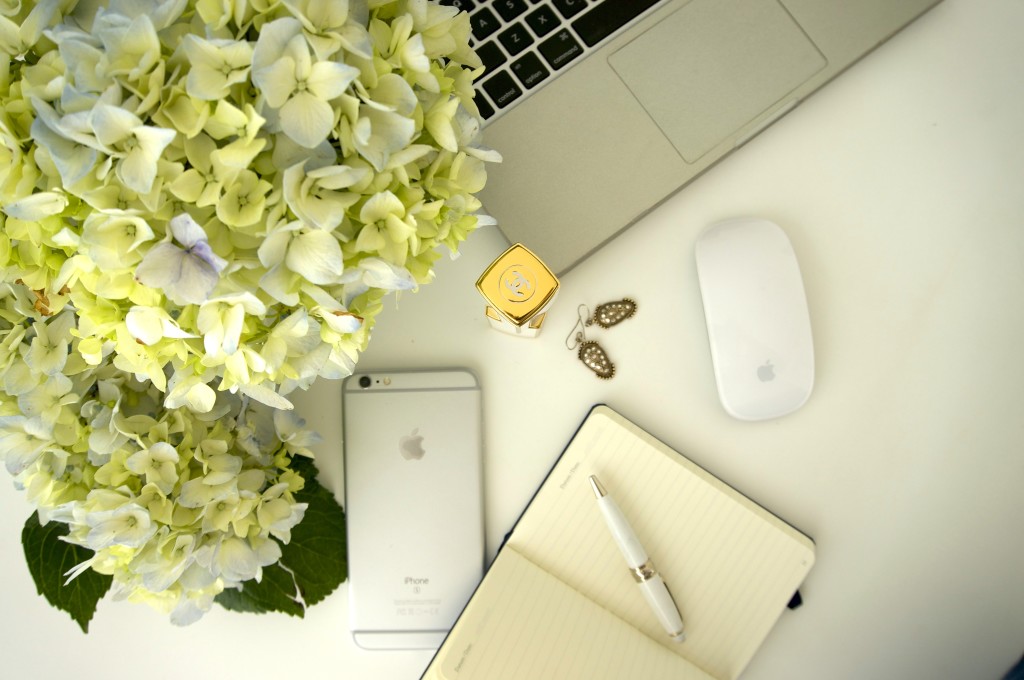 Lately I have seen several memes on giving up on new years resolutions as soon as the new year starts. Whereas I know its hard to keep the eyes on the prize the whole year as life goes on, I think it is quite sad we just accept this approach. I refuse to give in. This is why I decided to write a post on my 7 Steps to plan (and achieve) your goals.
Admittedly I have not reached the point where I can say I achieve ALL my yearly goals – but I can proudly say I have ticked off a fair share of the list in the past few rounds. Of note that this is in no means a sign of a perfect life. Quite the contrary, it is an acknowledgement that my life has room for improvement. And like for most, my life is filled with ups and downs – but for now I have been able to manage the darkest nights with a positive outlook. I try to find the good in the bad and keep blindly charging towards the aims I have set for myself a long time ago. I still have a long long way to go but progress is the key.. . and if you ask me the golden gate to progress is having good, clear, solid goals and if not a plan, at least an idea of how to achieve them.
A few years back I read "The 4 hr Workweek" by Tim Ferris. An entrepreneur who manages his multi million businesses at a distance. I won´t lie, this book changed my approach to my way of working. I didn´t apply it all but the bits that I did have proven more than useful. In case you don´t have the time or inclination to read his book, Ill give you the super condensed review here: Tim, is a pragmatic businessman with a scientific eye and he reveals that the method to his madness boils down to one thing: Auto-imposing clear, strategic goals on a periodical basis. Thats it. The holy grail simplified. Of course, the tricky part is achieving those goals, right?
I have tested his theory added and subtracted based on what I have learnt from yoga philosophy and my MBA on Strategic planning and this, my dearest readers, is a simplified version of what I have come up with, the system that keeps me motivated and heading towards the right direction.
You can download some templates here: https://www.dropbox.com/sh/wafowomdhit027i/AADgT0LQ2GjziWtUGuBnIYMja?dl=0
1.SET AN INTENTION TO DIFFERENT AREAS OF YOUR LIFE
We are all guilty of suffering of  "tunnel vision syndrome" at times. This is a mental state where you play by ALL OR NOTHING rules. If the smallest thing in life goes wrong you pretty much consider it to be an absolute disaster. Drastic, I know. It is the epitome of being hard on yourself – and often an excuse to not try harder.
I dare to tell you that if you don´t go out running one morning, if you don´t quite get the raise you expected, if you break the diet by having a little cookie – the world must not come to an end and you cannot stop trying.

Life goes on and it is always time to get into track. And this is much easier if life is broken into areas for the purpose of goal setting. This way there is less pressure to DO IT ALL, and if you miss one goal, you don´t have to feel like you have failed.
Seeing life in this way can also help deal with emotional baggage and dealing more effectively with life problems. In my case, when it comes to goal setting, I divide my life in these areas:
Body

Anything that involves a physical effort

Mind

Anything related to learning or mental agility

Spirit

Things directly affecting my emotional life and wellbeing

Professional Life

Anything work related. Call me crazy but I like to keep a division between the person I am and the jobs I do. It keeps me sane to think that i am not a job – but a person that likes to do certain things. Try it.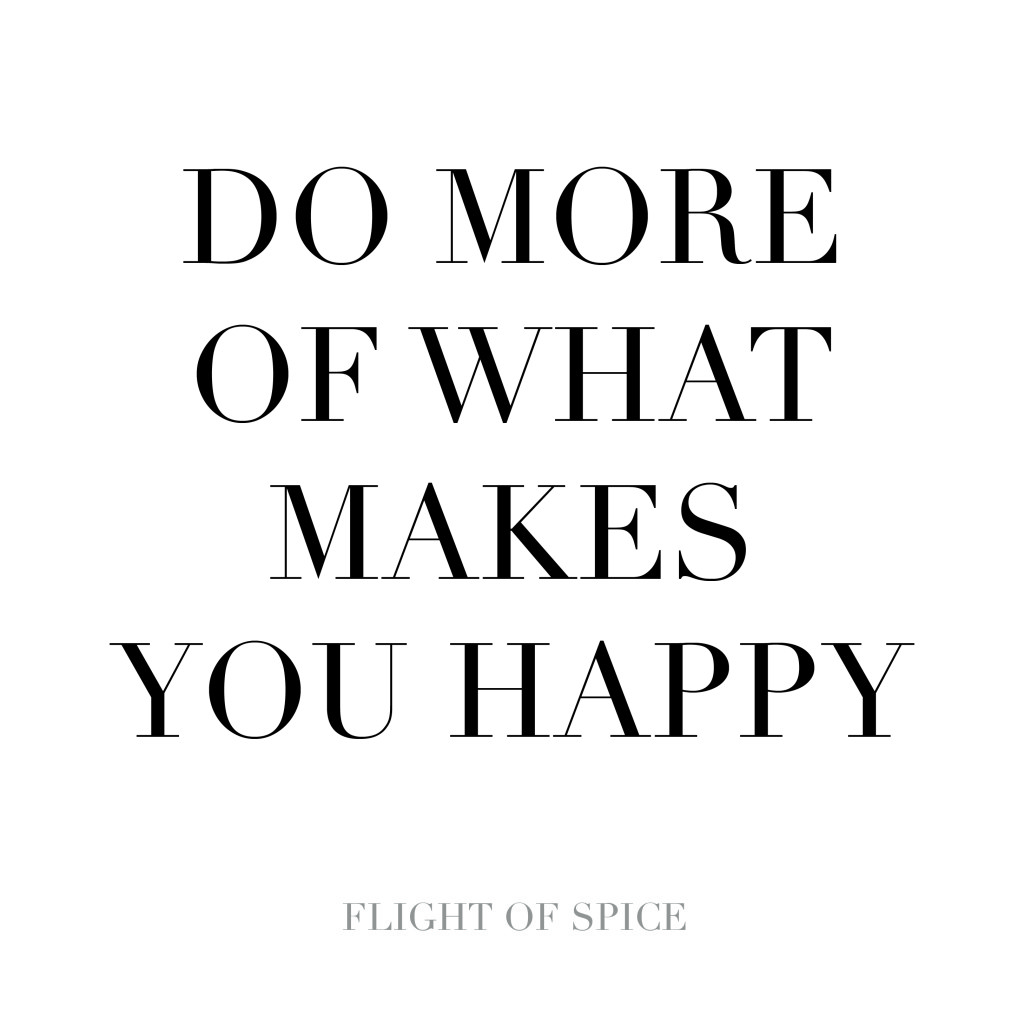 2. CHOOSE AND STRUCTURE YOUR AIMS
Make sure your goals are:
REALISTIC (don´t try to join the polo olimpic in a month team if you are 26 and have never ridden a horse)
MEASURABLE SOMEHOW
CLEAR
Now write a couple of goals in each one of the areas mentioned earlier. Try to keep a solid balance amongst them, don´t lean all towards body – its just going to stress the hell out of you. Besides, we want it all, don´t we?
BODY

What do you want to achieve with your body? Fitness. Sport performance. Health. Beauty.

MIND

What do you want to become good at? What do you want to learn? Languages and skills you want to improve on. tests you may want to take.

SPIRIT

What fulfils you? What makes you feel free? Trips you may want to take. Things you may want to say. Emotional baggage you may need to get rid of.

Professional

What would make your professional career better? More responsability? Clients? Money? – state them and make sure your previous goals gear towards these goals too. Business plans may also help align these purposes.
Of note : It is also really important to never loose perspective of what makes us happy – and in most cases I believe it boils down to two things:
Good interpersonal relationships
Doing what we love on a regular basis.
So if you are stuck, thats always a good place to start.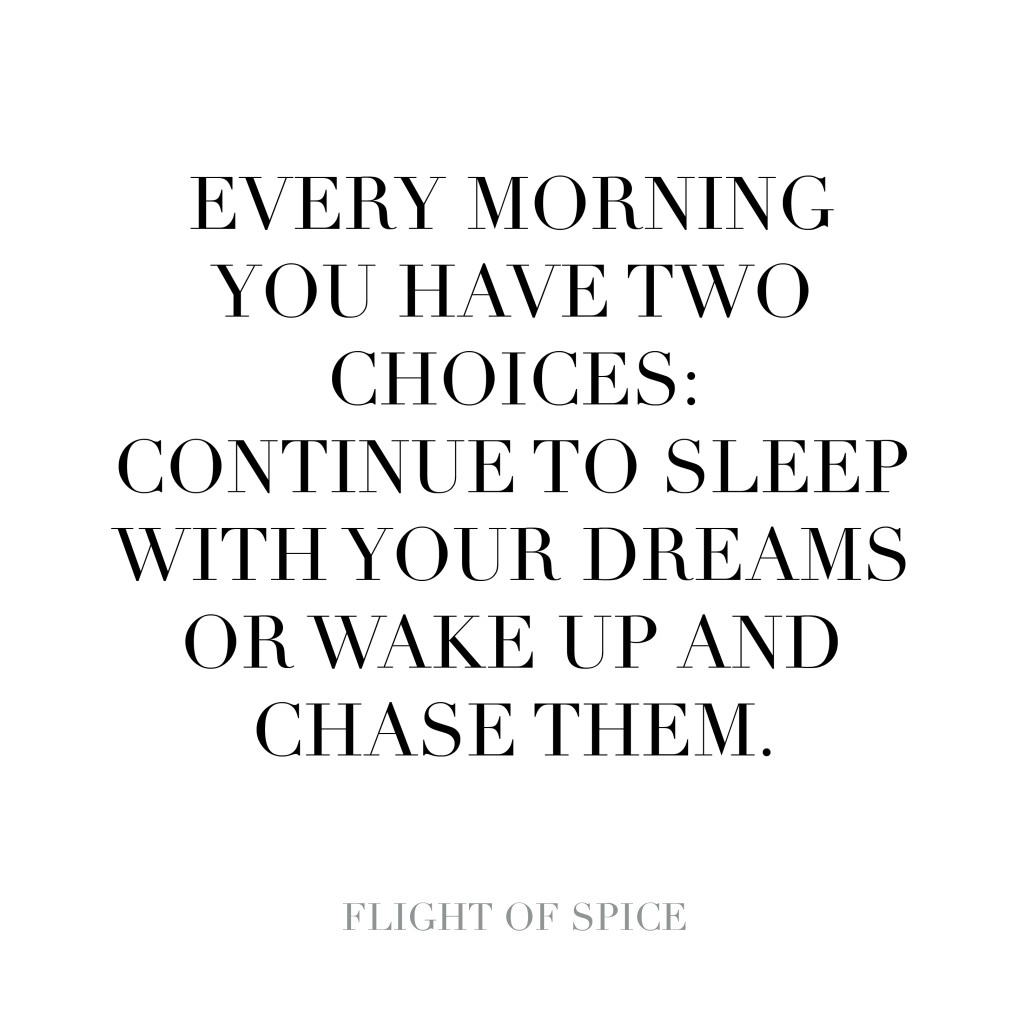 3. PLAN YOUR FUTURE BASED ON DREAMS AND FOCUS ALL OF YOUR ENERGY TOWARDS THEM
Annother area I add to my yearly planning are long term goals. You know that question they ask at interviews: "Where do you see yourself in 5 – 10 years?" THIS IS IT.
I like to throw in a few unatainables. A few dreams to keep me motivated. I am fully aware I may not achieve them in a few years – or maybe I won´t achieve them at all – but you cannot blame me for trying. In fact, thats one of the reasons why this blog is called " FLIGHT OF SPICE"  – in allusion to the saying " Flight of Fancy").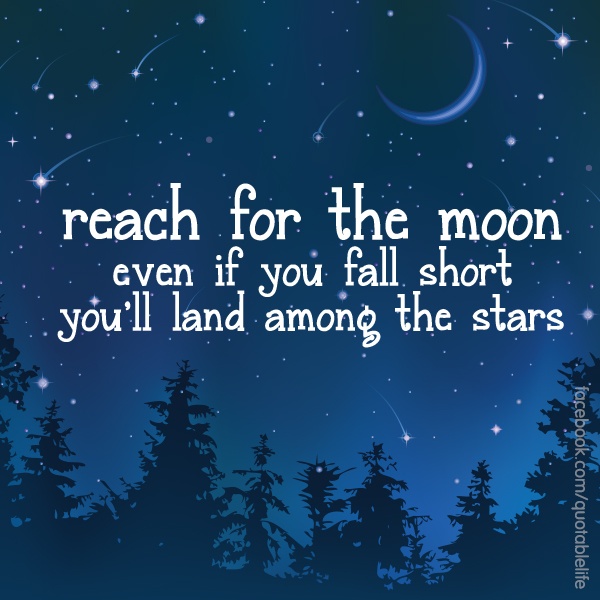 Its important to dream what you want in the long term. It is really worth a shot – and it will take a LOT of effort to get there, so make sure ALL OF YOUR PREVIOUS GOALS POINT TOWARDS THEASE GOALS.
4. DIVIDE AND CONQUER
Here is a very personal confession: I used to be a severe perfectionist. Not the kind that aligns all the pencils on a desk, or that tries to do her best… I was the kind of perfectionist that had such an aberration to failure or to a job badly done that I would openly decide not to try doing things at all – just in case the outcome was short of perfect.
Judge all you want, because we have all been there. The fear to fail is the most common of issues successful people have to face at one point. But life is about taking a LEAP and taking RISKS.
And one of the things that has helped me the most is DIVIDING TO CONQUER. IT somehow makes huge impossible goals more attainable.
So break down those goals. This will tell you the HOW to the WHAT.
for example:
GOAL: Holding a hand stand for over 30 seconds with no props.
DIVISION:
strengthen wrists
learn how to fall
practice
5. SET A DATE AND PREPARE TO FOLLOW UP
Part of the Tim Ferris scheme that I adopted what the use of a TIMELINE. I think it is uber important to make a serious committment to any goal you set – and to do that you need parameters to make it happen.
Personally I like to divide my year in quarters, and achieve my goals in periods. It helps me keep track and it forces me to go back to them periodically.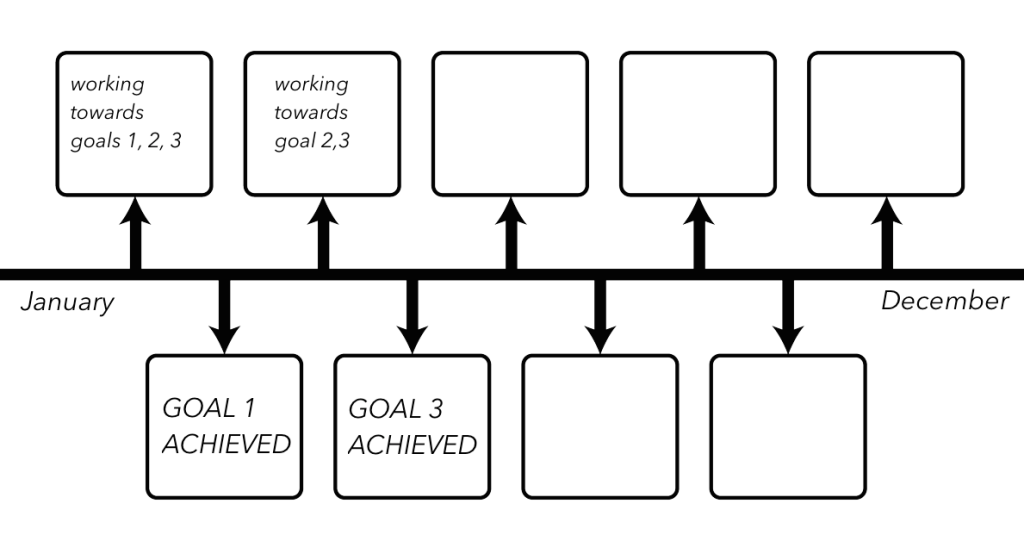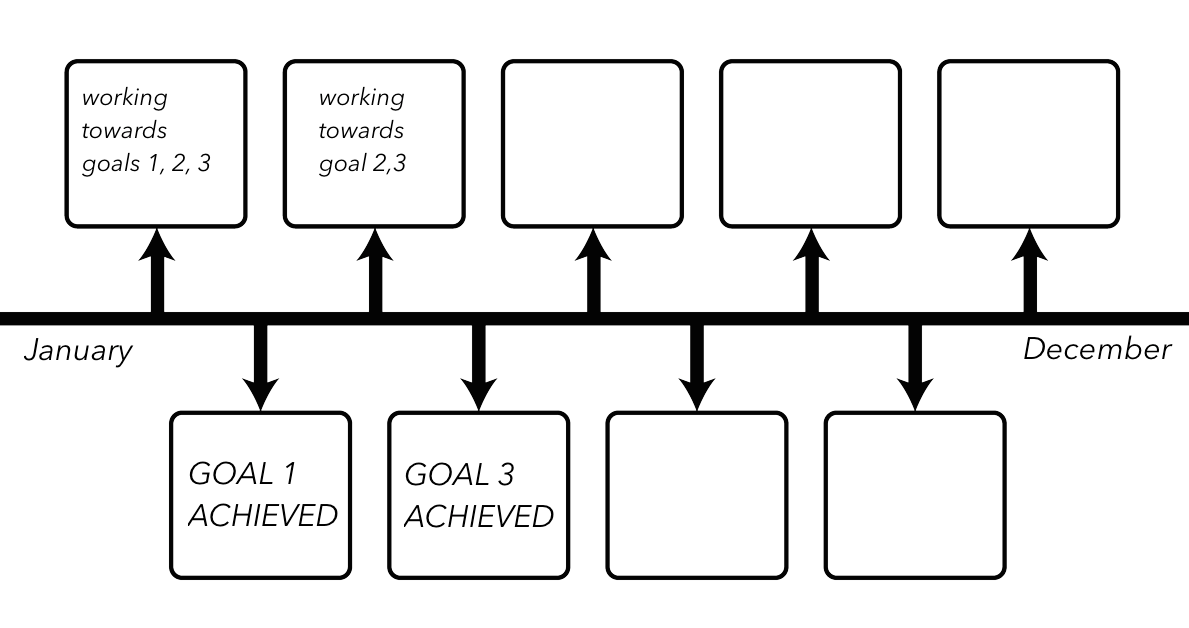 6. FIND YOUR SUPPORT SYSTEM
Print your goals and stick them on your mirror or fridge. . . Start a chain mail with friends and check up on goals periodically. Share your goals with people who are most supportive with you.
…and if your goals are too personal or you don´t feel the people around you will support your goals (it happens) then start a forum online, I am sure there are millions of people out there with the same goals.
A little help can go a long way. Never underestimate it.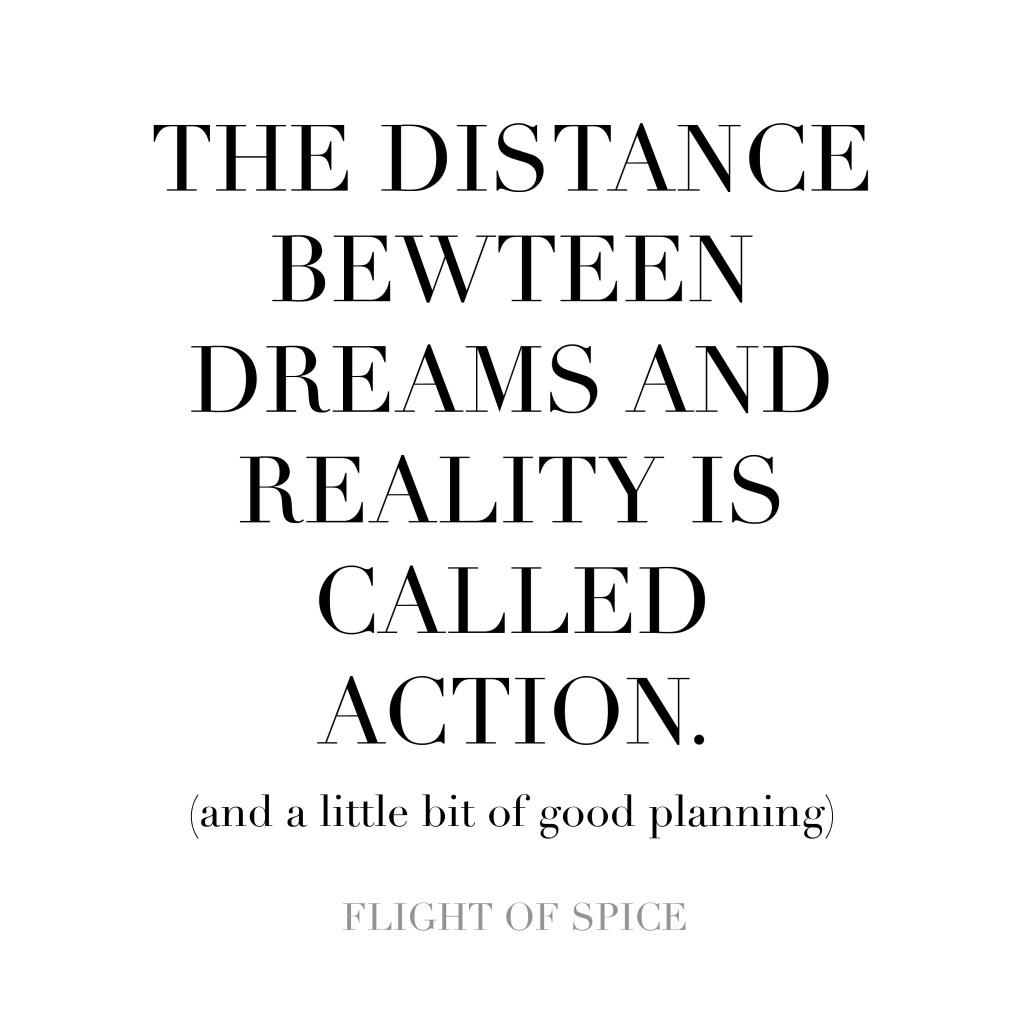 7. TAKE ACTION
You now know what you want and what you need to do to achieve it. That is 80% of the way. The other 20% is actually DOING what you know you need to do. Yup. Easier said than done.
a) DETERMINATION
Go back to point number 3.
Those wishes are your FUEL. don´t loose track.
b) DISCIPLINE
What works for me is incorporating the breakdown of my goals into my daily routine. Divide your day in little bits (again, divide and conquer) and make sure not a day goes by without working on something you aim for. 
As a little extra, my design company (ALVA DE LA SELVA DESIGN LAB) and I have prepared some templates to help you with this process. You can download them here: https://www.dropbox.com/sh/wafowomdhit027i/AADgT0LQ2GjziWtUGuBnIYMja?dl=0
LETS TALK ABOUT THESE GOALS IN A FEW MONTHS – SEE HOW WERE DOING. 🙂
I hope this helps. GOOD LUCK!!