Homemade banana bread recipe . Receta casera para el pan de banana.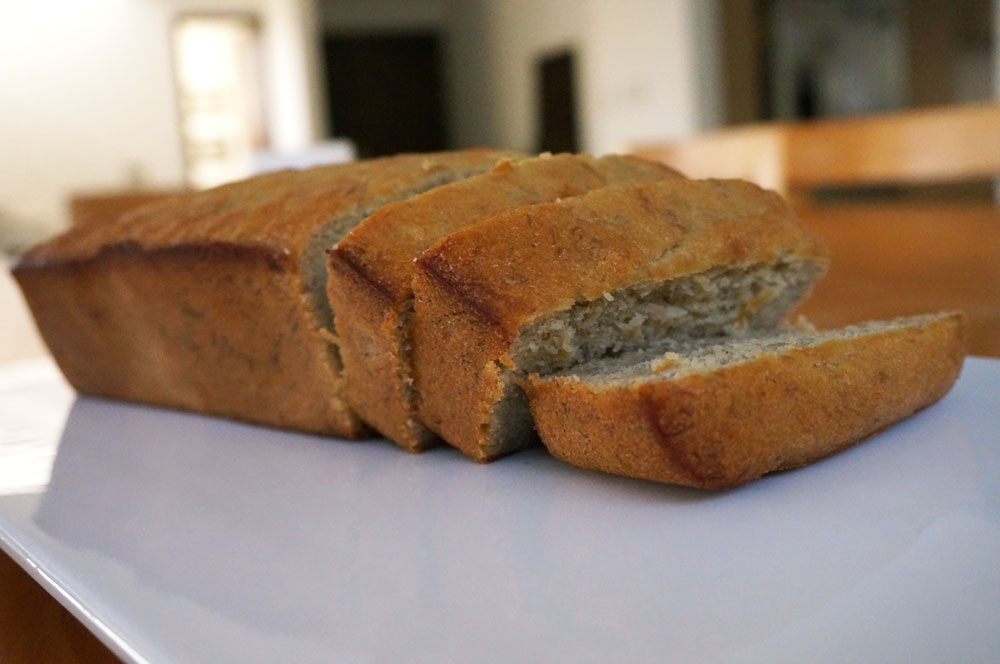 [tabs] [item title="Español" icon=""]
Lo admito. Soy adicta a pintrest (no me juzgues) – y también AMO la pastelería, desafortunadamente por falta de tiempo (y afortunadamente, por salud) casi no hago muchos pasteles ni cupcakes estos días. . .pero igual a veces se me antoja y he encontrado que el pan de banana es una opción pues… bastante saludable y muy fácil de hacer.
He probado MUCHAS recetas de pintrest y creo que ESTA es la buena. Así que sin más, aquí se las comparto:
Ingredientes: 
 ¾ tazas de miel de abeja – O – 1 taza de azucar morena.
1 taza de crema (natilla en Costa Rica)
 ½ taza de mantequilla derretida
2 huevos
4 bananas maduras (si estan muy maduras, puede poner menos azucar)
2 cucharadita de extracto de vainilla orgánica
2taza de harina integral
1 cucharadita de bicarbonato de sodio (MUY IMPORTANTE)
¾ cucharaditas de sal
Y si gust, puede agregar  ½ taza de moras, nuez picada o NUTELLA (para la versión no tan saludable).
Pasos a Seguir: 
Precalentar el horno a 375 F.
Preparar molde con mantequilla y harina – yo prefiero de silicona
Moler Bananas y mezclar con la miel (o azúcar) y la vainilla.
En un molde para mezclar, derretir o suavizar la mantequilla
Mezclar la natilla (crema), huevos y mantequilla
Mezclar la harina, bicarbonato de sodio y sal. A mi me gusta colar la harina para que quede más esponjoso.
SI va a agregar las moras, nuez o Nutella, puede ponerlas y ligeramente mezclarlas la mezcla.
Cocinar en el horno por 20-25 minutos hasta que dore.
Decorar con moras, nuez o Nutella
Dejarlo enfriar unos minutos ya disfrutar.
[/item] [item title="English" icon=""]
I admit it. I am a pintrest addict (don´t judge) – and I also LOVE baking. Unfortunatelly I don´t do it as often because of time and of course, health so I have found that banana bread is a great quick Healthy-ish  option.
I have tried many recipes and this is THE ONE. So, with no further adue, here it is:
Ingredients: 
 ¾ cup of bee honey.   – OR – 1 cup of brown sugar
1 Cup of  Sour Cream
 ½ Cup Butter, softened
2 Eggs
4 Ripe Bananas, Pre-Mashed (and I LOVE really ripe ones, in fact, I add less honey when they are mature)
2 Tsp Organic Vanilla Extract
2 C Flour – I like whole wheat
1 Tsp Baking Soda (VERY important)
¾ Tsp Salt
Add if desired, you can add ½ Cup of Blueberries, Walnuts, or NUTELLA (for the not -at-all-healthy version) and just swirl.
Directions: 
Preheat your Oven at  375 F.
Grease and Flour a 9×13 pan – I prefer silicone molds – even muffin ones!!
Blend in the bananas, honey (OR brown sugar)  and vanilla.
In a large bowl, pre-melt the butter.
Mix  in the sour cream, butter and eggs until creamy.
Mix in the flour, baking soda and salt  – I like to SIFT the flour to make it fluffier.
Add the blueberries, walnuts or nutella and STIR to spread.
Spread in the pan and bake for 20-25 minutes until golden brown
Top it off with a few bluebberies, wallnuts or nutella.
When done, let it cool for a few minutes and ENJOY.
[/item] [/tabs]
[row]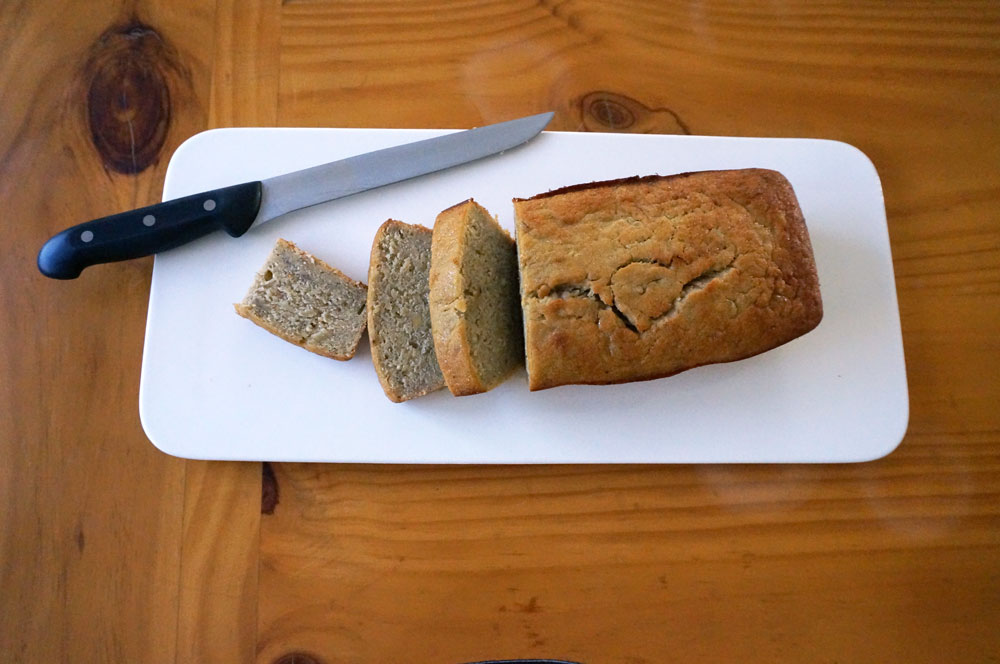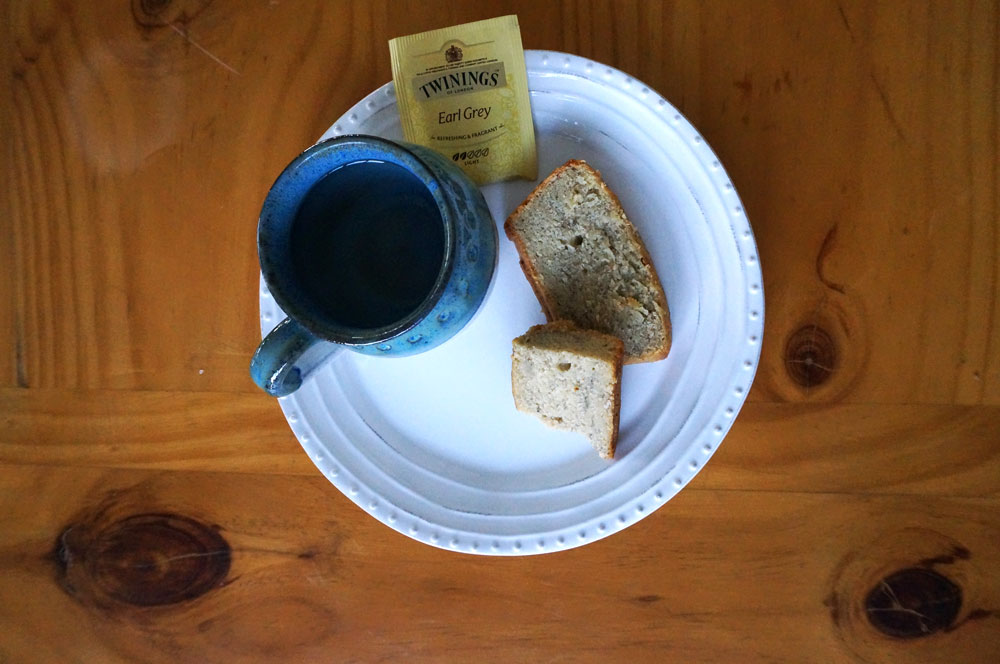 [/row]